Shelf Life
Space Adventure Cobra: The Movie
by Paul Jensen, Gabriella Ekens,

I wasn't quite sure what to talk about in my intro for this week until I found out that the Assassination Classroom anime is going to include the manga's as-yet-unpublished ending. That doesn't sound all that unusual on its face, but I've watched enough anime to be thoroughly sick of the "read the manga/light novels to find out what really happens" approach to making a final episode. Ending the story the way it was meant to end is a much more satisfying way to do things, and it's something I wish we'd see more often in anime.
Whether your favorite show has a good last episode, a bad one, or no ending at all, welcome to Shelf Life. Let's take a look at what's new this week, shall we?
Jump to this week's review:
Space Adventure Cobra: The Movie

On Shelves This Week

Ga-Rei-Zero - The Complete Series [S.A.V.E.] BD+DVD
Funimation - 300 min - Hyb - MSRP $34.98
Currently cheapest at: $26.02 Barnes and Noble

Synopsis: Sisters Kagura and Yomi work together as part of a government unit that deals with dangerous outbreaks of supernatural activity. When Yomi is possessed by an evil spirit, Kagura must fight against her in order to protect innocent bystanders.
Extra: We've got a review of the old non-S.A.V.E. release of this series here, and that same set was also covered in an installment of Shelf Life. You can stream it on Funimation and Hulu.
---

Indian Summer [Sentai Selects] DVD
Sentai - 90 min - Sub - MSRP $19.98
Currently cheapest at: $10.92 Rakuten

Synopsis: In a future where housekeeping robots are commonplace, a maid robot called Yui is purchased by a young man named Takaya. While Yui is ready to handle normal chores like cooking and cleaning, Takaya is more interested in having his new maid wear a variety of cosplay outfits.
Extra: That synopsis sounds just a little shady to me, but the user ratings for this OVA seem at least halfway decent. If you want to check it out for yourself, it's available on Hulu and The Anime Network.
---

No-Rin - The Complete Series BD+DVD
Funimation - 300 min - Hyb - MSRP $64.98
Currently cheapest at: $45.98 Barnes and Noble

Synopsis: Idol fan Kosaku is crushed when his favorite singer decides to retire, but things take an unexpected turn when she shows up as a transfer student at Kosaku's school. He decides to get to know her and try to figure out why she stopped being a pop idol and transferred to an agricultural high school.
Extra: I like Love Live and I like Silver Spoon, but I'm not sure if combining them is brilliant or just insane. Sadly, our review coverage is limited to some Preview Guide entries, but you can stream the series on Funimation and Hulu.
---

Photo Kano - Complete Collection BD
Sentai - 325 min - Sub - MSRP $59.98
Currently cheapest at: $33.07 Rakuten

Synopsis: After his father gives him a digital camera, Kazuya decides to join his high school's photography club. His search for people to photograph leads him to get to know several of his beautiful female classmates.
Extra: This one had a brief run on The Stream, and its relatively low marks there are echoed in its average user rating of 5.7. If you're in the mood to give it a chance, it's streaming on Crunchyroll, Hulu, and The Anime Network.
---

Tokyo ESP - The Complete Series BD+DVD, Limited Edition
Funimation - 300 min - Hyb - MSRP $64.98|$69.98
Currently cheapest at: $47.03 Barnes and Noble|$48.99 Barnes and Noble

Synopsis: Ordinary high school girl Rinka loses consciousness after seeing a penguin and a school of fish flying through the sky, and wakes up with the ability to pass through solid objects. She decides to use her newfound power to fight against people who use their own extraordinary abilities for evil purposes.
Extra: We've got episode reviews of this action series here, and you can stream it on Funimation and Hulu.
---
Shelf Life Reviews
In this week's review, Gabriella takes a look at an 80s sci-fi anime movie that's making its first Blu-Ray appearance in the US. Will this blast from the past hold up against the harsh scrutiny of HD?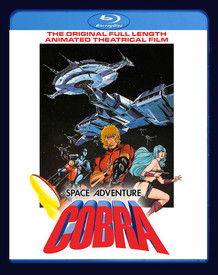 It's time for another installment of historic anime review theater, courtesy of Discotek. This week, we're looking at Space Adventure Cobra - The Movie, the 1982 film adaptation of Buichi Terasawa's manga. This film was followed up by a television series, which adapts some of the same material. Courtesy of Streamline pictures, this film was apparently a staple of the fuzzy VHS era of anime fandom, so only now are we seeing it in its full HD glory.
For those unfamiliar with the series, Cobra is (as the title suggests) an adventurer in space. He's infamous for his Psychogun, an ultra-powerful laser gun hidden beneath his prosthetic hand. On the lam from the Pirate Guild, he changes his face and memories so that he can hide out as a normal joe. But once his memories come back, Cobra returns to a life of adventure alongside his sidekick, the robotic Lady Armaroid (who looks like a Hajime Sorayama pinup), and his personal starship, the Turtle. While this film doesn't depict the official beginning of the series (which is ripped off from the short story that would inspire Arnold Schwarzenegger's Total Recall), it's chronologically one of the first adventures involving the renewed Cobra. That's all you need to know before watching the film.
A good way to approach it is as a science fiction equivalent to Lupin the Third. As action heroes, Lupin and Cobra exude a similar blend of comedy and coolness. They're vaguely scrubby looking dudes (at least relative to the suave James Bond archetype) who nonetheless still manage to save the day and snag all the ladies. The main difference is that Cobra's adventures lean raunchier than Lupin's, at least as that franchise has survived into the present. What I'm saying is don't show Space Adventure Cobra to the kiddos, unless you don't mind them seeing lots of psychedelic titties. This is a James Bond-ian sex fantasy for men, but with enough creative action and bountiful visuals to keep a broader audience happy.
That's the main reason to watch this film today – it's just a gorgeous piece of cinema. It's directed by animation legend Osamu Dezaki (Ashita no Joe, Aim for the Ace!, Rose of Versailles) and features art direction by Shichiro Kobayashi (Angel's Egg, Revolutionary Girl Utena, etc.). Combined, their work results in the movie version of something like what an Electric Light Orchestra fan would paint on the side of his van while on LSD. Psychedelic refracted images of women's bodies hover over interstellar landscapes. Cobra parkours his way through an alien nightclub, a tundra planet, and a floating crystal prison. This film would look great even if the animation were shoddy, but as it stands, the feature-level production adds another layer to the narrative. A lot of the spark pops up in the usual spots – mechanical objects in motion, ludicrously buoyant hair on the women – but there's also some more subtle stuff. Much of Cobra's hesitance to enter a relationship with Dominique, the sister of his ex-lover Jane, comes through in the cautious way he approaches her. It's some nice character work in a genre that's mostly known for its bombast – not that it's lacking in that either. Full of freaky alien critters, obsessed with bounteous bosoms, and appealing to lovers of animation as an art form, there's a direct line of descent between this and Space Dandy. If you're missing that show, Space Adventure Cobra is the closest I've found to scratching that itch.
Besides its stunning visuals, Space Adventure Cobra is also a perfectly paced action film. The story is an intriguing, epic puzzle box. Cobra encounters three sisters – triplets – who are heirs to the long-lost Seventh Galaxy. When one of the sisters, Jane Flower, falls in love with Cobra, it sets off a struggle for the planet's inheritance that puts him back in conflict with the Pirate Guild. His hunt for the sisters guides the film through a series of inspired action setpieces. The film's villain, Crystal Boy, is another reason not to show this film to children – he's a gigantic, muscle-bound cyborg whose golden skeleton peers out from his otherwise transparent body. His unique physiognomy makes him immune to Cobra's Psychogun, and thus the only person who's capable of really cornering the outlaw. He also fights by pulling out his own ribs to use as weapons. More than any other shot in this film full of gorgeous imagery, Crystal Boy's leering skull-face will stay with me. He's a fantastic villain who's guaranteed to give anyone under the age of thirteen nightmares. (This only drops to "likely" for adults.) If this is the only Space Adventure Cobra thing you ever watch, it'll stand as a memorable, entertaining, and perfectly intelligible standalone action flick.
This is a very sharp, bright transfer, so there's some digital noise that's unevenly present – it's glaring in an early scene of Jane at a bar (which also contains a strange flickering bloom effect), but it's almost entirely absent in the subsequent title sequence (which is also very bright). Barring these instances, however, the film largely benefits from the HD treatment. Most shots contain high color contrast, so sharper is better overall. It's an improvement over the DVD release, which is itself based on the Japanese Blu-ray. In terms of packaging and extras, this looks like an HD re-release of the DVD Discotek put out in 2012. There are no significant extras, but it contains both the Japanese track and the (passable) English dub. If you already own the DVD, purchasing this disc is only a matter of whether you want the improved presentation. If you don't already own it, then this is the version to buy.
30+ years later, and Space Adventure Cobra has established itself as one of the 80s anime classics. It's a visual powerhouse, and this is the best way to experience it.
-Gabriella[TOP]
That wraps things up for this week. I'd like to offer my thanks to all the kind folks who sent in entries for Shelf Obsessed over the last few days. You've saved me from having to think of something else to put at the end of the column, and you've saved your fellow readers from the agony of reading whatever I might have come up with.

This week's shelves are from Frances:
"Hi, my name is Frances! My hobby for anime, manga, and video games (98% JRPGs) rooted since I was in 1st grade in 2001 thanks to my brother and his friend for getting me into things such as Final Fantasy, Neon Genesis Evangelion (Yup, at such a young age too), Gundam, Detective Conan, etc. It wasn't until 2007 when I began to collect anime  and gaming related things, and it all started with manga such as Tsubasa Reservoir Chronicle, xxxHOLiC, and DNAngel. Now in my 4th year of college, my collection has grown so much that I had to give more than half of manga and anime dvds to some friends because I ran out of space!
In addition to collecting things related to my favorite series, I made a commitment to go to many local anime conventions as I can to meet various people working on the anime/manga and video game industry and learn from their experiences. I've met so many voice actors and with the help of friends I also got their autographs, ranging from lesser known VAs such as Michelle Knotz (Guided Fate Paradox) and Austin Tindle (Tokyo Ghoul, Prison School) to famous VAs such as Bryce Papenbrook (Tales of Graces, Fate/Stay Night UBW), David Vincent (Fire Emblem Awakening, Kill La Kill), Steve Blum (Digital Devil Saga, Cowboy Bebop), Jessica DiCicco (Resonance of Fate, Gravity Falls), and Josh Grelle (Mirai Nikki, Tales of Xillia 2). Additionally, I met some special industry people and such as Yoshiyuki Tomino, creator of Gundam, and Hideo Baba, executive producer of the Tales series. My main goal though is to meet the main English voice cast for Tales of Xillia and Xenoblade Chronicles X. I got more than half of the main cast down for Xillia, now only need a few more left to finish my goal! And hopefully I'll get to meet the huge cast of Xenoblade X someday!"
I love the signatures on the game cases. You've got something cool and unique to look at each time you take the disc out to play the game. Thanks for sharing!
I'm thrilled to have some new collections to show off in this column, but I still want more. Feed my insatiable appetite for photos of shelves by sending your pictures to [email protected]!
---
discuss this in the forum (13 posts)
|