Sound Decision
Stellvia
by Jonathan Mays,
Title:
Stellvia Original Soundtrack #1
Artists:
Seikou Nagaoka
Label:
Geneon Anime Music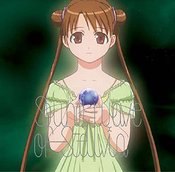 Release Date:
2004-08-03
Suggested Retail Price:
$14.98
Description:
Make the 'Stellvia Original Soundtrack' the center of your anime universe with its 43 tracks of easy-going and invigorating cosmic theme instrumentals by veteran anime composer Seikou Nagaoka (Tenchi Muyo!, El Hazard, Dual!) and the fantastic vocals of angela, including their performance of the intro song 'Brilliant Road to Tomorrow' and the two ending songs 'Beautiful Night Sky' and 'The End of the World.'
Track list:
Brilliant Road to Tomorrow
Glittering Each Star
In Search of Way
Usual Days
Ko Mi Cal
Sense of Fulfillment
Tender Sensation
Fragments of Memories
Flicker of Hope
A Walk in The Space
Cause of Anxiety
Absence of Mind
Rumbling Heart
Strain of Silence
Jingle A-type
Select the Future
STELLVIA Anthem
Preparation for Mission
Astro-Ball
Get Ready
Elegant Wings
Ova-avis Machine
Splendid Flight
Desperation Situation
Jingle B-type
Feeling of Impatience
Hide-Away
Cosmic Unrest
Fall into a Serious State
Sound of Darkness
Destination Unknown
Hard Operation
Transient Mirage
Farewell to...
Premonition of a Breeze
In the Early Afternoon
Great Haste
Make a Fuss Over...
Yearning for the COSMOS
Road to the Star
Make a Fresh Resolve
Beautiful Night Sky (TV Size Ver.)
The End of the World (TV Size Ver.)
Total time:
1:06:00
---
discuss this in the forum (5 posts)
|
back to Sound Decision - Little Big Muddy
Sound Decision homepage / archives