×
remind me tomorrow
remind me next week
never remind me
ANN Reader Survey • If you haven't had a chance yet, please fill out our annual survey, It's so helpful to us. As a thank you for filling out this massive survey, we're giving away 100 ANN subscriptions to people who fill it out.
read more
×
remind me tomorrow
remind me next week
never remind me
Subscribe to the ANN Newsletter • Wake up every Sunday to a curated list of ANN's most interesting posts of the week.
read more
Tankobon Tower
The Downside of Valentine's Day
by Allen Divers,
Week three of February, and Viz has hit us with a big release week. The fun thing about doing weekly manga reviews is the strange schedules that many studios use when sending out their stuff. Unlike a lot of anime distributors, manga distributors focus on one or two weeks in a month to release all their books. This month, TOKYOPOP used the first two weeks of the to get out all their books, while Viz looked to week three to bring out their top titles. Next week looks to be fun as it seems it'll be an all ADV Manga week, with only their four releases for the entire month coming out the last week of February. After three weeks of 10+ releases, it'll be nice to only have to read four titles.
---
Buy it!

Nausicaä of the Valley of the Wind, Vol. 1 (2nd edition)
Released by Viz
Story & Art by Hayao Miyazaki
$9.95 U.S.

When it comes to looking for a great story, probably the best place to start is to look at the name of the creator of this work. If the author's name for this book doesn't immediately ring a bell, then, think about titles such as Spirited Away, Castle in the Sky, Mononoke Hime and Kiki's Delivery Service. Suffice it to say, the name of Miyazaki should be enough to make you rush out and buy this book and all the books that follow. If that's not enough, you should also note that Nausicaä is considered one of the all time great animated features of all time, and the epitome of Japanese animation. If that's still not enough to convince you, start with the fact that Miyazaki-san is a master at weaving an inviting story. This isn't any random tale, but a beautifully crafted story rendered in a gorgeous way. It's got it all, romance, action, adventure, intrigue, mystery, just a truly wondrous work. Nausicaä is simply a must have.


One Piece Vol 3: The Dread Captain Usopp
Released by Viz
Story & Art by Eiichiro Oda
$7.95 U.S.

One Piece is filled with high seas adventure, over the top action and bigger than life characters, and that's just the first chapter. On the surface, One Piece may seem like another Dragonball clone, but it quickly develops a life of its own. Finishing up the Captain Buggy storyline, One Piece moves on to introduce the next member of the crew. Despite falling into a bit of a pattern of introducing a new hero and a new villain at the same time, One Piece makes up for it with a witty storyline and over the top antics. What I've always found interesting about this title is its unique artwork style. Cautioning on the simple side, the artwork manages to convey each characters' personality just right, making One Piece a very comfortable story to get into.


Revenge of Mouflon Vol 1
Released by Gutsoon
Story by Ueno Jiro
Art by Ono Yoichiro
$9.95 U.S.

In comparison to the top two for this week, this title strays from the world of fantasy and wonder and hits very close to home, and for Revenge of Mouflon, that's perfectly all right. Set in a world on edge thanks to the tragic events of Sept 11, Mouflon takes a hard look as one man struggles with the reality of life after that tragic event. The story centers around a stand up comedian named Sano Yohei on his way home to see his family. When the plane is hijacked, everyone on board is ready to die, all except Sano. Empowered by the words of a fellow passenger, Sano decides he no longer wants to be an ordinary sheep, but a mouflon, a wild and independant sheep. The story is strong and seems very real, especially in North America where we suffered a heavy blow thanks to terrorism. With so many titles filled with unreality, sometimes a taste of reality helps readers understand their own world a bit better. Revenge of Mouflon is a compelling dramatic tale focused squarely on how one man can try to change the world.


Excel Saga Vol 5
Released by VIZ
Story & Art by Rikdo Koshi
$9.95 U.S.

And after such a serious title, why not relax away the day with yet another strange journey thanks to Rikdo Koshi. Excel and Hyatt are back, and the evil organization Across is still trying to take over the city. Kabapu introduces two new associates to help the Environmental Security Administration in its quest to protect the city. Luckily it leads to outrageous results. If you enjoyed the wackiness of the Excel Saga anime, then be prepared as the manga is actually more outrageous. The anime pretty much went off and did its own thing, but the manga stays true to itself with gags galore. At times irreverent, Excel Saga is often random, witty and entertaining. For those looking for something different, you shouldn't have to go much further than this.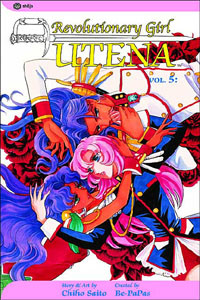 Revolutionary Girl Utena Vol 5
Released by VIZ
Created by Be-PaPas
Story & Art by Chiho Saito
$9.95

Falling into the category of "what the heck??" comes Utena. For those that don't get this one, it's about a girl, that loves a guy that looks like a girl, and then she actually turns into a car, and she has a sword and there's this other girl, and well, it gets a bit complicated after that. Actually, if you're not familiar with this series that's the impression many get from looking at the covers and the various anime music videos that are out there. In this latest installment, Utena finally finds her man, discovers the secret of World's End, and finds herself on the verge of revolutionizing the world. Is it possible that there's a big twist coming? Hmmm... but that would be telling. In case you're wondering, Utena is a title that has captured a lot of attention. Mixing shoujo good looks with solid shonen action, this series has become a must have in many fans' eyes. Adoration runs wild, so be sure to jump on the wagon!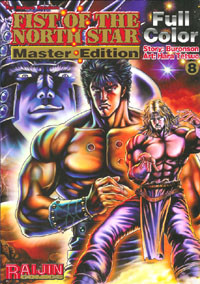 Fist of the North Star Master Edition vol 8
Released by Gutsoon
Story by Buronson
Art by Hara Tetsuo
$17.95 U.S.

You have to admire the guts of a company like Gutsoon that takes a big chance by putting a lot of effort into one of the highest priced manga books out there. While the price may be a bit daunting, it's what's inside that will have you drooling. Yes, this is the original Fist of the North Star series in all its glory, presented in full size format and full color pages. For that little bit of something extra, the book is wrapped in a beautiful dust jacket, similar to most graphic novel releases in Japan. Even before you get to the contents, you should understand you have one of the most unique manga books on the market today. For those unfamiliar with the story, it comes across as Kung Fu meets Mad Max. There's nothing really new here in terms of plot, but the story telling and artwork make Fist of the North Star Master Edition a must have.

---
Borrow it!

Yugioh Vol 4
Released by Viz
Story & Art by Kazuki Takahashi
$7.95 U.S.

Tired of the watered down version of the Yugioh anime, with its Americanized overtones and names? Then you'll probably want to pick up the original manga that remains as faithful as possible to the original Japanese vision for the series. After beating Kaiba at a card game, Yugi receives a mysterious invitation to Kaiba's new theme park. Now Yugi must face some of the most dangerous puzzles in the world to save his friends and his family. Making things even worse is the fact that Kaiba's little brother also has a grudge against Yugi. While the puzzles are entertaining, and the storylines move fairly quickly it does boil down to more of the same. The manga also comes across a bit darker than the anime, so you may want to take care if you're planning to introduce younger readers to this story.


Please Save My Earth Vol 3
Released by Viz
Story & Art by Saki Hiwatari
$9.95 U.S.

Past lives, prophetic dreams and a doomed planet are all wrapped up in this compelling dramatic story. This one is sure to pull at the heart strings, so get out the box of tissues. There is no easy way to make this a top recommendation, so you simply have to try it out first. For the curious, the artwork is gorgeous and the story is quite engaging.


Firefighter Daigo of Fire Company M Vol 6
Released by Viz
Story & Art by Masahito Soda
$9.95

When I was a kid, I dreamed of being a fireman. Then later on, I dreamed of being a pilot which progressed into becoming an astronaut and then eventually settled on just wanting to be rich. So back to the dreams of youth, I can at least live the life of a fireman vicariously through Firefighter Daigo. I guess it just goes to show you can take anything and turn it into a manga. So how do you tell the story of a fireman trying to make his way in the world? You give him that lone wolf attitude that makes people wonder if he's a hero or a public menace. Unfortunately, this has been done in so many cop films that translating that idea into a fire fighting drama seems overkill. Still, if you like action, and fire, this one may be for you. The drama is pretty intense, and it does help quell the thirst for adventure. This one is truly a mixed bag of gimmicks which is why it lands squarely in the world of Borrow It.


Knights of the Zodiac vol 2
Released by Viz
Story & Art by Masami Kurumada
$7.95

With its anime counterpart getting a lot of attention on Cartoon Network, plus the two versions of it available on DVD, its no surprise that this series will come under scrutiny. And while it's a classic tale of good versus evil, and given its place in anime history, something worth paying attention to, most people probably won't give this title a second look. The downside of bringing over older series is the fact that the newer series that were inspired by older work make this one look antiquated. Saving this from the Bury It pile is the fact that is a series that helped launch a lot of future series, making it a solid one to at least try out.

---