Anime Spotlight - Oreimo 2
by Justin Sevakis,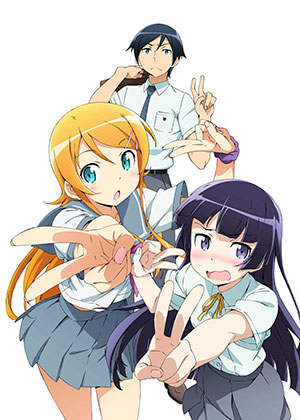 April, 2013 (Japanese Premiere)


Key Staff
Director: Hiroyuki Kanbe

    (Oreimo, Viper's Creed)

Series Composition: Hideyuki Kurata

    (Oreimo, The World Only God Knows, Read or Die)

Character Design: Hiroyuki Oda

    (Oreimo, Eureka Seven)

Animation Production

A-1 Pictures







Story
Kyousuke Kousaka is a high school boy living an average, quiet life, but it all takes a sudden change when his little sister Kirino asks him for advice.
Kirino has a popular and fulfilling life, but the truth is that she loves anime, games, and other otaku interests.
Kyousuke answers her request for advice seriously, and the frozen relationship they shared begins to thaw from the resulting encounters with Kuroneko and Saori Vageena, two girls they meet through a SNS, conflicts with Kirino's best friends, Ayase and Kanako, and help from Kyousuke's childhood friend, Manami.
Now that the latest issue involving Kirino's study abroad is over, what kind of events will her "advice" bring up next?
Characters
Kirino Kousaka
VA: Ayana Taketatsu

The main heroine. She's a modern middle school girl who's beautiful, gets good grades, is very athletic, practically perfect, and even stars as a fashion model. On the other hand, she's also an otaku who really loves anime and games. She studied abroad in America for a time to train for track competitions. She was high-handed towards Kyousuke, but her attitude's started change through his advice.

Kyousuke Kousaka
VA: Yuichi Nakamura

The main protagonist. Unlike his little sister, he's an average male high school student. For a long time his relationship with Kirino was cold and they never spoke, but it all started to change after she asked for his advice. He's caring and a bit of a busybody, showing concern for Kuroneko at school in addition to his sister's requests for advice. When he does though, he also shows his strong ability to take action as well.

Kuroneko
VA: Kana Hanazawa

One of Kirino's otaku friends who they met at an IRL meet. She's a high schooler at the same school as Kyousuke, but her personal outfit is usually a cosplay of her favorite character from the anime Maschera. Some of her juvenile actions are hard to bear, but she's also family-oriented and takes good care of her little sisters. She's an expert at games, and joins the game research club in high school. "Kuroneko" is her internet handle, and her real name is Ruri Gokou.

Saori Vageena
VA: Hitomi Nabatame

One of Kirino's otaku friends. She dresses in classic otaku fashion with her shirt tucked into her jeans, a bandana around her head and swirl glasses. She's the admin of the SNS community whose IRL meet brought her, Kirino and Kuroneko together. She was also the one who invited the two of them to hang out after the meet-up, and she's very caring. Online her speech and mannerisms are very graceful and genteel, much unlike her usual persona.

Ayase Aragaki
VA: Saori Hayami

A middle school girl and Kirino's classmate. She works as a model as well, and she's Kirino's best friend both at work and in school. She's very polite and friendly, but she can also be merciless with her words towards Kyousuke and her other friends. She's also quick to jump to conclusions, and worries about whether her best friend Kirino is being cold to her.

Manami Tamura
VA: Satomi Satou

Kyousuke's childhood friend and fellow high school student. Her speech is a little slow and she follows her own pace, but her looks are average. Kirino calls her "Plain girl". She's known Kyousuke for a long time, and they're very comfortable around each other. Her family runs a Japanese sweets store, and she's very good at cooking and housework.
Cast
Kirino Kousaka

Ayana Taketatsu

Kyousuke Kousaka

Yuichi Nakamura

Kuroneko

Kana Hanazawa

Saori Vageena

Hitomi Nabatame

Manami Tamura

Satomi Satou

Ayase Aragaki

Saori Hayami

Kanako Kurusu

Yukari Tamura

Daisuke Kousaka

Fumihiko Tachiki

Yoshino Kousaka

Akeno Watanabe
Staff
Original Creator

Tsukasa Fushimi
"Ore no imouto ga konna ni kawaii wake ga nai"
(Dengeki Bunko/ASCII Media Works Publishing)

Director

Hiroyuki Kanbe

Series Composition

Hideyuki Kurata

Original Character Design

Hiro Kanzaki

Character Design

Hiroyuki Oda

Production

A-1 Pictures




©Tsukasa Fushimi/ASCII MEDIA WORKS/OIP2
---
discuss this in the forum (236 posts)
|
back to Anime Spotlight Spring 2013 - The List
Anime Spotlight homepage / archives