×
remind me tomorrow
remind me next week
never remind me
Subscribe to the ANN Newsletter • Wake up every Sunday to a curated list of ANN's most interesting posts of the week.
read more
On the Set: Dragonball Evolution
by Bamboo Dong,

In March of last year, I had the opportunity to travel down to Durango, Mexico, to visit the set of Dragonball: Evolution during the last few days of shooting. I had the chance to speak with the film's principal cast and some of the set designers and other members of the film's creative team; naturally, I also got an up-close look at some of the props, sets, and costumes.

To read the interviews with the cast and crew in their entirety, check out the links below. Also, check back in a few days for the last few interviews, with more of the cast and director James Wong.
---
Bamboo Dong: On The Set
"Everybody right now, to me, is vermin!"
Those were the words spat out to me by a towering green monster, whose prosthetic veins bulged menacingly from his bulbous head. Underneath that four-hour makeup job was James Marsters, the actor who would bring Lord Piccolo to life, but it didn't make it any less terrifying to have him yelling just inches from your face. At that moment, I fully believed that despite no matter what else happened in the final print of Dragonball: Evolution, that they had at least created a convincing villian —even if he looked nothing like his manga character.
On Location
Despite the lava-filled volcanoes and Asian-themed temples that make up the new live action Dragon Ball movie, the entire film was shot in Mexico. The city scenes were shot in Mexico City, while everything else was shot in Durango, in the heart of the country. That was where I found myself in March of last year, witnessing the last few days of shooting.
According to producer Tim Van Rellin, the reasons for choosing Durango were partly the geography, which features craggy mountains that run through the state, but also the cost. "It takes a lot of money and takes a long time. We didn't have the time and we didn't have the money, so this place really worked well and the government here has been amazing," he explained.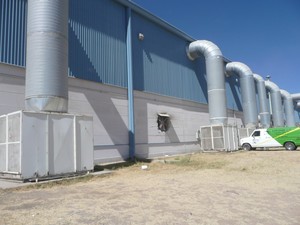 There, they were able to set up shop in an abandoned factory they called the Jeans Factory, which used to be a jeans manufacturing plant for Ralph Lauren. All of the equipment is still there, but it also provided plenty of empty space that could be used to house sets. Inside the factory, there were two multi-story blue screens set up for CGI work, as well as the upper third of the Dragon Temple, where Goku and his friends would spend some time training. There was also room for the Genesis Chamber, a futuristic pod where Piccolo would create Fu Luns, self-regenerating monsters that did his bidding. Outside the factory were the larger sets—the bottom third of the Dragon Temple, and a sprawling volcano that was lined with green—a placeholder for the computer lava that would spill out of it.
The complex also housed a variety of fun toys that would delight most adults. Yamcha's main ride, a Hummer-inspired behemoth made of scrap parts, were one of the many working vehicles that the set designers had to whip together. Aside from the multiple carbon copies of his truck that were parked inside, there was also Bulma's motorcycle, which actress Emmy Rossum had to learn to ride before she arrived in Mexico.
Unfortunately, there were some downsides to the location. The week I went coincided with fierce winds, strong enough to damage some of the outdoor sets. No major repairs had to be made, but it did set them back a couple of days. It was somewhat of a blessing, then, that Fox had decided to push back the release date by almost a year. Considering how much CGI had to be used for the film, all of which was done in various studios around the world, "it gives us a lot more breathing room in the post end," Van Rellin admitted.
Costumes
One of the most interesting stops on the tour was the costume trailer, a large room teeming with costume prototypes for the various characters. There to show off her creations was Mayes Rubeo, who confessed that although she started out not knowing much about the Dragon Ball franchise, she has read and watched everything she could get her hands on. She joked that her knowledge of the Saiyan levels has helped her keep the costumes accurate, telling her staff, "No, no, we can't actually do that, because if you do an orange gi, that means he's in Super Saiyan number 3." Although having that extra knowledge of the series helped, she admitted that the costumes were still very challenging to design because fans expected a certain look.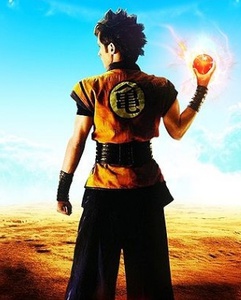 She used Goku as an example. Lining one of the walls was a rack filled with a few dozen variations on his costume. Ranging from his trademark manga-variant orange gi, to the costume that was eventually picked for the film, the collection shows just how many iterations of design they had to go through. Even when they settled on designs, they had to cycle through a variety of fabrics, just to make sure they draped well on Justin Chatwin's frame and looked good in the fight scenes. And of course, there was no room in his character's design for a tail.
Visual impact was a huge factor in deciding on final designs, too. Consider Piccolo's trademark white tunic and turban. According to Rubeo, "That is not very interesting. We weren't going to do that for the movie. I don't think he was going to work out in terms of visuals, you know. You want to show something. [The final design] is nice. It has texture." And indeed, it's wildly different from Toriyama's rendition. Instead of the tunic, Piccolo has on a sculpted black full-body get up. The soft folds of the white cloth are replaced with hard, chiseled armor. Even the bright green skin of the original character are toned down, replaced with the skin tone of a sallow, sickly man. The end result is something that's much more modern, which is a theme with most of the costumes.
Regarding Goku, for instance, Rubeo explained that they wanted to show "that Goku dresses like any kid in the world." The same thought process went into Bulma's hairstyle, which is a natural brunette ponytail, contrasted with a chunk of blue hair. "We wanted hair that a Real Girl would wear, but that still showed some of her other side," Rubeo pointed out, showing us the sleek, tight outfit that Rossum would be wearing.
Actors
In between filming, the various actors were able to sit down with us and talk about their characters, as well as their future plans. The first to join us was Emmy Rossum, who plays the part of Bulma. At first glance, she's nothing like the tough gal she plays. As she carefully arranged herself on the chair, she pulled out a banana and apologized, saying, "You know, there's really no proper way to eat a banana." She immediately talked about how fun the whole experience was for her, citing Bulma's reputation as "the smartest girl in the world" as an exciting challenge. In order to train for the role, she also had to learn to shoot a variety of guns, and how to ride a motorcycle, and said that as a result, she was "stronger than [she's] ever been in the past"
We also spoke with Eriko Tamura, who played the role of Mai. Well known in Japan for her TV roles and solo albums, she's only recently started acting in the US, playing Princess Yaeko in the NBC series, Heroes. This was her first time playing a villain, though, and she said it was difficult, because she couldn't immediately "go to that really dark place every time." Her inspirations weren't other villains, though; she was told to take her cues from "other strong women" like Trinity from The Matrix and "The Bride" from Kill Bill.
It was much easier for James Marsters to reach "that really dark place." By the time we found him on the set, he was already in character. He mentioned that he was a fan of the Dragon Ball series, and that it had helped him raise his son. "I understand his aggression and [that] his anger is not a bad thing." He added, "It's like a dragon that you have to ride. And you can't kill your own dragon. You can't chop off your own balls, but at the same time, you can't let your dragon run you around the world, out of control. Dragon Ball helps to teach young boys."
He wasn't the only Dragon Ball fan in the cast, though. Korean music star Joon Park, who had a part in WB's Speed Racer, was thrilled to audition for the role of Yamcha, saying that he had begged the director to allow him to be in the background of one of the scenes as a manure shoveler, even if he didn't get the part. Of course, he did get the part, and it suits his personality well. Chatty and a outgoing, he said that he and the other actors would often break out into improvised raps on the set while waiting for the crew.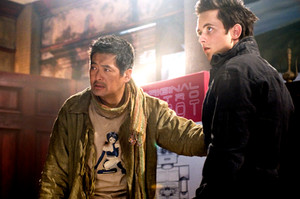 And of course, there was Chow Yun Fat, whose name has become legendary over the years thank to his roles in cult favorite Hong Kong action movies. He's been getting more parts in Hollywood films, too, something he is thankful for as an Asian actor because he says it gives him more exposure. Asked whether it was harder to star in action films or do comedy, he thought for a moment and said that comedy was much harder. "Comedy, more or less, is difficult for all actors, except Jim Carrey," he laughed.
Even with his easy-going nature, Chow lends a certain gravitas to his character, Master Roshi, whose lecherous nature is toned down immensely for this movie. We watched him do a scene later that day at the Toysan Temple. It seemed like an appropriate way to sum up the film, as he intoned:
Seven Dragonballs must be found, For all man's fate will be bound. To battle forces of death and fear, And compel Shen Long to appear.
---
discuss this in the forum (82 posts)
|
this article has been modified since it was originally posted; see change history