Banana Fish Manga Giveaway!
October 22, 2018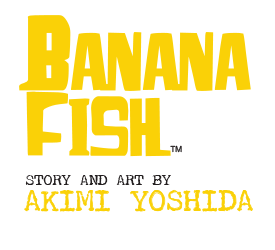 VIZ Media is giving away something cool for you. You may be one of the 19 lucky winners of a one-of-a-kind volume of Banana Fish! What's more awesome? Each winner will receive the ONLY signed copy of Banana Fish volume in existence. Yes, you've read that right: A volume copy of Banana Fish signed by Akimi Yoshida!

BANANA FISH © 1987 Akimi Yoshida/SHOGAKUKAN
About the Manga


BANANA FISH © 1987 Akimi Yoshida/SHOGAKUKAN
Nature made Ash Lynx beautiful; nurture made him a cold ruthless killer. A runaway brought up as the adopted heir and sex toy of "Papa" Dino Golzine, Ash, now at the rebellious age of seventeen, forsakes the kingdom held out by the devil who raised him. But the hideous secret that drove Ash's older brother mad in Vietnam has suddenly fallen into Papa's insatiably ambitious hands—and it's exactly the wrong time for Eiji Okamura, a pure-hearted young photographer from Japan, to make Ash Lynx's acquaintance...
Epic in scope, and one of the best-selling shojo titles of all time in Japan, Akimi Yoshida put an electric shock into the genre and gained a huge crossover audience through Banana Fish's stripped-down, non-stop style.
More information about the series can be found here
How to enter the contest?
It's simple. You just need to show your love for Banana Fish as creative as possible! Just simply tag the following officlal social media accounts and be sure you use hashtag #WeLoveBananaFish
TWITTER @VIZMedia
INSTAGRAM @vizmedia

That's all you need to do. You better make it soon as the contest ends on 10/31 23:59 EST. VIZ (along with Shogakukan) will be judging and selecting the winners and an announcement be posted here on ANN. Good luck to everyone!
The Fine Print: Although unlikely to happen,
Anime News Network
reserves the right to cancel this contest at any time. Contest is open to any and all residents of the planet Earth and neighbour parallel dimensions, but prizes will only be shipped within the continental United States and Canada (elsewhere, you have to arrange to have it sent to someone living in the appropriate area, and they can send it to you.) Winners' names and city/state/province
will be posted
on AnimeNewsNetwork.com, their mailing addresses will be provided to our sponsor and/or shipping agent of choice (ex: USPS), and no one else. Winners' addresses and e-mail addresses will be erased once the prizes have been shipped. Non-winners' names, e-mail and mailing addresses will not be given out to any one and will be erased when the winners have been confirmed. Non-winners will not be contacted, spammed or harassed in any way. We reserve the right to retroactively add new rules when and how we see fit.
---
discuss this in the forum (8 posts)
|