×
remind me tomorrow
remind me next week
never remind me
ANN Reader Survey • If you haven't had a chance yet, please fill out our annual survey, It's so helpful to us. As a thank you for filling out this massive survey, we're giving away 100 ANN subscriptions to people who fill it out.
read more
×
remind me tomorrow
remind me next week
never remind me
Subscribe to the ANN Newsletter • Wake up every Sunday to a curated list of ANN's most interesting posts of the week.
read more
Banana Fish Manga Giveaway!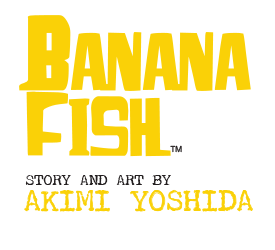 VIZ Media is giving away something cool for you. You may be one of the 19 lucky winners of a one-of-a-kind volume of Banana Fish! What's more awesome? Each winner will receive the ONLY signed copy of Banana Fish volume in existence. Yes, you've read that right: A volume copy of Banana Fish signed by Akimi Yoshida!

BANANA FISH © 1987 Akimi Yoshida/SHOGAKUKAN
About the Manga


BANANA FISH © 1987 Akimi Yoshida/SHOGAKUKAN
Nature made Ash Lynx beautiful; nurture made him a cold ruthless killer. A runaway brought up as the adopted heir and sex toy of "Papa" dino Golzine, Ash, now at the rebellious age of seventeen, forsakes the kingdom held out by the devil who raised him. But the hideous secret that drove Ash's older brother mad in Vietnam has suddenly fallen into Papa's insatiably ambitious hands—and it's exactly the wrong time for Eiji Okamura, a pure-hearted young photographer from Japan, to make Ash Lynx's acquaintance...
Epic in scope, and one of the best-selling shojo titles of all time in Japan, Akimi Yoshida put an electric shock into the genre and gained a huge crossover audience through Banana Fish's stripped-down, non-stop style.
More information about the series can be found here
How to enter the contest?
It's simple. You just need to show your love for Banana Fish as creative as possible! Just simply tag the following officlal social media accounts and be sure you use hashtag #WeLoveBananaFish
TWITTER @VIZMedia
INSTAGRAM @vizmedia

That's all you need to do. You better make it soon as the contest ends on 10/31 23:59 EST. VIZ (along with Shogakukan) will be judging and selecting the winners and an announcement be posted here on ANN. Good luck to everyone!
Giveaway has ended. Congratulations to our lucky winners:
BF is a series so close to my heart. On top of an 80s crime story with gorgeous art, it's bittersweet story of a boy & the unconditional love he was able to experience despite a life of exploitation made me cry. I'll be leaving a rose at the NY public library 🌹#welovebananafish https://t.co/rtLYgo1nLX

— self-exploding boy (@lovezaku) October 24, 2018
Such an engrossing story! I was floored by the owerwhelming feeling. Yoshida-san does a great job of transitioning the angst & humor. I fell in love with Ash! I was invested in his struggles. It makes me suffer and cried but keeps me flipping the page after page #WeLoveBananaFish pic.twitter.com/ha1gi1GPt2

— ichinomiya (@sleuthian) October 30, 2018
twenty four reasons why i love banana fish and everything it is to me

— scroll down to read more 🌱💗✨#welovebananafish @VIZMedia pic.twitter.com/DTIsUZWiVx

— nina (@okumuralynxs) October 29, 2018
@VIZMedia #WeLoveBananaFish
It's difficult to express how much I love Banana Fish.❤️
I love it because it's true.
It's a perfect mix of friendship, action, intrigue and revenge.
It shows a realistic and empathetic understanding of how trauma affects its characters.
(Continue↓) pic.twitter.com/YJeNxcSO8P

— ๑•Maty•๑ (@Matymolinari__) October 29, 2018
.@VIZMedia said to get creative for their #BANANAFISH giveaway contest, so I decided to carve Ash onto the thing he fears the most... a pumpkin! #HappyHalloween #WeLoveBananaFish pic.twitter.com/sLIYkv9gx3

— Tenbinzan in the Rye (@Tenbinzan) October 31, 2018
#WeLoveBananaFish It's all about love-about the difficulty of finding it in a world obsessed with power, about what creates it or destroys it. Makes me rethink of what's meaningful in life other than surviving and the relentless pursuit of love so we can to drown in it. pic.twitter.com/XW0AVJSNa0

— stef // ステ腐 🍌🐟 // healing from 🍌🐟 (@onestefcloser) October 31, 2018
Banana Fish deals with incredibly traumatic topics in an intelligent manner, a rarity in this day and age, let alone in the 80s. Every character is distinct and well rounded. The emotion is visceral. #welovebananafish https://t.co/PmTwlrOrYH

— Rya (@RyaCosplay) October 24, 2018
Do #WeLoveBananaFish ? Well, @VIZMedia , I've gone ahead and made you a full course meal of Banana Fish adoration! 🍌🐟
Appetizer: Sing's "Junk White People Eat"
Entree: Eiji's "Perfect Nutrition!" Tofu Sandwich (with chips)
Dessert: Max's Bananas Foster (extra rum, please!) pic.twitter.com/9QvYdfTvb1

— zawa loves 🍌🐟 (@zawa113CJ) October 26, 2018
Hope I have a chance. I also pre ordered the Kotobukiya figure.@VIZMedia #welovebananafish pic.twitter.com/Yab5ugA42V

— Rose Rappaport (@anime_gurl1) October 23, 2018
#WeLoveBananaFish Pt. 2 - Some more photos, more on the creative side! I had a blast making this, but it also hurt my heart. Hopefully this was creative enough ✨ @VIZMedia pic.twitter.com/mh1OAPq9eX

— Gigi (@sanamay11) October 31, 2018
Here's a drawing I did of the boys inspired by graffiti.
Loved the manga a lot and am super happy about the anime! The series was hauntingly beautiful. With such a powerful story and rich characters, it definitely is one of the best.
Thanks, Yoshida & @VIZMedia#WeLoveBananaFish pic.twitter.com/uPbdn8QlUQ

— killer of the sea 🍌 🐟 (@spicyspacetuna) October 30, 2018
@VIZMedia Banana Fish blew my mind when I first read it almost a decade ago, and I'm just as passionate about it today! Watching the anime is letting me experience this amazing emotional rollercoaster anew. #WeLoveBananaFish ! pic.twitter.com/zj0C6LPcBU

— Emily 🍌🐠❤️ (@cosmicevila) October 25, 2018
But, you are, the only exception
You are, the only exception
You are, the only exception
You are, the only exception@VIZMedia #WeLoveBananaFish #bananafish #ashxeiji #fanart #boyslove #animeart pic.twitter.com/rK8Qpv2zMr

— Colouriel (@uriel_colouriel) October 31, 2018
Banana Fish of Akimi Yoshida is one of the most well written works that I know of, so much that I took more than 150 notes of analysis of the plot to inspire me in books that I want to write as her as aspiring writer, because #WeLoveBananaFish @VIZMedia pic.twitter.com/GhZ2Rtp7LU

—

𝑪𝒆́𝒔𝒂𝒓

(@CesarFachinello) October 29, 2018
The Fine Print: Although unlikely to happen,
Anime News Network
reserves the right to cancel this contest at any time. Contest is open to any and all residents of the planet Earth and neighbour parallel dimensions, but prizes will only be shipped within the continental United States and Canada (elsewhere, you have to arrange to have it sent to someone living in the appropriate area, and they can send it to you.) Winners' names and city/state/province
will be posted
on AnimeNewsNetwork.com, their mailing addresses will be provided to our sponsor and/or shipping agent of choice (ex: USPS), and no one else. Winners' addresses and e-mail addresses will be erased once the prizes have been shipped. Non-winners' names, e-mail and mailing addresses will not be given out to any one and will be erased when the winners have been confirmed. Non-winners will not be contacted, spammed or harassed in any way. We reserve the right to retroactively add new rules when and how we see fit.
---
discuss this in the forum (11 posts)
|
this article has been modified since it was originally posted; see change history