News

Italian Volleyball Team Puts One Piece on Uniforms

posted on by Egan Loo
Pallavolo Modena's libero players play with Monkey D. Luffy jerseys
---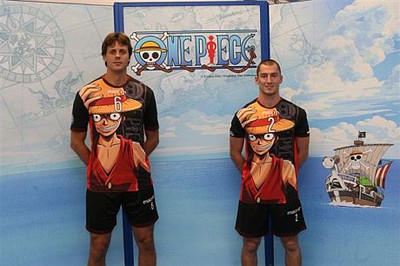 Not-So-Daily Link of the Day: This season, the Pallavolo Modena team of the Italian Volleyball League is dressing two of its players in official jerseys emblazoned with Monkey D. Luffy, the young pirate captain that is the main character in Eiichiro Oda's One Piece manga and anime. Pietro Rinaldi (6) and Edoardo Ciabattini (2) play libero — defensive players who can freely ("libero") replace any of the back-row players during a game. Libero players are required by the sport's regulations to wear different jerseys from the other players to set them apart.
In previous seasons, Modena's libero players have worn Spider-Man and Iron Man jerseys sponsored by Marvel. This year, Toei Animation is sponsoring One Piece designs on their jerseys. The manga began publishing in Italy in 2001, and the anime is currently airing five days a week with an average audience of 1.7 million.
Thank you to Alen Pavka and goty for the news tip.
Source: Arlong Park Forums
Image © 2005-2008 Volleybal Modena
© Eiichiro Oda/Shueisha, Toei Animation
---