×
remind me tomorrow
remind me next week
never remind me
Subscribe to the ANN Newsletter • Wake up every Sunday to a curated list of ANN's most interesting posts of the week.
read more
News

Producer: No Square-Enix Anime Lost Money in 8 Years

posted on by Egan Loo
Kouji Taguchi
compares anime-making to fishing, discusses overseas manga sales
---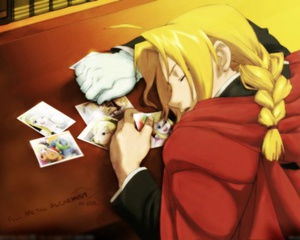 Producer Kouji Taguchi (Fullmetal Alchemist, Soul Eater, Kuroshitsuji, Saki) of the publishing company Square Enix discussed his experiences in making anime at the Gekiteki 3-Jikan Show (Dramatic Three-Hour Show) event during the Japan International Contents Festival on Tuesday. According to Taguchi, Square Enix has made about 30 titles in the last eight years, but not a single one lost money for Square Enix. Taguchi began working at Enix at 1988, before it merged with Squaresoft to form his present employer. He is now responsible for the publishing, music, and advertising departments and is often credited for "planning" or as "executive producer" in anime.
Compared to games, Taguchi said that using anime in the publishing business is actually much easier. He noted that Square Enix specializes in targeted genres, such as moe, fujoshi (otaku of boys-love stories), surreal gag, and traditional shōnen manga. He cited Saki and Bamboo Blade as examples of moe titles aimed at males 30 to 40 years old. Fullmetal Alchemist is an example of traditional shōnen manga, which is the biggest of the genres.
While he noted that Square Enix is planning a second season of the fujoshi anime Kuroshitsuji, he added that fujoshi is a difficult genre. The first Kuroshitsuji manga volume eventually sold 1 million copies, but only 50,000 copies were made in the first printing. Similarly, Taguchi described the surreal gag genre (exemplified by Tentai Senshi Sunred and The World of GOLDEN EGGS) as very difficult from a business standpoint due to fickle trends. He noted that gag manga he once read as a schoolchild were no longer funny when he re-read them later. GOLDEN EGGS started as a small cable television series, but spread like wildfire in just five years.
Comparing Anime to Fishing

Taguchi compared the targeting of market audience with fishing in the right spot with the right lure. Specifically, he said it is essential for the company to first search for where the fish are (search for a popular genre), then decide on a lure that these fish would like (decide on the work to adapt), and finally get the fish to bite on the lure (select the anime studio).
The publishing companies have to foot the production, marketing, and advertising costs in order to put anime on television. One episode would cost 10 million to 20 million yen (about US$110,000 to US$220,000) to produce. In addition, the publishers have to pay the sponsoring fee for the timeslot, which can cost about 50 million yen (US$560,000) for late-night timeslots on five to seven stations for two cours (six months). However, sponsoring timeslots on UHF stations cost about half of that. The total budget for an anime series on the level of Fullmetal Alchemist (which aired on key stations for one year at 6:00 p.m. on Saturdays) was at least 500 million yen (US$5.6 million).
Manga Sales Jump After Anime Airings

Taguchi added that it is simple to see how publishers profit from broadcasting television anime. For example, each compiled book of the Fullmetal Alchemist manga costs buyers 420 yen (US$4.70), but once author's fees, printing costs, and paper costs are subtracted, publishers are left with 150 yen (US$1.70) per book. If it takes at least 500 million yen to fund a television anime, the anime has to boost the total manga sales by at least 3.3 million copies to be profitable for the publisher.
Sales of the first Fullmetal Alchemist volume alone jumped from 150,000 copies to 1.5 million copies after the anime aired. Before the second anime series aired, each volume sold about 1.9 million copies, but each volume now sells 2.1 million copies. Taguchi estimates that a total of 4.6 million more Fullmetal Alchemist manga volumes were sold thanks to anime.
Four weeks before the Saki anime aired, the first manga volume sold about 500 copies in one week. However, sales jumped to about 3,000 in the week before its premiere, 4,500 in the week of the premiere, 17,000 in the second week, and 9,000 in the third week. Whereas each manga volume sold about 150,000 before the anime aired, the average rose to 350,000 afterwards. (There are now six manga volumes.)
By comparison, the first Kuroshitsuji volume sold 4,000 weekly copies three weeks before the anime aired, 8,000 copies two weeks before, and 12,000 copies a week before. It then sold 14,000 copies on premiere week, 17,000 in the second week, 16,000 in the third week, 14,000 in the fourth week, 13,000 in the fifth week, and 14,000 in the sixth week. Whereas the first manga volume sold 600,000 copies before the anime aired, total sales reached 910,000 by the end of the anime. (The sales figure now stands at 1 millon copies.)
Reasons Manga Do Not Sell Well Overseas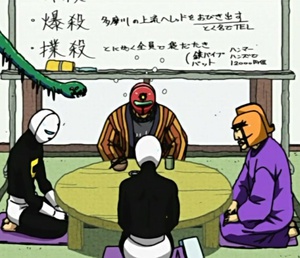 Taguchi noted that Japan Expo in Paris and Comic-Con International in San Diego each attracted over 100,000 people every July. However, he also said that he thinks that comics as a business is not faring well overseas. After Fullmetal Alchemist aired, Fullmetal Alchemist and
Naruto
were among the top-selling comics in America. However, their American sales were about 1/20th to 1/10th the size of their Japanese sales.
Taguchi explained that the first reason for this difference is the higher price of overseas manga due to smaller print runs. His second reason is the relative lower amounts of cash that children have. The third reason is geographics — Taguchi said that a typical Tokyo resident can reach about three bookstores by bicycle, but children overseas have to go to a shopping mall on weekends with their parents. As a result, TV anime is extremely popular among many people, but not as many actually buy manga.
Taguchi noted that Shueisha, Shogakukan, Kadokawa Shoten, and Square Enix announced at last month's Tokyo Game Show that they will distribute manga on Sony's PlayStation Network for Japanese PlayStation Portable consoles. Taguchi thinks that similar distribution methods will lower the barrier of ownership in places without bookstores in Europe and America. However, he noted that the specifications of Western mobile phones do not compare to those of Japanese mobile phones, so he does not expect standard mobile phone manga to take off compared to manga through other means such as smartphones, PSPs, Apple iPods, and Nintendo DS consoles. He also expressed reservations on web manga distribution services in Europe and America similar to Square Enix's own Gangan Online site in Japan.
While Taguchi strongly downplayed the overseas chances of surreal gag manga, he was more positive about moe and fujoshi; he cited the large crowds of Haruhi dancers and the influx of Gothic Lolita fashion at Japan Expo.
Source: Busines Media Makoto
---