News

Gurren Lagann iPhone App Lands in U.S., Eva Apps Planned

posted on by Egan Loo
Rei reports weather; augumented-reality app puts EVA unit in real-life Tokyo-III
---

Not-So-Daily Links of the Day: The Japanese mobile content company Media Magic began offering an "iYoko" app, based on the popular Yoko character from the Tengen Toppa Gurren Lagann anime franchise, for the Apple iPhone, iPod touch, and iPad mobile devices on Wednesday. The app is available in the United States as well as in Japan.
One part of the app is a virtual, onscreen Yoko which reacts to touch and vibration by talking and changing expressions. Depending on where the user touches the screen and how often, "iYoko's" mood changes. The app also responds with different lines of dialogue, depending on the time of day, special events, and other factors. Another part of the app manages the addresses and phone numbers of contacts with 38 different Gurren Lagann character icons. Media Magic hints that the app has other features such as a mini-game where the player looks for the mascot character Boota hidden somewhere on Yoko.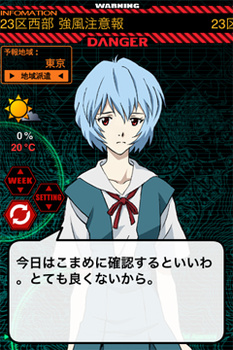 Media Magic had previously announced that it will offer an "Evangelion Forecast with Rei" app in the near future. In this app for the iPhone 3G and 3GS, the Evangelion character Rei will give customized weather reports in Japan. The app will also give storm warnings, typhoon alerts, moon phases, and other updates. The app will require a monthly subscription.
The LAWSON convenience store chain will offer a different augmented-reality (AR) app which will give visitors a 360-degree, three-dimensional Evangelion unit against the real-life landscape of Japan's Hakone City. Visitors to the former Sengokuhara Junior High School in Hakone — the school and city that inspired the fictional First Municipal Middle School and New Tokyo-III setting of Evangelion — can download the app for the iPhone 3G/GS from LAWSON. When a user points the iPhone's camera at the right location in Hakone on the right days in April and May, a 80-meter-tall EVA-01 unit will appear onscreen against the landscape. Not coincidentally, the gymnasium in the same middle school will host advance screenings of the remastered Evangelion: 2.22 You Can (Not) Advance (Evangelion Shin Gekijōban: Ha) film on May and 9.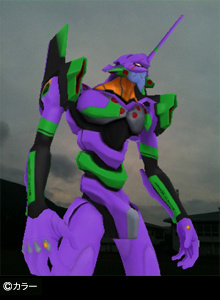 Media Magic is also selling the official Evangelion bicycles with the accompanying official EVA01 Spandex Bicycle Shorts. Another company, Bandai Namco Games, offered software that creates a live, real-time news program anchored by Evangelion character Misato on the Sony PlayStation 3 console in Japan. However, that service ended earlier this year.
Bandai Entertainment sells the Gurren Lagann television series and manga in North America, while Aniplex of America is selling the two Gurren Lagann movies through Bandai Entertainment. ADV Films released the original Evangelion television series, and FUNimation Entertainment released the first of the four new Evangelion films.
Images © Gainax, Kazuki Nakashima/Aniplex, KDE-J, TV Tokyo, Dentsu
© Gainax © Khara
© Media Magic
---