News

Remastered Eva 2.22 Gets Screenings in 'New Tokyo-III'

posted on by Egan Loo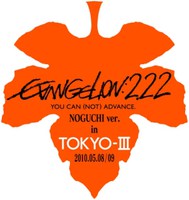 Not-So-Daily Link of the Day: The official website of the new Evangelion movies has announced that there will be screenings of the remastered Evangelion: 2.22 You Can Not Advance (Evangelion Shin Gekijōban: Ha) film at "New Tokyo-III" on May 8 and 9. Specifically, the screenings will take place at the gymnasium of Sengokuhara Junior High School in Hakone — the school and city that inspired the fictional First Municipal Middle School and New Tokyo-III setting of Evangelion.
This second film in Hideaki Anno and Khara's four-part remake of Gainax's Neon Genesis Evangelion science fiction anime series was released in theaters last June under the title Evangelion: 2.0 You Can (Not) Advance. The new "2.22" version number represents the Blu-ray/DVD release's digital mastering with "retakes." The Hakone screenings will feature the Blu-ray/DVD "Noguchi ver." of the film, in which a climatic scene will use the "I Would Give You Anything" song.
Attendees will receive an original, not-for-sale "Evangelion Hakone Instrumentality Map," a personalized certificate of residency for New Tokyo-III, commemorative "moving-in" pins, and a NERV seat cushion.
---