News

3rd Evangelion Remake Film to be Titled Q quickening (Updated)

posted on by Egan Loo
About 800 fans line up before 2nd film's first showing at one Tokyo theater
---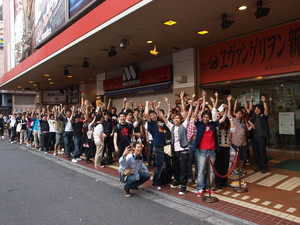 The teaser at the end of the Evangelion:2.0 You Can (Not) Advance (Evangelion Shin Gekijōban: Ha) film has revealed on Saturday that the next Evangelion film will be titled Evangelion Shin Gekijōban: Q quickening. The next film's full English title has yet to be given. Director Hideaki Anno and his Khara anime studio are remaking Gainax's Neon Genesis Evangelion science-fiction television anime series into four theatrical films. The "Q" or "Kyū" in the third film's title is a wordplay in Japanese; the first three films' subtitles are the names for the three classical movements (Jo-Ha-Kyū or Introduction-Exposition-Climax) of traditional Japanese music such as gagaku and Noh.

The Otaku2 website posted an in-depth review of the second film with spoilers. The Mainichi Shimbun paper's Mantan Web section reports that about 800 fans lined up before the first public screening of Evangelion:2.0 at 8:00 a.m. at the Shinjuku Milano-za theater in Tokyo's Shinjuku ward. The theme song of the second film was revealed on Saturday to be "Beautiful World -PLANiTb Acoustica Mix-," a remix of Hikaru Utada's "Beautiful World" theme song for the first film (Evangelion:1.0 You Are (Not) Alone).

The Gigazine website notes that participating theaters offered a limited-edition combo set of popcorn in a Nerv bag (caramel-flavored at an extra charge) and a drink topped with an Asuka character figure. The official Evangelion movie retail website posted a list of other tie-in items, such as the Spear of Longinus paper knife. The Asahi Shimbun paper reports that actress Natsuki Katou appeared in a Nerv uniform on Saturday to promote the first day of general sales for the Evangelion SH-06A NERV mobile phone. There was a ceremony to mark the event at the Big Camera chain's main store in Yūrakuchō neighborhood.
Funimation is releasing the first film in the remake, Evangelion: 1.0 You Are (Not) Alone, in North America this year in theaters and on home video.
Thank you to Patrick Galbraith for the news tip.
Update: The Famitsu magazine's website also reports on the events surrounding Tokyo's first screening. Seele cosplayers appeared at the line that had already formed overnight. The doors opened at 6:06 a.m. for the 8:00 showing, and by 6:30, the theater was filled to its 1,064-person capacity. (People still waiting in line after the cutoff point had to see the next scheduled showing.)
The Mantan Web covered the Evangelion street event that was held at Shinjuku's Kabukichō neighborhood just outside the movie theater this weekend. Photo idol Miu Nakamura and five other models made appearances in the plugsuits of the Rei Ayanami character, while fans participated in a two-day cosplay contest.

---