News

Panty & Stocking DVD Plus Black Lagoon Blu-rays Released Monday

posted on by Andrew Osmond
Also second part of
Clannad
series.
---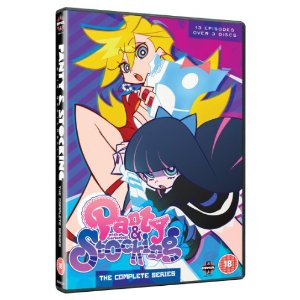 Manga Entertainment is releasing the lewd comedy Panty & Stocking with Garterbelt on Monday July 30. It is a three-disc set with over 80 minutes of bonus material, including the extra "Loft Plus" episode, a Making of, Out-takes and Missing Scenes. The release is rated 18 by the BBFC, uncut. (According to the BBFC website, the 18 rating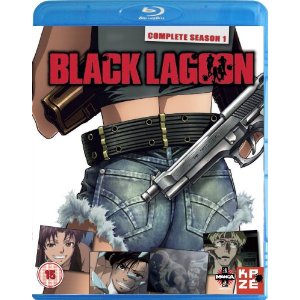 was due to content in episodes 5 to 8 of the series, which "contained strong sex references and very strong language.")
The Studio Gainax series story centers around a teen-celebrity-like blond-haired girl named Panty and a black-haired Goth Loli girl named Stocking. The two are angels sent from the heavens to battle the "Ghosts" on Earth.
Monday also sees the Blu-ray debut of Black Lagoon, in two sets containing the first and second seasons (both left). Animated by the Madhouse studio, the hardboiled crime series follows the exploits of a team of mercenaries operating out of a lawless Thailand city (based on the manga by Rei Hiroe). The series was reissued in a single

DVD set on July 9, but the Blu-rays were delayed by a delivery error by the disc manufacturer.

Finally, Manga Entertainment is also releasing Part 2 of the romantic drama series Clannad. The first part of the sequel series, Clannad After Story, is due to follow on September 24.
---