News

Aya Hirano Stars in Himitsu no Akko-chan Flash Anime

posted on by Ko Ransom
10 one-minute shorts created to promote upcoming live-action film
---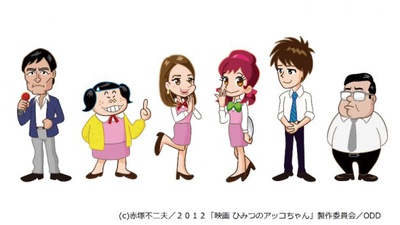 The Sukkiri!! news information program on Nippon Television will broadcast 10 one-minute, flash-animated Himitsu no Akko-chan shorts starring Aya Hirano as the voice of the title character. The shorts will begin airing on August 20 and will run until August 31, the day before the premiere of the upcoming live-action Himitsu no Akko-chan film adaptation of Fujio Akatsuka's shōjo comedy manga.
While the original manga tells the story of a fifth-grader who receives a magical compact that allows her to cast spells and transform, the flash animations will use the film's new premise where Akko-chan is a 22-year-old woman and office worker who meets her fateful love. Shashamin, known for his work with musicians such as Scha Dara Parr, Kaela Kimura, and Orange Range, will illustrate the series.
The upcoming live-action film from director Yasuhiro Kawamura (Kochira Katsushika-ku Kamearikouen-mae Hashutsujo, Nodame Cantabile: The Final Score Part II) will open on September 1. It is not only the first live-action film of Himitsu no Akko-chan, but also the first live-action film adaptation of any manga by Akatsuka.
The manga already inspired three anime series in 1969, 1988, and 1998. (This year marks the manga's 50th anniversary.) It also inspired two anime films and a 1987 live-action television drama version. In addition to Akko-chan, Akatsuka created Tensai Bakabon, Osomatsu-kun, Hennako-chan, and Mooretsu Atarou — all of which were eventually animated.
Source: Comic Natalie
---