×
remind me tomorrow
remind me next week
never remind me
Subscribe to the ANN Newsletter • Wake up every Sunday to a curated list of ANN's most interesting posts of the week.
read more
News

Bungō Stray Dogs Anime Casts Kishô Taniyama

posted on by Egan Loo
Plays "Port Mafia" member Chūya Nakahara in April anime
---
The official website for the upcoming television anime of Kafka Asagiri and Sango Harukawa's Bungo Stray Dogs manga announced on Friday that Kishô Taniyama will play Chūya Nakahara. The website also posted a character image:

Nakahara is a top-level Port Mafia member who detests Osamu Dasai. Like the previously-announced characters, he is loosely based on a real Japanese literary writer.
Previously revealed characters include:

Yūto Uemura
(
Kamigami no Asobi
's
Tsukito
Totsuka) as Atsushi Nakajima (Light, Wind and Dreams), who came to Yokohama after being driven out of a poor orphanage that was attacked by a man-eating tiger. On the verge of starvation, he meets Dazai and gets a job helping at the detective agency. Because he's never had friends or family and was labeled as "useless," he lacks self-confidence. The website does not list his ability.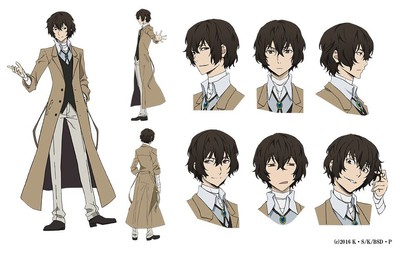 Mamoru Miyano (Free! - Iwatobi Swim Club's Rin Matsuoka) as Osamu Dazai (No Longer Human, Shayo), a member of the Armed Detective Agency. He's a suicide enthusiast who searches for a place to die. However, he doesn't like pain, and would prefer a lovers' suicide with a beautiful woman. He's aimless and elusive and doesn't bother anyone. His last job is said to be one of the "seven wonders of detective agencies." His ability is called "human elimination."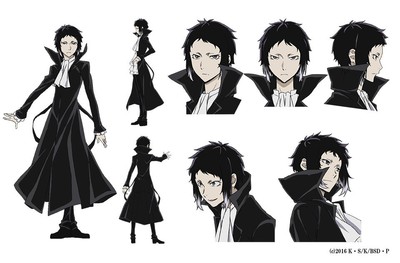 Kensho Ono (Aldnoah.Zero's Slaine Troyard) as Ryūnosuke Akutagawa (Rashōmon, Jigoku hen), a member of the notorious "Port Mafia" that operates by the harbor. With his black cloak and cold expression, he looks like the grim reaper when he walks the streets. His ability is called "Rashōmon."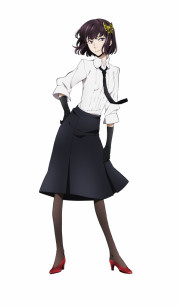 Yu Shimamura (Attack on Titan's Annie Leonhardt) as Akiko Yosano, a modern woman with a bob cut who's a member of the Armed Detective Agency. Although she's an excellent doctor who is indispensable to the Agency, all members of the the Agency are scared to be placed into her care. It's recommended that you don't use outdated misogynistic expressions in front of her.


Chiaki Omigawa (Soul Eater's Maka Albarn) as Naomi Tanizaki, a beautiful young girl in a sailor suit who lets her long black hair hang down. (Naomi is the name of the title character in a famous novel by the real Junichirō Tanizaki.)


Rikiya Koyama (Fate/Zero's Kiritsugu Emiya) as Yukichi Fukuzawa, the president of the Armed Detective Agency, who manages the hooligans. Although he doesn't often come out, at a critical moment, he triumphantly takes command. Because Yukichi is a man of dignity and status, it seems even the frivolous Ranpo will actually work if he orders it.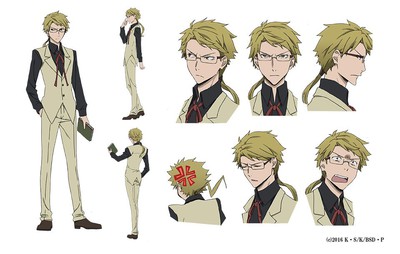 Yoshimasa Hosoya
(
Haikyu!!
's Asahi Azumane) as Doppo Kunikida (
River Mist and Other Stories
), a member of the Armed Detective Agency. He carries a notepad with the word "Ideal" written on the cover, and what is written inside are guides for life. He has a straight-laced personality and hates nothing more than schedules going awry. As a partner to the free-spirited Dazai, his troubles never end.


Hiroshi Kamiya (Attack on Titan's as Levi) as Rampo Edogawa (Private Detective Kogoro Akechi series), the great detective of the Armed Detective Agency. He possesses sharp observation skills that are acknowledged by his coworkers, and he settles difficult cases at the request of the police. Because of his self-confidence, his speech is brazen and child-like. His motto is "If you'll have me, everything will be ok!"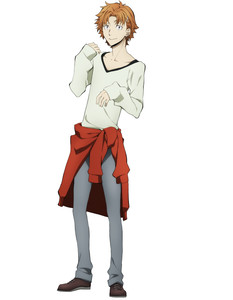 Toshiyuki Toyonaga (Durarara!!'s Mikado Ryūgamine) as Junichirō Tanizaki (Naomi, The Makioka Sisters), a seemingly-flirtatious young man who wears a baggy shirt and uses a pin to hold back his hair.



Hiroyuki Kagura as Kenji Miyazawa (Night on the Galactic Railroad, Kaze no Matasaburo), a member of the Armed Detective Agency. Before he was scouted, he lived in a rural area without electricity. He knows no suspicion, and will be understanding and considerate no matter who he is talking to. He has a lot of friends who call him "Ken Chan."


Wataru Hatano
(
Fairy Tail
's Gajeel) as Motojirō Kajii (Lemon), a member of Port Mafia. He's a bomber wanted for the explosion at the Maruzen Building. He's an enthusiastic scientists who boasts that "death" is the "ultimate experiment."


Asami Seto (Chihayafuru's Chihaya) as Ichiyō Higuchi (Takekurabe), a beautiful and intelligent woman who wears pants. She belongs to a commando unit that answers to the leader of Port Mafia, and has authority over the military group "Black Lizard." She adores Akutagawa and calls him "senpai."


Sumire Morohoshi (Aikatsu!'s Ichigo) as Kyōka Izumi (Tenshu Monogatari), a docile young lady who dresses in a kimono, but also a member of Port Mafia. As she holds a killing ability, she was found by the organization and raised as an assassin.

The anime will premiere in April.
The "battle action" story centers around a league of literary figures with supernatural powers. For example, in real life, Ryūnosuke Akutagawa wrote acclaimed stories that inspired Akira Kurosawa's Rashōmon film and the Aoi Bungaku Series anime's Jigoku Hen (Hell Screen) arc. In Bungo Stray Dogs, he has the power to transform and manipulate his cloak into a monster-like entity. Together, these writers solve mysteries as part of the "Armed Detective Agency."
The series mainly features Japanese authors such as Rampo Edogawa, Kenji Miyazawa, Osamu Dazai, Atsushi Nakajima, Doppo Kunikida, and Akiko Yoshino. It has also featured contemporary Japanese authors such as Yukito Ayatsuji (Another novel/manga/anime/live-action film, Tsukidate no Satsujin) and Natsuhiko Kyogoku (Requiem from the Darkness, Mōryō no Hako, Tōfu Kozō, Loups-Garous), as well as overseas authors such as Fyodor Dostoyevsky, Agatha Christie, and Dan Brown.
Takuya Igarashi and Yoji Enokido, the director and screenwriter team behind Ouran High School Host Club and Star Driver, is helming the anime at Studio BONES. Nobuhiro Arai (Chaika the Coffin Princess) is handling character design and serve as chief animation director alongside Hiroki Kanno (Blast of Tempest). Ryō Hirata is handling prop design and sub character design, while Fumihiro Katagai (Chaika the Coffin Princess) is in charge of gun design. Taku Iwasaki (Gatchaman Crowds, Black Butler) is composing the music and Kazuhiro Wakabayashi (Ghost in the Shell, Blue Exorcist) is serving as sound director at Glovision.
[Via Nijimen]
---