News

Madoka Magica Magia Record Smartphone Game's 1st Video Previews Theme Song

posted on by Jennifer Sherman
RPG with
Momo Asakura
as new magical girl launches this spring
---
The official website for the Magia Record: Mahō Shōjo Madoka Magica Gaiden (Magia Record: Puella Magi Madoka Magica Side Story) smartphone game began streaming the app's first promotional video on Friday. The video previews TrySail's theme song "Kakawari" (Connection). (Note: the video on the website is region-locked to Japan.)
The website revealed a key visual and story information for the game in December.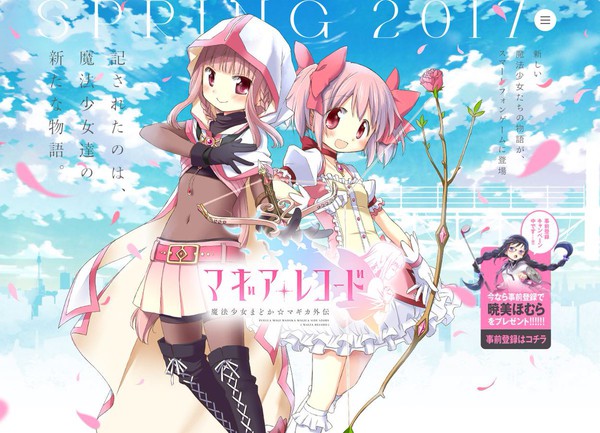 The story takes place in the burgeoning city of Kamihama. Guided by a strange power, magical girls gather in this town and battle with a new power drawn from witches. Iroha Tamaki arrives in this town and joins other magical girls to search for her missing younger sister Ui. Before long, Homura Akemi also arrives in the town. "If I can understand the mystery of this town, maybe I can save Kaname."
The new character Iroha Tamaki (voiced by Momo Asakura) becomes a magical girl with a wish to save her sister from illness. Madoka Kaname (again voiced by Aoi Yūki) also arrives in Kamihama to search for her missing friend Homura.
The game's staff includes:
Original Work: Magica Quartet
Original Character Design: Ume Aoki
Original Witch Design: Gekidan Inu Curry
Opening Animation: SHAFT
Development: f4samurai
Aniplex plans to release the RPG for iOS and Android devices in spring 2017. The game will be free to play, but the app will charge for certain contents. Those who preregister for the game will receive "Magical Girl Homura Akemi (glasses version)" for use in the game.
Thanks to Dennis R. for the embedded video.
---