News

Kirakira Precure a la Mode Anime Casts Kaede Hondo

posted on by Crystalyn Hodgkins
Voice actress plays little sister of Akira
---
The staff of the Kirakira ☆ Precure a la Mode anime series revealed on Saturday that the show has cast Kaede Hondo (Fuuka's Chitose Haruna, Girlish Number's Yae Kugayama) as the character Miku Kenjō (pictured below). Miku is the younger sister of Akira (Cure Chocolat) and she is 9 years old. She has a weak body and regularly has to be admitted to the hospital. She is level headed and has a kind heart, and she resembles Akira quite a lot.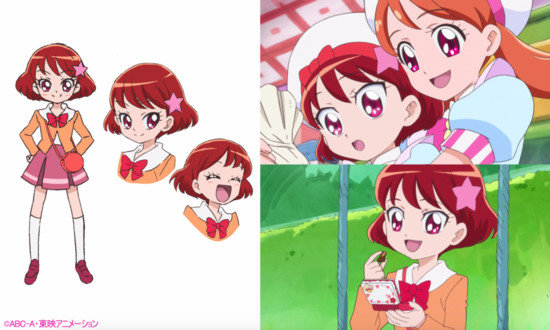 Miku debuted in the show in the 15th episode, which aired on Sunday.

The anime, which is the 14th entry in the Precure animated series, premiered on February 5 at 8:30 a.m. on the ABC and TV Asahi channels and their affiliates. The show's theme is a crossover of colorful sweets with cool and cute animals. The main characters run a sweet shop and must face off against evil fairies to protect their beloved confections.
Akira Tanaka, Risa Endō, and Yu Kaminoki (Go! Princess Precure, Pretty Guardian Sailor Moon Crystal) are producing the series. Kōhei Kureta (One Piece Film Z assistant director) and Yukio Kaizawa (Digimon Frontier, Jigoku Sensei Nube director) are the series directors, and Jin Tanaka (Go! Princess Precure, Anne-Happy) is handling the series composition. Yuuki Hayashi (My Hero Academia, Death Parade) is composing the music, and Marie Ino (Death Note, Heartcatch Precure! key animator) is designing the characters. Cake designer and café owner Junko Fukuda is serving as the "sweets supervisor" for the series.
Yuri Komagata (Mangirl!) is performing the anime's opening theme song "SHINE!! Kirakira ☆ Precure a la Mode," and Kanako Miyamoto (Yes! Precure 5) is performing the ending theme song "Let's La Cooking ☆ Showtime."
The anime is inspiring an anime film that will open in Japan in October.
Source: MoCa News
---