News

Junji Ito 'Collection' Anime Reveals 13 Cast Members, JYOCHO Song

posted on by Jennifer Sherman
---
The official website for Junji Ito "Collection", the television anime of manga by famed horror author Junji Ito, revealed 13 additional cast members and the ending theme song performer for the anime on Monday. The website will not reveal the roles for the new cast members until the anime premieres.
The new male cast members are:
The new female cast members are:
JYOCHO will perform the ending theme song "Tagai no Uchū" (Mutual Universe) for the anime. Guitarist Daijirō Nakagawa, a former member of Uchū Conbini, started the group as a solo project in Kyoto in 2016. The group released its second mini album, Aoi Uchi de Bokura Kurasu (Day in the Bluish House), on September 13.

The show stars: (from left to right in above image)
The above visual features characters from the following Ito works: "Fashion Model," "Oshikiri Idan," Tomie series, "Sōichi" series, "Shibito no Koiwazurai," and "Namekuji Shōjo." The anime will adapt stories from both the 11-volume Itō Junji Kessaku-shū (Junji Ito Masterpiece Collection) series and the Fragments of Horror book. The site will not reveal which stories will be adapted, so that viewers will be surprised, and noted that the characters in the key visual may or may not appear in the anime.
Shinobu Tagashira (Diabolik Lovers) is directing the anime and serving as the character designer at Studio DEEN. Kaoru Sawada (Diamond Daydreams) is writing the scripts. Hozumi Gōda (Higurashi no Naku Koro Ni Kai) is serving as sound director and Yuuki Hayashi (My Hero Academia) is composing the music.
THE PINBALLS will perform the show's opening theme song "Shichitenbattō no Blues" (The Writhing in Agony Blues).
Satellite network WOWOW will premiere the anime on January 5 at 10:30 p.m. on its Anime Premium block. The anime will then debut on Tokyo MX on Sunday, January 7 at 10:00 p.m. Ito and Mitsuya will appear at an advance screening event for the anime in Tokyo on December 23.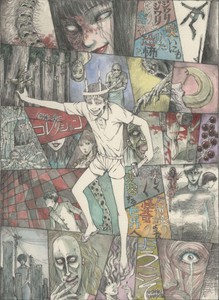 Ito's Uzumaki and Tomie manga have inspired live-action adaptations, and his GYO manga inspired an OVA. Viz Media has published these three titles, as well as Ito's Fragments of Horror manga in English. ComicsOne has published his Flesh Colored Horror manga, Dark Horse Comics has published his Museum of Terror manga, and Kodansha Comics has published his Junji Ito's Cat Diary: Yon & Mu manga.
Ito is celebrating his 30th anniversary as a manga creator this year. He most recently launched a manga adaptation of Osamu Dazai's classic novel No Longer Human (Ningen Shikkaku) on May 2. Ito's manga short stories received a Chinese live-action adaptation in 2016.
Source: Animate Times
---