Sound Decision
Fruits Basket, Utena, Kyo
by Jonathan Mays,
"You sure rushed that shot."
"There were all these geese standing around me."
"So?"
"They looked like they were going to attack me. I could see their fangs!"
"Geese don't have fangs."
"These ones do."
If Cherry Hills Country Club had any of the killer Canadian geese that chased my sister around the course last weekend, Morgan Pressel probably scared them off. Described by an NBC analyst as "a Type A personality—maybe even A+", the 17-year-old terror of the US Women's Open stomped, cried, and pounded her fist through 18 holes on Sunday. She also stole the spotlight from Birdie Kim, who picked an interesting time to win her first LPGA tournament.
Of course, you can't steal the spotlight unless the media lets you. Skip Bayless had the right idea when he
lamented
last week that Annika Sorenstam's historic success was being ignored in favor of a blonde bombshell and a shapely 15-year-old. This time the victim was a 23-year-old who had earned $80,000 in two years on the tour before just netting half a million in four days. Kim became the first woman in nearly 50 years to make the US Open her first LPGA victory, yet the media was still fixated on Pressel and Michelle Wie's journeys to greatness and back.
All weekend we heard about how amazing it was that a few teenagers could be leading the US Open. But in the end, when Kim sunk a miracle bunker shot and the announcers declared it one of the most incredible finishes in tour history, everybody else yawned and went back to their "teen takeover" tapes.
Maybe it was because Kim is not the tour's most photogenic player, or that she speaks poor English, or that she was so far off the radar that nobody knew what to do when she won. But whatever the reason, it was sad that so many reporters and producers picked the easy and familiar story over the one that actually lived up to their babbling about surprise victories.

Fruits Basket: Song for Ritsuko Okazaki
—Geneon (2005-02-08)

There's performance music, and then there's Fruits Basket. This soundtrack is like a diary of personal secrets, a treasure chest whose key we weren't meant to have but are nonetheless lucky to possess. "Song for Ritsuko Okazaki" could not be more appropriately named.

Pardon the "less is more" cliché, but it is breathtaking to hear how much Ms. Okazaki could emote with little more than a whisper. By the midpoint of "Serenade," her tiny voice is utterly overpowered by a trumpet and drums, but still, it shines through with innocent defiance. Instead of being the center of her music, she let the music twist its own tale for her to follow.

Is that too abstract? Maybe. I ran into the same trouble with Wish, which has a similar penchant for perfect tones and filling every inch of its strict parameters with passion. Lest I fall into more clichés, let me suggest an interesting way to listen to "Song for Ristuko Okazaki." Find somewhere quiet; 2 a.m. in bed would be good. Close your eyes, and listen to the entire 40-minute soundtrack from the top. Make up a story to go with the music, and maybe shed a tear that Ms. Okazaki passed away before she could tell us all of hers.

Utena: Virtual Star Embryology
—Geneon (2005-02-08)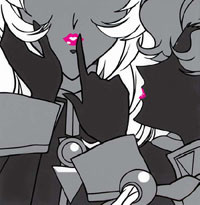 Now this is interesting. Can you name another soundtrack that opens with '70s rock anthems and ends with classical piano? Even more so than the first OST, this one gives you a real sense of the twisted, unpredictable world that is Revolutionary Girl Utena. It's a difficult recommendation since there are only one or two tracks that are pleasant to listen to, but the rest are fascinating, challenging...different enough that this one should be on the must-buy list of anybody who wants a little creativity and genre-mashing in their anime music.

I'm surprised how much Utena's music has in common with Evangelion's. The foundation is classical, maybe for a small orchestra, with one or two elegant (but short) melodies. Then it goes off the deep end in opposite directions—humor and drama. Accordions are always a threat to boost the silliness factor, and ominous chorus passages can just as easily pull everything the other way. Strange, schizophrenic, and very interesting.


Samurai Deeper Kyo
—Geneon (2005-02-08)

Confession: when I first entered this weird world of anime music, I kind of liked theme songs like Samurai Deeper Kyo's "Ao no Requiem." They were haunting, a little off-key, and just different enough to hold my attention for a while. Now I know the truth: without a competent melody, you will hate this kind of song after about the tenth time.

The rest of the soundtrack—wistful songs like the creatively named "Sad Story" and electric guitar-heavy ones like the equally creatively named "Get Excited"—is probably just fine in a TV show when you're not paying too much attention to the music. But since this is a soundtrack, and you probably are paying attention to the music, you will undoubtedly notice how slooooowly each track develops. Couple that sluggishness with hollow performances, and you'd be better off quenching your classical thirst elsewhere.

---
discuss this in the forum (2 posts)
|