×
remind me tomorrow
remind me next week
never remind me
Subscribe to the ANN Newsletter • Wake up every Sunday to a curated list of ANN's most interesting posts of the week.
read more
Tankobon Tower
Make it a Manga Holiday
by Allen Divers,
The world of manga refuses to stay quiet as the month of December sees more titles released than ever before. After all, manga must be something major if a company like ADV moves away from their traditional arena of anime and start making the moves with manga releases. ADV ends the year with the release of three different series and even manages to squeek out a couple of art books along the way. ADV has no intention of stopping there either, with another twenty or so titles scheduled for early 2004.
With such a confusing amount of titles coming out, and the need to get this column out on time, I decided this week to take a look at some of the best titles to hit the streets this month. So, sit back, relax a bit, and then realize this month could cause your wallet to wince in pain!
---

Hellsing Vol 1
Released by Dark Horse
Story & Art by Kohta Hirano
$13.95 U.S.

The Hellsing anime made a lot of people stand up and once again take notice of a little company called Gonzo. With amazing animation, scary visuals and all around creepy attitude, Hellsing proved to be a show with bite. Of course, the inspiration for Gonzo's version of the story comes from this little book, funnily enough called Hellsing. Featuring the same basic setting and characters, the Hellsing manga quickly develops as a much darker and more sophisticated tale than Gonzo portrayed in its rendition. The story also quickly moves in a different direction than the anime and proves to be a much richer tale. Fans of the original manga felt a bit cheated as many of their favorite elements didn't make the translation to the small screen. So, why not get back to the original source and enjoy the true tale of Hellsing?


Naruto Vol 2
Released by Viz
Story & Art by Masashi Kishimoto
$7.95 U.S.

My favorite drop-out ninja is back in volume 2 of this series which is proving to be as popular in North America as it is in Japan. To see just how popular this title is, all you need to do is visit one of the many sites with cosplay images from this year's major conventions and you'll see a lot of shots of people with shiny metal headbands. The story itself has a lot going on, ranging from typical coming of age stories, to those of a loser proving himself to others. There's comedy, action and even a bit of drama. If you're not willing to plunk down the change for the GN, then pick up an issue of Shonen Jump and give Naruto a try. Sure, its mostly for guys, but the girls can like it too!


Rurouni Kenshin Vol 2
Released by Viz
Story & Art by Nobuhiro Watsuki
$7.95 U.S.

Ah, the wandering samurai. Probably the most overused character type in anime. Much like the renegade cop loner seen in much of North American cinema, the samurai is the number one archetype for building a series. Despite that, Kenshin has managed to build a unique niche for this particular samurai tale and has pretty much helped redefine the samurai seen in anime today. Set in a time where samurai are viewed as a part of the old world order, Kenshin introduces a man who's just trying to get by. There's comedy, romance and plenty of action and drama; makinng Kenshin one of the top anime and manga series in existence. It was actually surprising to hear that Viz decided to release this title under the Shonen Jump label, but not actually include Kenshin in the monthly anthology. That's right sword fans, the only way you'll get this little tale in your hands is to go and get the graphic novels. And judging from the popularity of the anime, this one may be tough to find at times.


Lupin III vol 10
Released by TOKYOPOP
Story & Art by Monkey Punch
$9.99 U.S.

Ah, what can I say about Lupin that I haven't said already... . Hmmm... uhm... well, it's still good! Despite its archaic and repetitive looks and storylines, Lupin remains one of the best told stories of all time. As always, it's Lupin vs. Fujiko in that game of love and stealing, and along the way, Lupin gets into the sovereignty business for the sake of his family. As always, I must advise that this series takes a bit of getting used to, so if you're a bit turned off by the art at first, keep at it as you'll grow to love the stories.


.hack//Legend of the Twilight Bracelet Vol 2
Released by TOKYOPOP
Story by Tatsuya Hamazaki & Art by Rei Izumi
$9.99 U.S.

The marketing giant that is .hack continues to pervade all aspects of mass media. First the anime, then the video games, now we get the manga. Volume two follows the ever cuddly and cute adventures of newcomers Shugo and Reina who managed to win a contest that allows them to use the images of Kite and Black Rose, the infamous .hackers of The World. Retaining much of the chibiness of the anime version, the manga plays well with the established continuity of the .hack series. With the menacing overtones of the rest of the .hack series hanging over it, .hack//Legend of the Twilight Bracelet manages to have a lot of fun exploring The World. There's still a bit of menace involved, but it takes the backseat to the rest of the adventures. The manga proves to be a nice break from .hack//Sign and the video game and gives viewers a teaser of Bandai's next piece of the franchise.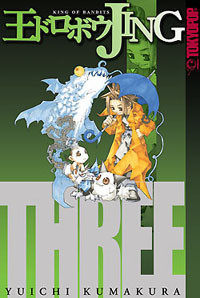 Jing: King of Bandits Vol 3
Released by TOKYOPOP
Story & Art by Yuichi Kumakura
$9.99 U.S.

Honestly, Jing: King of Bandits was a title I didn't know if I was going to like at first. Its style seems like a bizarre mix of Pokemon and Dragonball Z and the action and adventure seem well over the top. Well, in the end, this one has grown on me. Jing is a solid adventure story that manages not to take itself too seriously. Any series that features a lecherous sidekick in the form of a bird that turns into a giant energy blasting ray gun can't be taken too serioulsy. And honestly, if you're sitting on the edge of your seat worrying that Jing and Kir won't make it out of their latest adventure, then you're reading a bit more into it than there needs to be. Jing is fun; pure and simple. There are no tricks, no surprises and plenty of laughs. To try and make it more than that may just drive you insane.


Tuxedo Gin vol 3
Released by Viz
Story & Art by Nao Yazawa
$9.95 U.S.

I'm a big fan of romantic comedies, and to be honest, it doesn't get any more romantic this — a guy who's attracted to a woman and manages to get himself reincarnated to be with her. That's a great lead up for a strong romantic tale, but don't forget, I mentioned comedy. Ginji, our romantic male lead, gets part of his wish with a twist: he's been reincarnated as a penguin. Lucky for him, Minako, the girl of his dreams loves penguins so at least he's close to her. And what follows are the standard jokes of romantic comedies, ranging in embarrassing moments of bathing with the girl of his dreams, sleeping with her at night and all those other predictable hijinks of romantic comedies. Despite that, Tuxedo Gin remains a breath of fresh air in a market dominated by other major shoujo comics. Tuxedo Gin is solid and original, and a fun read.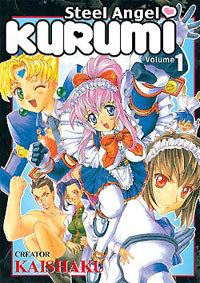 Steel Angel Kurumi vol 1
Released by ADV Manga
Creator: Kaishaku
$9.99 U.S.

I mentioned ADV at the beginning of this column, and now its time to hit the third major title release from them this year. Steel Angel Kurumi, one of the ADV's top panty-anime for 2003 makes its way to the market in its original manga format. Being the inspiration of the original Kurumi series, this one takes place in Japan at the turn of the 20th century. Carrying much of the wit and charm present in the anime series, Steel Angel Kurumi is a high action series mixing in plenty of comedy and romance to keep the reader intrigued. For fans of the anime, the story told here isn't all that different from the anime, so it's a matter of enjoying the series in another form. And while the second part of the anime had its moments, the first telling is still the best. And for fans of the entire manga genre, this book is a must have as ADV puts a lot of care into each of their novels, as well as packaging a few extras like color pages and a solid translation at an affordable price.

---