The List
7 Restaurant Spots Worth The Visit
by Lynzee Loveridge,

There are plenty of four-star restaurants in the world, but how many places can you get served by bears, witness amazing martial arts battles, be seated by a ghost, or flirt with a mermaid? This week's list counts down seven eateries worth visiting, so put them on your fictional food bucket list.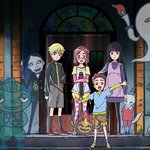 7. Kaidan Restaurant (Kaidan Restaurant) The Thriller Restaurant isn't a spot you visit for the fine dining. It doesn't even serve "food" per se, instead opting for scary story "courses." The place is run by a ghost waiter who tells each creepy story. Go for the creepy atmosphere. Stay for the spine-tingling menu.








6. Antique Bakery (Antique Bakery) I'm sure the food at Antique Bakery is delicious. What other reason would clientele want to go to a small cake shop operated by four attractive men who are fluent in French? The place serves up eye candy and cakes in one spot!








5. Ucchan's Okonomiyaki (Ranma 1/2) Early English translations did okonomiyaka a disservice by comparing it to pizza or pancakes. If it can be compared to anything, it's closer to quiche. That said, eating and people watching at Ucchan's Okonomiyaki would be exciting. At any moment, customers could be treated to a martial arts demonstration with some of the world's best!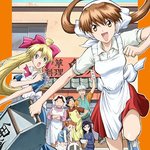 4. Onimaru (Ramen Fighter Miki) Onimaru "poster girl" Miki and her neighboring competitor, bakery poster girl Megumi, are the main draw for anyone looking for an exciting eating experience. Both add a lively atmosphere to the area as they fight to draw the biggest crowd, make the fastest deliveries, and trip-up one another in the process.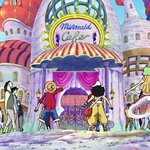 3. The Mermaid Cafe (One Piece) Luffy and crew visit the under-the-sea themed hostess cafe in in episode 529. The place is swimming with patrons thanks to its unique niche of serving sirens. It's similar to an Akihabara maid cafe, except with fishgirls and lots of seaweed-themed food.







2. Hinode Eatery (Mister Ajikko) Hinode Eatery is home to cooking prodigy, Ajiyoshi. The kid is constantly coming up with new spins on classic cuisine, making his restaurant's menu evermore interesting. Thanks to its chef's sense of pride, the restaurant is sometimes home to Iron Chef-style cooking competitions, too.








1. Polar Bear's Cafe (Polar Bear's Cafe) Let's get one thing out of the way. Anything served at Polar Bear's Cafe is probably tartare. The meat is raw to match the abundant vegetable menu items. If you could visit the cafe, it'd be for the staff and patrons, like the adorably lazy panda, the comical penguin or the sloth. It's like a wildlife park filled with animals that would never coexist in the same climate doing nothing but being cute.









The new poll: Which of the following anime films that premiered in 2013 is your favorite?
The old poll:
The last poll asked what your favorite anime was this year. Any surprises? Any series not listed received less than 1% of the total votes.


Attack on Titan 16.6%

The Eccentric Family 7.4%

The Devil is a Part-Timer! 5.8%

Kill la Kill 5.8%

Chihayafuru 4.8%

Flowers of Evil 4.8%

Free! - Iwatobi Swim Club 3.5%

Watamote 3.2%

Kyousogiga 3.2%

Silver Spoon 2.2%

A Certain Scientific Railgun S 1.9%

Monogatari Series Second Season 1.9%

Gatchaman Crowds 1.9%

Haganai NEXT 1.6%

Gargantia on the Verdurous Planet 1.6%

Genshiken Second Season 1.6%

Oreimo 2 1.3%

Servant × Service 1.3%

Log Horizon 4 1.3%

Non Non Biyori 1.3%

AKB0048 next stage 1.0%

My Teen Romantic Comedy SNAFU 1.0%

Yuyushiki 1.0%

High School DxD New 1.0%

The World God Only Knows: Goddesses Arc 1.0%

Golden Time 1.0%

Arpeggio of Blue Steel 1.0%

Samurai Flamenco 1.0%

---
When she isn't compiling lists of tropes, topics, and characters, Lynzee works as Associate Editor for Anime News Network, blogs about women and LBGT topics in anime and manga on her blog Engendered Dilemma, and posts pictures of her son on Twitter @ANN_Lynzee
.
---
discuss this in the forum (22 posts)
|
this article has been modified since it was originally posted; see change history