×
remind me tomorrow
remind me next week
never remind me
Contest Extended Until MIDNIGHT Nov 1! • Your guys' entries are the pick of the patch, so we're adding an additional 48 hours to get your pumpkins in!
read more
Anime Spotlight - Seraph of the End
by Anthony Foronda,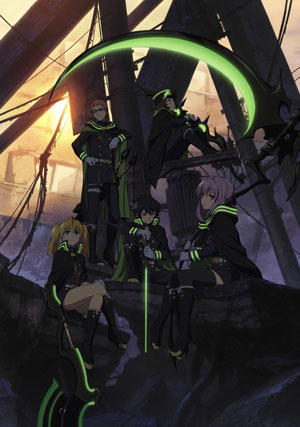 Broadcast Begins April 2015 (JST)

Key Staff
Director: Daisuke Tokudo

(Attack on Titian Episode Director (eps. 17,25), Guily Crown Episode Director (eps.5, 9, 21 ) )

Story

Suddenly one day, the world was destroyed by an unknown virus. Only children survived. And those children were ruled by vampires who appeared from the abyss. Yuichiro Hyakuya was surviving by giving blood to vampires, together with Mikaela Hyakuya and other orphans who shared bond similar to a real family. Yuichiro could not endure being treated like livestock anymore, and tried to escape to the outside world along with Mikaela and the young orphans.

Four years later. Yuichiro has enlisted in the "The Moon Demon Company", a Vampire Extermination Unit of the Japanese Imperial Demon Army. He devotes himself into fighting against formidable vampires!!

Characters

Yuichiro Hyakuya
VA:Miyu Irino

Yuichiro is a boy who escaped from the city of vampire. He holds intense hatred against vampires who killed his family, and enlisted in the Japanese Imperial Demon Army for vampire extermination. He is not always a good team player, but is kind and caring deep inside.

Mikaela Hyakuya
VA:Kensho Ono

Mikaela is the 2nd remaining survivor of the Hyakuya Orphanage, and best friend of Yuichiro. He was thought to have died when escaping from the city of vampire, but was alive and turned into a vampire. He fights to rescue Yuichiro who is been used by humans.

Guren Ichinose
VA:Yuichi Nakamura

Guren is Lieutenant Colonel of the "The Moon Demon Company", Vampire Extermination Unit of the Japanese Imperial Demon Army. He has led Yuichiro to join the Japanese Imperial Demon Army after he escaped the city of vampire. He is secretly attempting something to reform the Imperial Demon Army governed by the Hiragi Family.

Ferid Bathory
VA:Takahiro Sakurai

Ferid is the man who killed Yuichiro's family when they tried to escape the city of vampire. As a Seventh Progenitor vampire, he has much power but many times, he speaks nonsense. He seems to be plotting something with human behind everyone's back.

Shinoa Hiragi
VA:Saori Hayami

Shinoa is the Squad Leader of "The Moon Demon Company". Her origin is Hiragi Family who takes control of the Japanese Imperial Demon Army, and is the real sister of Mahiru Hiiragi who developed the Cursed Gear. Is a subordinate of Lieutenant Colonel Guren, and was appointed to supervise Yuichiro Hyakuya.

Yoichi Saotome
VA:Nobuhiko Okamoto

Yoichi is a member of the "The Moon Demon Company" fighting vampires with Yuichiro. His sister has been killed by a vampire, and joined the troop for revenge. Although he is kind-hearted, he has a strong will and stand up against difficulty at times of emergency.

Shiho Kimizuki
VA:Kaito Ishikawa

Same as Yuichiro, Shiho belongs to the "The Moon Demon Company". He is clear headed with excellent combat ability, but is cynical and is treated as a trouble maker among others. Has a sister ill in bed, and enlisted in the army in order to undergo the treatment.

Mitsuba Sangu
VA:Yuka Iguchi

Mitusuba is an elite who belongs to the Vampire Extermination Unit since 13 years old. Has known Shinoa for a long time. She thinks that she let a member die because of her selfishness, and since then focuses on teamwork during battle.
Cast
Yuichiro Hyakuya

Miyu Irino

Mikaela Hyakuya

Kensho Ono

Guren Ichinose

Yuichi Nakamura

Ferid Bathory

Takahiro Sakurai

Shinoa Hiragi

Saori Hayami

Yoichi Saotome

Nobuhiko Okamoto

Shiho Kimizuki

Kaito Ishikawa

Mitsuba Sangu

Yuka Iguchi

Kureto Hiragi

Tomoaki Maeno

Shinya Hiragi

Tatsuhisa Suzuki
Staff
Original Creator

Original Story:Takaya Kagami(Shueisha Jump SQ. comic series)
Art:Yamato Yamamoto(Shueisha Jump SQ. comic series)
Storyboards:Daisuke Furuya(Shueisha Jump SQ. comic series)

Director

Daisuke Tokudo

Deputy Director

Masashi Koizuka

Series Structure / Screenplay

Hiroshi Seko

Character Design

Satoshi Kadowaki

Visual Development Art

Hiroki Shinagawa

Music Producer

Hiroyuki Sawano

Music

Hiroyuki Sawano
Takafumi Wada
Asami Tachibana
Megumi Shiraishi

Music Production

Yasushi Horiguchi (Legendoor)

Sound Director

Yota Tsuruoka

Sound Production

Rakuonsha

Sub Character and Prop Design

Takuma Ebisu

Chief Animation Directors

Satoshi Kadowaki
Ayumi Yamada

Main Animators

Megumi Tomita
Miho kato
Yuka Sugizaki
Takuma Ebisu

Color Design

Fumiko Numahata

Art Director

Seiko Yoshioka

Art Design

Kazushi Fujii

Background Art

studio Pablo

Director of Photography

Yasuhiro Akamatsu

3D Director

Tsukasa Saito

2D Works

Hirofumi Araki

Editor

Masaki Utsunomiya

Animation Produced by

WIT STUDIO




(C)Takaya Kagami, Yamato Yamamoto, Daisuke Furuya/SHUEISHA, Seraph of the End Project
---
discuss this in the forum (10 posts)
|
back to Anime Spotlight Spring 2015 - The List
Anime Spotlight homepage / archives