×
remind me tomorrow
remind me next week
never remind me
Subscribe to the ANN Newsletter • Wake up every Sunday to a curated list of ANN's most interesting posts of the week.
read more
Anime Spotlight - A Certain Magical Index III
by ANN Staff,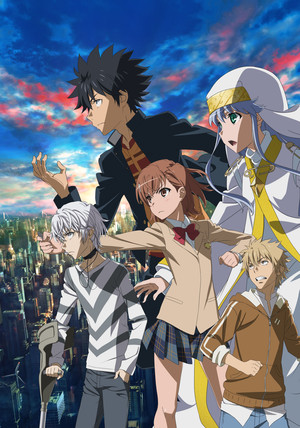 Premieres October 5, 2018

Key Staff
Introduction
Located in western Tokyo is the enormous "Academy City." With a total population of over 2.3 million, roughly 80% of which are students, this city has a unique curriculum in place to develop supernatural abilities, and the students' abilities are rated in a range of six categories, from "powerless" at Level 0 to "super-powered" at Level 5.
A certain student, Toma Kamijo, is one of the students who lives in Academy City. An unusual power resides in his right hand: the illusion-canceling "Imagine Breaker," capable of nullifying even divine protection. For that reason, he is rated as "powerless," which puts him in danger of flunking out, and he spends his life plagued by misfortune.
As a result of a white-robed Sister falling out of the sky at the start of one summer vacation, Kamijo's school life took an extraordinary turn. After meeting this girl, one "Index Librorum Prohibitorum," who claimed to be fleeing from the world of magic, Kamijo became caught up in all sorts of adventures. Through the balancing act of solving cases on both the science side, which controls Academy City, and the magic side, with which Index is linked, his circle of acquaintances gradually expands. Eventually, the Roman Orthodox Church, the largest denomination on the magic side, turns their attention toward Kamijo.
In response to the magic side, the science side's Academy City also goes into action. However, there are others who step forward to resist the actions of a world that has abruptly started turning hostile. They are "heroes" who have greatly altered the course of fate through their interactions with Kamijo.
They also put their lives on the line to stand against both sides, just as Toma Kamijo has.
When science and magic cross paths a third time, the story really takes off!!
Character Names & Descriptions
Toma Kamijo

Voice: Atsushi Abe

The ill-fortuned young man who possesses "Imagine Breaker"

A perfectly average high-schooler who attends "a certain" high school in Academy City. With a "powerless" Level 0 rating, his grades in school are also at a failing level, though he does have keen judgment and resolution in a crisis. As a result of the "Imagine Breaker" within his right hand that can cancel out all extraordinary powers, he also has a hapless constitution that wards off even good fortune. Owing to his strong sense of justice that makes him unable to ignore anyone in trouble, even at the expense of his own safety, he often finds himself wrapped up in difficulties. He has gotten through some fairly tight situations, and is better in a fight than he might appear.

Index-Librorum-Prohibitorum

Voice: Yuka Iguchi

The always-hungry grimoire library

Sister in the English Puritan Church "Necessarius." A young woman of long silver hair, blue eyes, and uncertain age, she is clad in a pure-white habit with gold embroidery, a "Walking Church," which provides an absolute barrier of protection. She loves to eat, and is a "Starving Sister," always hungry for more. Index possesses a perfect memory, and has memorized the contents of 103,000 grimoire volumes, which is the reason she is called "Index Librorum Prohibitorum." She has a good command of language, but her proficiency in scientific areas, especially with anything mechanical, is all but nonexistent.

Mikoto Misaka

Voice: Rina Sato

Mighty shock girl of Tokiwadai

A 14-year-old girl who attends Tokiwadai Middle School, an all-girl school which is one of the five most distinguished in Academy City. One of only seven Level 5s in all of Academy City, she is ranked 3rd. She is an electric shock user, an "electromaster," who is able to control electricity at will. She is given the nickname "Railgun" due to her ability to launch coins at three times the speed of sound through applied electromagnetism. She came to know Kamijo during a certain incident, and the two of them lash out at each other every time they meet. She has a straightforward personality; while her sometimes unladylike actions may draw attention, she can also be seen behaving as a girly girl who is a sucker for fancy goods and cute clothes.

Accelerator

Voice: Nobuhiko Okamoto

The most powerful "Level 5" in Academy City

One of the seven Level 5s of Academy City, his outstanding power makes him the strongest esper. He possesses "Accelerator," the ability to freely manipulate all vectors that he is nicknamed after, as well as the high-level computational abilities that make it possible. Usually, he has his abilities set to "Reflection." The reason for his albino-like white hair and red eyes is because he also reflects ultraviolet light.From his birth up to the present time, he has participated in an experiment known as "Absolute Ability Level 6 Shift," to raise him from "most powerful" to "invincible" status.

Shiage Hamazura

Voice: Satoshi Hino

Powerless "Level 0," chosen by no one and possessing nothing

Chore boy and driver for a cell working under ITEM. He is an accomplished lock picker and document forger, and has driving skills for all sorts of vehicles, making procuring transportation his primary role.He previously served as the leader of the 7th School District's "Skill Out," but in the events surrounding the "Recovery Campaign," he became a member of the shadowy ITEM instead. Despite having enough popularity and the skills to live in the back alleys, he has low self-esteem, perhaps due to an inferiority complex over being a coward and a Level 0.Having a history of activity on the streets at night, he is well acquainted with Antiskill's Yomikawa.
Cast
Toma Kamijo

Atsushi Abe

Index

Yuka Iguchi

Accelerator

Nobuhiko Okamoto

Mikoto Misaka

Rina Sato

Shiage Hamazura

Satoshi Hino
Staff
Original Creator

Kazuma Kamachi (Published by Dengeki Bunko)

Original Character Design

Director

Hiroshi Nishikiori

Series Composition

Hiroyuki Yoshino

Character Design

Art Director

Color Design

Director of Photography

Editing

Sound Director

Music

Opening Theme Song

Ending Theme Song

Yuka Iguchi

Animation Production
---
discuss this in the forum (5 posts)
|