×
remind me tomorrow
remind me next week
never remind me
Subscribe to the ANN Newsletter • Wake up every Sunday to a curated list of ANN's most interesting posts of the week.
read more
New York Comic Con 2013

Daisuki Panel

by Crystalyn Hodgkins,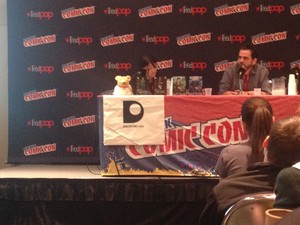 Robert Napton and PR Director Eri Maruyama hosted the completely packed Daisuki panel on Sunday morning. New York Comic Con's Daisuki panel marked the first time the company held a Q&A session. Daisuki also handed out prizes at the end of the panel.
Napton first introduced Daisuki by showing a trailer. Daisuki streams anime for free such as: Monogatari Series Second Season, Nekomonogatari (Black), Bakemonogatari, Sword Art Online, Nisemonogatari, Madoka Magica, il sole penetra le illusioni ~ Day Break Illusion, Servant × Service, Silver Spoon, Gundam UC, Gundam Seed HD Remaster Project, Mobile Suit Zeta Gundam, Gundam ZZ, One Piece, Dragon Ball Z, Lupin the Third, and The Prince of Tennis OVA. Daisuki also sells Japanese merchandise such as Lupin III and Fate/Zero figures.
Daisuki launched in May, and is a destination for free anime. The Japanese companies Aniplex, Sunrise, Toei, TMS, and NAS came together to create Daisuki. The anime on Daisuki is subtitled and in high definition.
Napton then introduced the new series streaming on Daisuki via trailers. Kill la Kill began its simulcast on Daisuki on October 3. Additionally, Daisuki began streaming Magi: The Kingdom of Magic on October 6. Maruyama noted that Daisuki will also stream the full first season, Magi: The Labyrinth of Magic. The second season of Sunrise's Valvrave the Liberator anime premiered yesterday in Japan, and Daisuki began streaming the first episode today. Daisuki will also stream Cowboy Bebop in the future. Maruyama said that Daisuki will continue to try to get more new simulcasts and classic series in the future.
Napton then showed a trailer for a new aspect of Daisuki, Daisuki TV, which launched on October 10. Daisuki TV will feature content appealing to anime fans, such as messages from anime creators, interviews with voice actors, as well as music videos from bands like JAM Project. Daisuki TV will include special messages and interviews exclusive to the site.
Daisuki also recently unveiled a new free iPad app. The app streams anime in 720p and features extras such as the Daisuki store and staff and credits for each series. For now, the app is only available for the iPad, but Maruyama noted that iPhone apps and other apps will follow in the future.
Napton then introduced Daisuki's CEO Kunihiko Shibata to the stage. Shibata said that Daisuki will add more classic anime, and brand new series, and he thanked the audience for coming to the panel today.
The three then moved on to the Q&A session:
Will Daisuki have any movies?
Daisuki: Yes we are definitely considering it. Besides TV series, we now already have OVAs.
Is Daisuki ad supported?
Yes, because the service is free, it is ad supported. The ads are only in the beginning of the video, and then you can watch the whole episode without ad breaks. You can also watch anime for free on Daisuki without registering.
Will you stream all the seasons of older series like Lupin the Third or just selected seasons?
Maybe, we will take it into consideration.
Daisuki's store lists prices in yen. Will you also list prices in dollars as well?
Daisuki is intended for worldwide fans, so if we convert the prices to US dollars, maybe some European fans would be not very happy with that, so we have Japanese yen as a base on the site.
What titles will you bring to Daisuki that other legal streaming services cannot?
We are definitely not just focused on simulcasts. For example, maybe you have seen that we have Gundam ZZ, which is being localized for the first time. We will try to do this more in the future for content that has not been seen in English.
Daisuki hosted a survey earlier this year. Would you consider hosting titles that maybe didn't get as many votes in the survey, such as Dr. Slump?
That survey gave us direct feedback from the fans. For example, Cowboy Bebop was very popular in the voting, as was Monogatari and Gundam. For those series that were not as top ranked in the voting, we will maybe add it to Daisuki. Just because it didn't get a lot of votes, doesn't mean it will never be on Daisuki. Please stay tuned.
Will you be taking any series down, and if so, will you give fans a heads up when you do?
Yes, some series will be taken down after a certain amount of time, but we will definitely give warning before taking series down.
Are there any specific voice actor interviews you can announce now for Daisuki TV?
We haven't decided yet, but we would like to know who your favorite voice actor is. For now we have interviews with the two main voice actors for Sword Art Online and a message from the director of Sword Art Online. Daisuki really wants feedback on what fans want to see, so you can contact Daisuki on Twitter and Facebook.
The goal of Daisuki is that it is a global service outside Japan, and heavily promoted in North America, but certain series do have region restrictions. Why is that?
The reason is due to when titles that are already licensed in that area to local licensors, or are airing on TV in those countries, so those companies want fans to watch it on local streaming sites or on TV in their area.
There are five companies that created Daisuki. Will there be other companies added to Daisuki's content in the future?
For now, it's just the content from the five shareholders, but we definitely plan to expand our service to titles from other companies and studios.
Will content on Daisuki TV be subtitled?
Yes. There is also a TV show on Daisuki about Japanese culture that is narrated in English, and all interviews are subtitled.
Will Daisuki TV expand into things like Japanese commercials, concerts, events, or voice actor events?
Daisuki TV is not limited to the types of clips we have now. We will add other types of clips in the future.
Live streaming perhaps?
We will consider it, but it may be difficult because we are a global site and with live-streaming it may be midnight in some countries when we are hosting the live stream.
I'm very happy you brought Shin Sasaki (of Sunrise) to an autograph signing. Do you plan to do something like this every year at New York Comic Con?
(Napton then pointed out Sasaki, who was in the room, to a huge applause.) We're very pleased he could be here, and we saw it was very popular, so we are definitely considering bringing another guest next year.
Have you given any thought to hosting anime radio dramas/drama CDs?
Maybe we can consider it, but please tell us on Facebook.
Since Daisuki was created by five companies, would Daisuki ever consider creating an anime series especially for the website?
At the moment, no plans, but it's a great idea. It is a dream and would be very cool.
Would consider setting up a donation system and a benefit for a donation?
A donation system is a good system, and we do want to consider it for the future.
Will there be any manga on the website?
For now, only anime, but we will talk to publishers in the future and maybe something will be realized.
Will there be anything to download from the website?
No content now, but maybe in the future.
Daisuki also said during the Q&A that it is now developing apps for Android devices, and does plan to add Daisuki to other devices as well such as Apple TV and Xbox. Another attendee asked about video resolution, and Maruyama explained that on the website, Daisuki changes the resolution of the video based on internet connection speed, but on the iPad app users can manually choose the resolution, up to 720p.
Then Napton thanked everyone for coming and started the game to win prizes. Maruyama said she didn't think so many people would come to the panel, so they were very grateful.
Maruyama then led the audience in several rounds of Rock Paper Scissors (Janken), and gave away five prizes: two Fate/Zero figures, two Lupin III figures, and an Ein plush from Cowboy Bebop.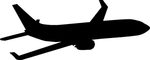 ---
discuss this in the forum (2 posts)
|
this article has been modified since it was originally posted; see change history
back to New York Comic Con 2013
Convention homepage / archives