News

Odex Receives 'Notice From Japan' About Sword Art Online Film Leaks in Singapore, Malaysia

posted on by Rafael Antonio Pineda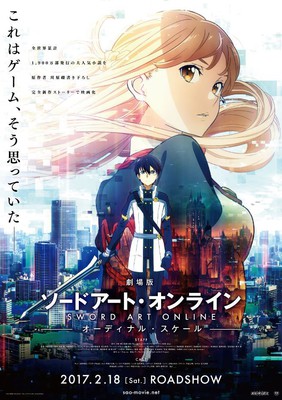 Film distributor Odex stated on its Facebook page on Tuesday that it had received a "notice from Japan" regarding supposed leaked footage of the Sword Art Online: Ordinal Scale film. According to Odex, the clips ranged in run time from 10 seconds to eight minutes, and have been traced to the Singapore and Malaysian premieres from February 18.
Odex added that the incident has resulted in the "very likelihood of Singapore and Malaysia being blacklisted for future anime film release," and that it is nevertheless working to "limit the damage suffered."
Besides Malaysia and Singapore, Odex screened the film in Indonesia, the Philippines, Vietnam, and Brunei on February 18, alongside the Japanese premiere.
The film sold about 308,376 tickets for 425,762,760 yen (about US$3.76 milion) to top the Japanese box office during the February 18-19 weekend. The film has set an opening-weekend record among films distributed by Aniplex.
---
RightStuf - Anime, Manga and More
This classic supernatural samurai adventure manga hasn't been adapted into animation since the 1960s! Nick and Andy find out how this influential story has held up in Studio MAPPA's ambitious retelling.
― Dororo, Osamu Tezuka's classic supernatural samurai adventure manga, hasn't been adapted into animation since the 1960s! This week, Nick and Andy find out how this influential story has held up in ...
Nintendo might be resurrecting a long-dead game - plus some fighting game news straight out of EVO Japan, Steins;Gate and more!
― Why, hello again! I'm back from Europe, I'm still kinda tired, and I missed a lot of gaming news that happened last week when it happened. No, I'm not going back on Twitter to catch up on The Discourse, because that never ends well. ANYWAY. This week brings us no big bombs...
This salacious yuri melodrama is anything but Class S. Theron Martin weighs the pros and cons of this bittersweet romance title on blu-ray.
― Before Domestic Girlfriend came along to stir the pot of stepsibling love, there was this Winter 2018 series based on a yuri manga. The two are alike in some basic ways; they both feature the noxious "surprise stepsibling" gimmick, where the new housemates show...
Countless anime and manga are based on the classic story Alice in Wonderland - why is that? Justin gets in to it.
― James asked: I have noticed that there have been a significant number of Japanese adaptations (manga, anime, and video games) of Alice in Wonderland; why are the Japanese so fond of that story? If you ask an average Japanese person why the country loves Alice in Wonderland so much, the...
This sequel film pits Tanya against a literal Mary Sue as her war games engulf the neighboring Russy Federation. Kim Morrissy breaks down how this movie expands on the TV series, straight from its theatrical run in Japan.
― Saga of Tanya the Evil was such an odd show. Ostensibly a fantasy military story starring the world's most conniving little girl, the series is really an extended argument between...
Meet the main cast of Devil May Cry 5. They're all here, Nero, Dante, V, Lady, Trish and Nico.
― NERO The Young Devil Hunter The young Devil Hunter operating out of the mobile Devil May Cry. Having lost his demonic arm (the Devil Bringer) before the events of the game, he stands against the invading demonic forces with a new power provided by Nico. DANTE The Strongest Demon Slayer The proprietor of ...
This absurdist comedy is the first anime made by Virtual YouTubers like Kizuna Ai and Mirai Akari. Micchy and Steve will be your guide to this strange new world inhabited only by the Extremely Online.
― VIRTUAL-SAN LOOKING is the first anime made by Virtual YouTubers like Kizuna Ai and Mirai Akari. This week, Micchy and Steve will be your guide to this strange new world inhabited only by the Extreme...
The long and proud history of giant robot model building is forever connected to the anime industry. Mike's ready to build a robot - are you?
― I was surrounded. On all sides, people from a disconcertingly wide variety of age groups crouched in their chairs, as if ready to leap into action. They gripped a variety of sharp tools in their hands, and concentrated intensely, waiting for the right moment ...
This epic Holy Grail War doubles the number of heroic spirits on the playing field, but does this twist enhance the story or leave it feeling overcrowded? Rebecca Silverman weighs in on Aniplex's deluxe release.
― While Fate/Apocrypha does share some basics with the game that started it all, Type-Moon's Fate/Stay Night, it's really best to think of it as totally separate from the story of Shirou, Rin...
What's the difference between a "union dub" and a "non-union dub" and why does it matter? Justin digs in to the details.
― Anonymous asked: This might come across as a naive question but what does it mean when a role is 'non-union' and why are so many anime roles non-union? For clarity I am a trade union rep myself but for an office job in the UK and I have an idea of what SAG, Equity and the other ...
James takes a look at an '80s mecha classic, while Paul breaks down this week's new blu-ray releases, along with a Yuri!!! on Ice-tastic Shelf Obsessed collection.
― I'm sure I'm just adding to an already loud chorus here, but y'all really should be watching Mob Psycho 100 (or catching up on the first season if you missed it). I can already tell I'm going to go back through this show a second or thi...
This Universal Century timeline film works well as a complement to Gundam Unicorn, but struggles to stand out as its own story. Kim Morrissy has the details in our full review.
― The only thing I knew about Mobile Suit Gundam Narrative before I watched it was that hilarious key visual showing three characters striking an awkward pose together. You might have seen it too because it was an Internet mem...