×
remind me tomorrow
remind me next week
never remind me
Subscribe to the ANN Newsletter • Wake up every Sunday to a curated list of ANN's most interesting posts of the week.
read more
Another Look At New York Comic-Con 2019
by Cindy Sibilsky,

Autumn in New York -- the weather fluxes almost daily from sweltering and summery to brisk enough to begin turning the leaves another tone. Halloween may be just around the corner but the event that ushers in October with its costumes, creativity and celebration of all things pop culture is New York Comic Con, which took a bite out of the Big Apple, October 3-6, 2019. Now in its 14th year, NYCC was held at the massive Jacob K. Javits Convention Center, once stuck in the midtown no man's land at the edge of the Westside Highway that has now become part of the posh Hudson Yards and Highline district (there's even a subway that takes you almost to the door). The Friday night opening parties appealed to adults and offered such geek-friendly temptations as Sonic Boom Box's takeover of Bowlmor Lanes Times Square (sponsored by Funimation), and the official NYCC afterparty -- Wendy's Presents Heroes After Dark powered by New York Comic Con and Fandom -- where VIPs could slurp Frosties and Johnnie Walker limited edition whiskeys inspired by Game of Thrones while listening to an intimate DJ set by Chromeo.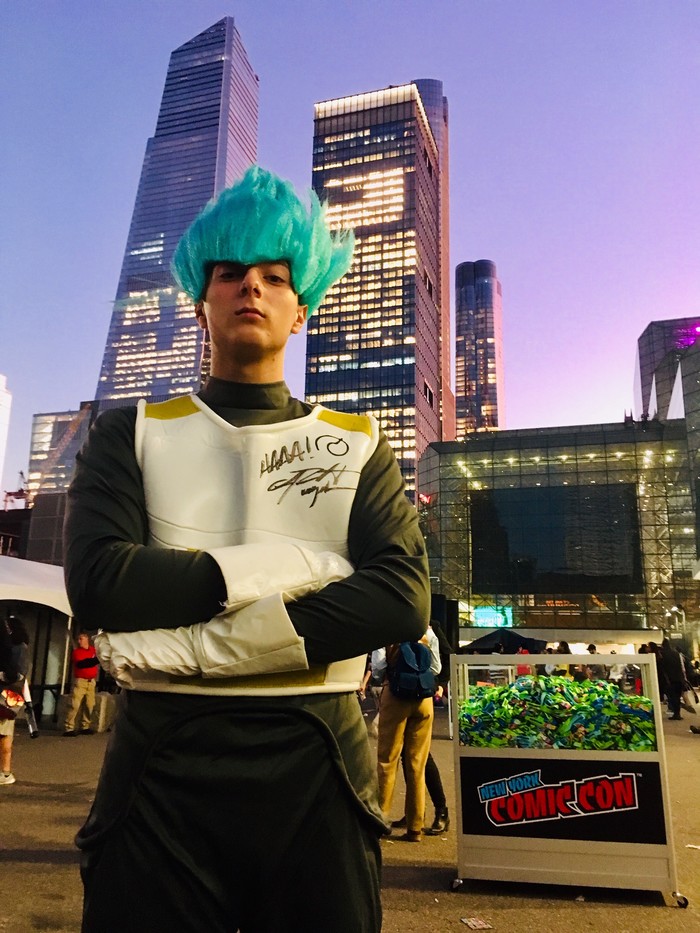 Now that it's a teenager, NYCC is a pretty well-oiled machine. In 2018 with a reported 250,000 attendees for the four-day convention, it surpassed the attendance of even its famous (and completely unrelated) big sister San Diego Comic Con, renowned for its celebrities, big news and big premieres. But New York City is not one to be outdone and ReedPOP, the organizers, utilize every inch they can of The Javits, plus several nearby locations.
Speaking of which, one such location was the Hudson Mercantile -- a beige brick building one might blink and miss if not for the queues that would sometimes, on the occasion of an important panel or special autograph signing, snake around the unassuming venue. This housed the events for AnimeFest @ NYCC -- a partnership between ReedPOP and Society for the Promotion of Japanese Animation (the organizers of Anime Expo) -- that were held just a bit east of the Javits Center and thankfully not miles up the Hudson River at Pier 94, as was the case for the side convention's inaugural attempt, which drew mixed results and a lot of scrutiny last year. With respect for the organizers and their honest attempts to listen to the feedback and fix their mea culpa from 2018 while still delivering a unique experience to otaku attendees, the (often pretty pricey) separately ticketed panels and signings did give fans a chance to get an up-close and personal experience with particular guests, though many also had panels or booths at the main NYCC. The RWBY event was well-attended and fans were treated to a trailer and sneak preview of the first episode. The one-room set-up outside of the paid panels and autograph sessions upstairs may have been well-intended but it seemed to serve as more of a promotional space or chance for a brief photo-op or moment of repose than a fully realized anime convention.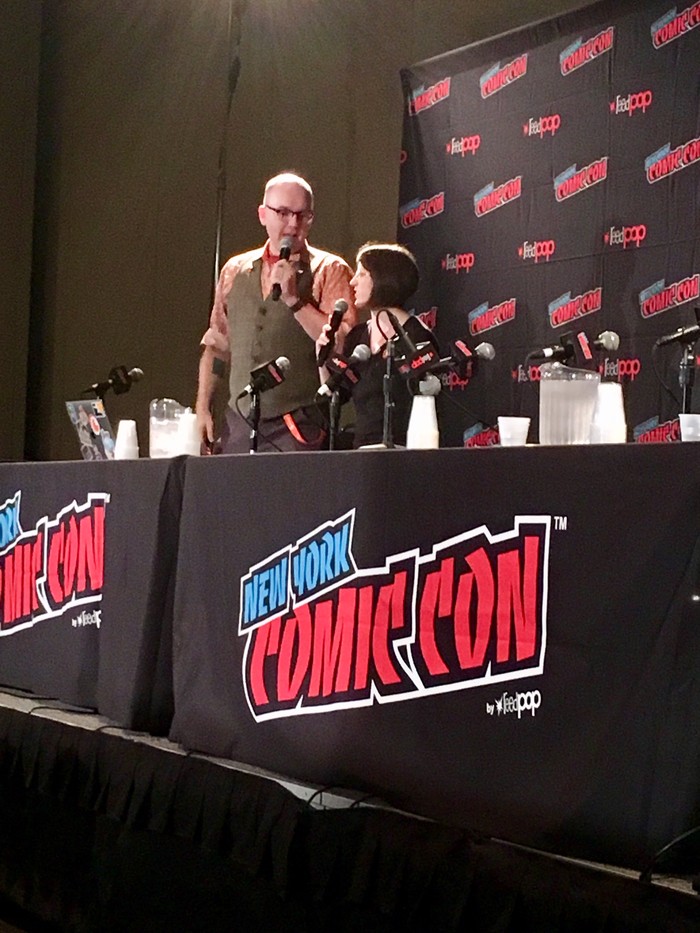 Crunchyroll
tests fans' knowledge for prizes and makes some announcements at their panel
Anime/manga and its fans have perhaps felt at times to have been relegated to sort of "redheaded stepchild" of NYCC, somewhere in the family portrait yet lost in the shuffle of behemoths such as Marvel, DC, Disney, Game of Thrones, Star Wars and all of the major publishers, film, TV and media companies.
A few notables were the energetic panels from Shonen Jump, Kodansha, Funimation, Crunchyroll and Viz Media. Each of them had some announcements including Viz Media's breaking news of their collaboration with Disney to make new manga beginning with Star Wars: Legend of Luke Skywalker and Frozen 2, marking a new era for the company. These events are usually filled to capacity and always proffer a lot of enthusiasm at every convention they attend (it's highly plausible that the staff is paid in coffee and Red Bull). The panels with Yoshitaka Amano and the Sound & Fury creative team both had intimate, friendly vibes and were deeply insightful about the artists and their current projects. Aficionados of cast and creator (Warren Ellis) of the well-received Castlevania had two opportunities to sink their teeth into the folks behind the reimagined vampire hunter video game turned anime -- at the Viz Media panel featuring Frederator on Friday and again at the Main Stage on Saturday. However, as much of an awesome ensemble as they were, and as lovely as the camaraderie for each other and their passion for the project was to see, at neither panel was there a trailer for the highly-anticipated third season or any mention of a release date, making me actually wonder -- did I miss something?

The cast and crew of Castlevania representing Frederator at the Viz Media panel
From the Artist Alley to the exhibitors, panels, events and even cosplay expressions, anime and manga still made up only a minority of about 15-20% while everything else swept up the remainder. That figure is typically reversed at anime/manga centric conventions, where you'll still get the occasional Deadpool or Joker but not -- quite literally -- thousands of them. Still, the otaku who attended NYCC 2019 (and even some who ventured over to AnimeFest @ NYCC) seemed to be generally satisfied and also relieved that they didn't have to schlep too far from where the main action was, while taking pride in the fact that their niche fandom is still represented, growing exponentially each year, and seeping into mainstream pop culture more and more. Anime and manga may still sometimes feel like the "redheaded stepchild" of NYCC but at least they stand out in a crowd.
---
discuss this in the forum (1 post)
|