Interest

Crowdfunding Secured for Anime Short on Kyoto's Subway Girls

posted on by Eric Stimson
Anime to be screened at Kyoto's Subway Day
---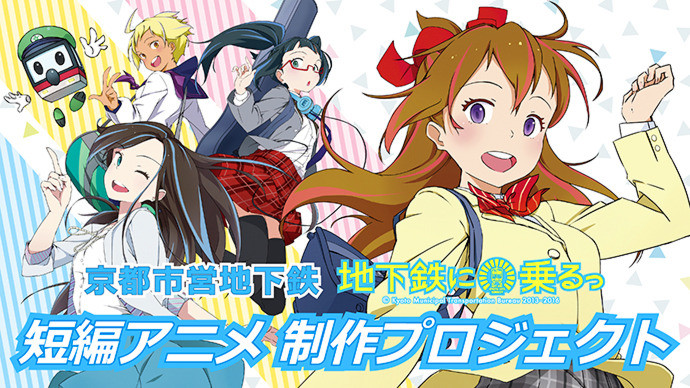 Crowdfunding for an anime short based on Kyoto's subway system's promotional campaign, Chikatetsu ni Noru ("Ride the Subway"), has been achieved, with 1.84 million yen (US$16,438) currently raised through the website Makuake. This is enough money for an anime between 30 seconds and one minute; the length will expand to two minutes if 2 million yen (US$17,868) are raised. The crowdfunding sponsors, Gyorai Eizō, suggest further expansion if they can get 3 million yen (US$26,801), though what exactly that might be is not yet specified.

Chikatetsu ni Noru will feature the three high school girls that have acted as Kyoto's subway mascots since 2011: Moe Uzumasa (Nana Hasegawa), the cheerful, level-headed main character; Saki Matsuga (Yui Tsukada), the sporty, frank one; and Misa Ono (Mimori Tanigake), the guitar-playing, "cool, straight woman." If the goal of 2 million yen is achieved, the anime will also introduce Rei Uzumasa, Moe's cool big sister, who works as a curator and likes pickles and drinking.
The anime-style characters were first unveiled in 2011 as an effort by the Kyoto Municipal Transportation Bureau to boost ridership and offset its staggering budget deficit (Kyoto must survey its subway tunnels extensively to preserve the city's numerous historical remains). After an art upgrade in 2013 thanks to local artist Kamogawa, the girls caught on both within Kyoto and around Japan. Their images are now plastered all over the Kyoto subway system — as posters, videos, fare cards, and even standees. They have helped bring attention to Kyoto attractions and cooperated with the Kyoto International Manga Anime Fair and Kyoto Gakuen University (Moe has a cousin, Sono, who studies there). They have even inspired a novel.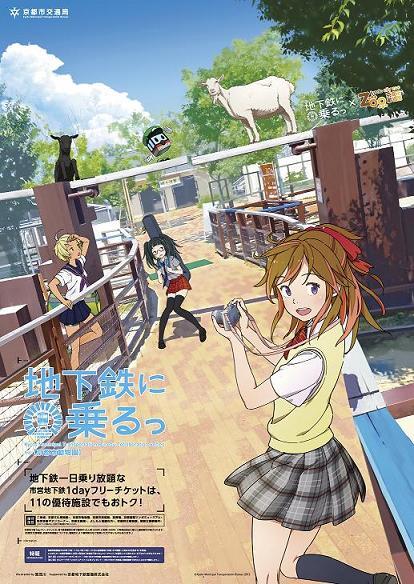 Unfortunately, Kyoto's subway continues to face budget deficits, and the project was forced to turn to crowdfunding to support the animation. Gyorai Eizō is hopeful that its characters stand out in the crowded field of moe characters in Japan ("so many that they need to be swept up and thrown away," according to them), and hopes for a longer anime if its crowdfunding meets with success.

The crowdfunding will last until April 25. Prizes include thank-you letters, QuickTime files of the completed anime, a DVD including interviews with the voice actors, and badges (depending on the amount given). The completed anime will be screened in Kyoto at the subway system's 35th anniversary event, "Subway Day," on May 29, as well as in Tokyo. It will also be posted on the Kyoto Municipal Transportation Bureau's YouTube channel in early June.


The voice actresses are all high schoolers who auditioned for their parts at the Kyoto International Manga & Anime Fair in 2014.



The Nagoya suburb of Kariya has a similar project in the works.

Moe and Sono
[Via Makuake and Rocket News 24; Images from Naver Matome, Kyoto City Zoo, Gigazine and B.B.L.T]
---