×
remind me tomorrow
remind me next week
never remind me
Subscribe to the ANN Newsletter • Wake up every Sunday to a curated list of ANN's most interesting posts of the week.
read more
Interest

Legendary Comics, Sunrise Producers Discuss How Live-Action Gundam Film Was Greenlit

posted on by Kim Morrissy
Unicorn Gundam cameo in Pacific Rim: Uprising helped pave the way for live-action adaptation talks.
---
Legendary Comics Senior Vice President Robert Napton and Sunrise Executive Expert for film production Ken Iyadomi discussed the circumstances in which the live-action Gundam film was greenlit at a talk at a Project Anime industry presentation in Tokyo on March 22. The discussion was mediated by Matt Schley from Otaku USA and The Japan Times.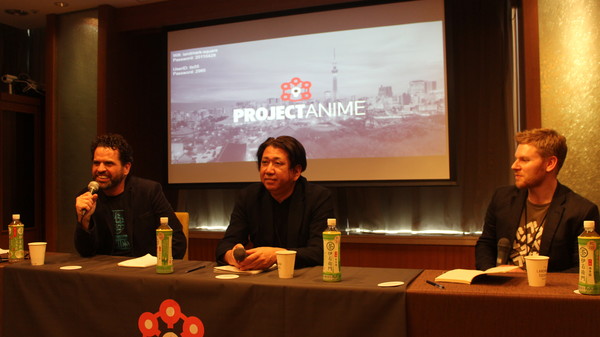 Napton, who was formerly Bandai Entertainment Director of Marketing, began by stating that he and Iyadomi have known each other since 1988. Napton had been a college student working at Books Nippan, the American branch of Nippon Shuppan Hanba, when Iyadomi approached him about anime licensing. When Book Nippan ceased operations in the mid-1990s, Napton worked under Iyadomi at his company L.A. Hero, which published anime on VHS, and 10 years later they worked together at Bandai.
Napton described Iyadomi as a "pioneer" for the early anime market in the US, and credits him for getting the live-action Gundam deal done, although it was a true co-production in the sense that both Sunrise and Legendary Pictures were equally eager to make the film happen. Iyadomi said that he was grateful that Legendary was very willing to listen to Sunrise's opinions about how to manage the Gundam IP. "They didn't just want to take the license and do their own thing with it."
The Gundam Unicorn's cameo in Pacific Rim: Uprising helped create the relationships between Sunrise and Legendary Pictures, and set the scene for talks about a Gundam film project. Iyadomi said that although contacting the right people for the deal was difficult, the CEO of Sunrise was very easy to convince. Another factor that made the negotiations easier is that Legendary has less people, so decisions can be made quicker. Compare this to other projects like Ghost in the Shell and Akira, which took years to get out of development hell.

The deal had only just been closed in June when the formal announcement was made at Sunrise's Anime Expo panel last year. Iyadomi noted: "Hardcore fans are very important, and we don't want them to get upset." He said that the media response was better than expected. Usually, fans can be cynical about live-action Hollywood adaptations.
Napton offered some explanations for this. He said that the Gundam cameos in Pacific Rim and Ready Player One helped fans prepare for the idea of a Gundam live-action film. He also suggested that fans may have more faith in Legendary after its work on Pacific Rim and Godzilla, because the company has successfully proven its Japanese pop culture geek cred. The comics division at Legendary exists to scout out different IPs at conventions and so on. "There's been a generational shift in Hollywood," Napton said. "A lot of the producers who are now working in Hollywood grew up on anime."
Napton also addressed the fact that comic book author Brian K. Vaughan (Y: The Last Man, Ex Machina, Runaways) is writing the script for the film, saying, "He completely understood everything in Gundam Narrative." This produced chuckles in the room, especially after Napton explained that Mobile Suit Gundam Narrative has a complicated plot that requires a great deal of knowledge about the Universal Century timeline to fully grasp.
In the Q&A session following the presentation, Napton and Iyadomi also discussed the Chinese market. Napton said: "There's huge potential in the Chinese market, but we don't use it to guide all of our decisions. There are cases where their domestic movies outsell even American blockbusters." As an example, he said that the Chinese market did not have nostalgia for Star Wars, so The Last Jedi did not perform well there. Therefore, Napton said that Legendary should not just rely on China.
Iyadomi said that it's harder to organize a deal with a Hollywood studio. Although a deal for the live-action Gundam film has been secured, Sunrise is open to doing film deals with the domestic Japanese film industry and with film makers from other countries.
After the Gundam talk concluded, Iyadomi finished the panel with: "Please watch Code Geass."
Source: Project Anime: Tokyo presentation
---