×
remind me tomorrow
remind me next week
never remind me
Subscribe to the ANN Newsletter • Wake up every Sunday to a curated list of ANN's most interesting posts of the week.
read more
Interview: Becoming Byakuya with Miyavi
by Zac Bertschy,

World-famous guitarist MIYAVI scarcely needs an introduction – after lighting hearts on fire all over the world as the guitarist for visual kei smash Due le Quartz in the late 90s, MIYAVI launched a spectacular solo career that took him to new heights of international fame. In 2014 his acting career took off after being cast in Angelina Jolie's film Unbroken, followed by a cameo in Kong: Skull Island and a handful of other roles.

His most recent coup is being cast as level-headed Kuchiki clan leader Byakuya in the upcoming live-action adaptation of Tite Kubo's supernatural action manga Bleach. We caught up with MIYAVI just a few days before his upcoming show this Sunday, May 20 at Irving Plaza in NYC to ask what it's like transforming into one of Kubo's characters.
ANN: First, tell us a little about your history with Bleach. Are you a fan? Did you read the manga or watch the anime?
MIYAVI: Of course I knew Bleach, but I wasn't intimately familiar so much, since I'm more old school for anime. I used to like Dragon Ball, Saint Seiya, Captain Tsubasa, etcetera so I'm not familiar with the new generation of anime like One Piece, Death Note and Bleach. So I wondered if I was the right one for this role when I got this offer. But I was really fascinated by the way Byakuya loves his sister when I read the whole story.

How did you approach playing Byakuya? Did you do anything special to get into character?
His affection towards his sister and the way he tries to protect her are really twisted. I have a sister, and I kinda feel the same way; I want her to be strong enough so that she can stand by herself and even protect herself. So I used that emotion.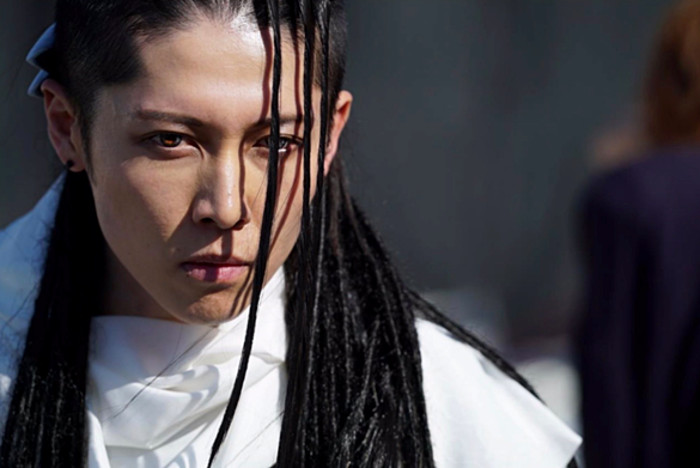 Is there any MIYAVI in Byakuya, do you think? Do you see any of yourself in the character?
Especially when I need to lead people – I find time to be alone. Even on tour, I always just keep focusing on my purpose, which is to do our best performance for the fans and the audience who bought a ticket and came to MIYAVI's show. Time to condition, time to eat, sleep, exercise, etcetera. Always tweaking the set to make it better. Sometimes people might think I'm too strict but this is my process, and Byakuya has that vibe as well I think. Gotta be strong enough to be alone, to take a risk, and lead people.

Did you do any fighting in the film? How did you handle the choreography? Did you relish the challenge?
Yes. Not as much as other characters tho. It was fantastic experience to learn swordfighting since I've been wanting to do it as a Japanese person. Since Byakuya moves really really fast – so fast you can't see, I tried to put speed and explosion in every single swordfight.
How does this role compare, physically, to your previous roles? Do you prefer roles that are physically challenging, or do you prefer a dramatic challenge?
Both. It's really interesting to get into someone who's twisted and yet so human inside. Also, I want to challenge myself with more physical stuff in the future.

What's harder to get through: a tour or a film shoot? Which do you prefer?
Playing with my daughters is harder than any of them!
Would you ever consider transitioning completely to acting, or will performing music always be a part of your career?
Of course music is my core, and it's where I can be 100% myself to deliver my message and my attitude. It's also where I can get connect with my fans.
Is there a fictional character – be it from a book, movie, anime, anything at all – that you'd personally love to play? Anyone you see yourself as?
Tetsuo (Akira), Takezo/Musashi (Vagabond), Baki Hanma (Baki the Grappler), L (Death Note), Jojo.
Big thanks to MIYAVI for the opportunity. You can see him perform this Sunday, May 20th at Irving Plaza in New York City.
---
discuss this in the forum (4 posts)
|
this article has been modified since it was originally posted; see change history