News

Wild Life TV Drama Cancelled After Giraffes' Deaths

posted on by Egan Loo
Series based on veterinarian manga was to have premiered in Japan this March
---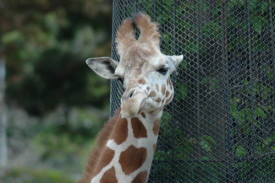 The public relations department of the NHK public broadcaster in Japan announced on Thursday that NHK is canceling its unaired Wild Life television drama series because two giraffes died shortly after being filmed. The live-action series is based on Masato Fujisaki's manga of the same name, and was to have premiered on NHK's satellite service this March. The manga revolves around Tetsushō, a young man who uses his gift of extraordinary hearing to save animals' lives while studying to be veterinarian.
The Wild Life drama's production was filming at the Akita Omoriyama Zoo in northern Japan in December. The crew was attempting to recreate the real-life story of Taiyō, a giraffe that made headlines for being outfitted with an artificial leg at the same zoo six years ago. For three days starting on December 10, a female giraffe named Ririka was separated for the first time from her baby giraffe, Himawari (pictured at right), for the drama's shooting. Himawari had just been born this past July. Ririka and the Himawari's father, Jun, began losing their normally calm demeanor and showing signs of stress. After filming ended and the giraffes were reunited, Ririka collapsed after a meal and died on the evening of December 15. Himawari died on December 21, leaving 14-year-old Jun as the only giraffe at the zoo. NHK's public relations released a statement on the drama's cancellation on January 10 that said in part, "This is a decision of the production company. We are overcome with regret over the giraffes' sudden deaths."
Omoriyama Zoo officials emphasized in a statement, "We do not know if there was a connection between the giraffes' deaths and the drama's filming, but we want to carefully handle any future coverage or filming."
Source: NHK via Canned Dogs, Akita Sakigake Shimpo
---
This article has a follow-up:
Japan's NHK to Air 2 of 3 Wild Life Drama Episodes
(2008-01-14 12:10)