×
remind me tomorrow
remind me next week
never remind me
Subscribe to the ANN Newsletter • Wake up every Sunday to a curated list of ANN's most interesting posts of the week.
read more
News

Tarō Asō to Step Down as Head of Defeated Ruling Party (Update 3)

posted on by Egan Loo
Self-professed manga fan set to lose prime minister post, "anime hall of fame"
---


Japanese Prime Minister Tarō Asō (pictured below right) has confirmed that he will step down as the party president of the ruling Liberal Democratic Party (LDP) after projections show the opposition Democratic Party (DPJ) winning Sunday's parliamentary election in a historic landslide. Kyodo and other news services project that the DPJ, a social liberal party, will win more than 300 of the 480 seats in the Lower House and will force the LDP out of power for only the second time in 54 years. The conservative LDP lost about two-thirds of its 303 current legislators, so self-professed manga fan Asō is set to lose his prime minister post to DPJ president Yukio Hatoyama (pictured below left).
Fate of "Anime Hall of Fame"

DPJ supreme adviser Hirohisa Fujii has confirmed that his party will redirect funding from the proposed National Media Arts Center to unemployment relief as well as nursing and medical care, should his party win this election. The government had been planning the 11.7-billion-yen (about US$123-million) center as a place to exhibit anime, manga, films, and other forms of culture. However, back in May, Hatoyama called the center a "national manga kissaten (café)" and criticized it as a bureaucracy created for Asō's interests. Asō argued that the center's plans actually predate his administration, but he also said that it would promote his larger proposal to use his country's "soft power" in anime, manga, and similar areas of culture to create jobs and reverse the economic downturn.
Even manga creators and animators are divided on the issue of the National Media Arts Center. The center's backers include Revolutionary Girl Utena creator Chiho Saitō and Pokémon producer Tsunekazu Ishihara, while Gundam creator Yoshiyuki Tomino and character designer Yoshikazu Yasuhiko have publicly criticized the plans.
Asō, Hatoyama's Ties to Anime, Manga, Otaku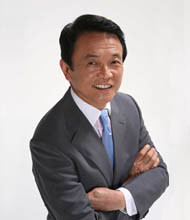 Asō has used anime and manga as examples of cultural exchange since he was foreign minister in 2007, before he was elevated to his country's top post last September. In April of that year, he urged French presidential candidate Segolene Royal to "read a little bit more" manga after she criticized Japanese society for what she perceived to be a high degree of tolerance for expressions of violence and pornography in popular culture. The next month, he spearheaded the first International Manga Award, and his Foreign Ministry hosted a meeting of International Cosplay Summit participants later that year. Asō posted a Japanese essay about how the term "manga" has entered the vocabularies of other languages like "sushi," "tsunami," and "karaoke" have. A month after his elevation to Japan's top post, Asō told the audience at October's 21st Tokyo International Film Festival, only half-jokingly, that he is apparently more well known in Japan for being a manga geek than prime minister.
As prime minister, Asō reportedly discussed a joint Doraemon anime with Russian President Dmitry Medvedev and invoked Sailor Moon during a high school exchange event in South Korea. He has given speeches at Tokyo's Akihabara otaku shopping district and even went cherry-blossom viewing with members of AKB48 and manga and anime pioneer Leiji Matsumoto (Space Battleship Yamato, Space Pirate Captain Harlock, Galaxy Express 999). He was also the lead character in an erotic manga called Tonari no Tarō-kun with cameos by lookalikes of American politicians.
Even though Asō is better known among otaku, Hatoyama has linked himself to the fervent side of fandom as well. The cover of the premiere issue of Biblos' Otaku Elite magazine (pictured above left) featured Hatoyama in 2005. In the magazine, Hatoyama discussed the significance of Japanese manga, anime, and videogames. At the time, he was just the Secretary-General of his party, but Hatoyama became the party head this year. Just as Hatoyama has, Studio Ghibli co-founder and director Hayao Miyazaki has criticized Asō's public emphasis on his manga reading. Miyazaki downplayed the use of Japanese entertainment to promote the country and to raise its youth.
Between its inception in 1955 and now, the LDP has ruled Japan for all but 11 months. Until now, it has only been out of power between July 1993 and June 1994. The DPJ was created just 11 years ago from the meger of other parties. In its bid to maintain power, the LDP released three anime ads that claimed that the DPJ was promising voters too much, pandering to different groups with conflicting proposals, and being inconsistent on issues. Those ads have now been seen over a million times on the YouTube website.
Sources: Japan Times, Reuters, Bloomberg, Mainichi Daily News
Update: Last week, manga creator Machiko Satonaka (Lady Ann) asked people to stop calling the National Media Arts Center by its other nickname, the "Anime Hall of Fame," because she said that the center encompasses more than just anime and manga. Satonaka is on the center's preparatory committee along with Saito, Ishihara, and character designer Sachiko Kamimura (City Hunter, The Heroic Legend of Arslan).
According to the Yomiuri Shimbun paper, the DPJ has won so many more seats than its own internal projections had predicted that it does not have enough candidates to fill those seats. In the Japanese parliament, 180 of the lower house's seats are distributed not by local elections, but by how many votes each party as a whole has received nationwide. Thanks, dormcat.

Update 2: The Daily Telegraph newspaper in Great Britain offers a detailed look at the intertwined family histories of Asō and Hatoyama. Hatoyama's grandfather Ichirō Hatoyama (sitting in the picture to the left) defeated Asō's grandfather Shigeru Yoshida in 1946, but was forced out of the prime minister's post by American occupation authorities since they considered Yoshida to have more pro-Western views. The older Hatoyama then replaced Yoshida in the 1954 election and founded the LDP in 1955. Ironically, the same party that the older Hatoyama founded is the one that the younger Hatoyama (standing in the center in the picture to the left) left in 1993 and has now removed from power on Sunday.
Four years ago, declassified CIA documents revealed that extremists had plotted to assassinate Yoshida and install the older Hatoyama as prime minister in 1952. However, the plan failed due to the plotters' "incompetence and factional in-fighting," and there is no evidence that either politician knew about the plan.
Update 3: In the final tally by The Japan Times newspaper, the opposition parties have won 340 seats compared to 140 in LDP's coalition. DPJ has 308 seats all by itself, while the LDP has just 119. LDP's sole party partner, New Komeito, now has only 21 seats, and three of its leaders, including party president Akihiro Ōta, were ousted from office.---
---