News

MVM Release Plans for 2012 (Updated)

posted on by Andrew Osmond
Two 'new' anime, plus Welcome to the N.H.K. and reissues of Fruits Basket and Kiddy Grade.
---
MVM announced on its facebook page that it has received the contract for two "brand new" anime series, which the company hopes to release in 'maybe' April or May. More details will follow in the New Year.
The company also commented briefly on a forum thread on the Anime UK News website. According to the message, the titles are "not old and not subbed - 2010 onwards." Moreover, they are not any of the following: Gankutsuou, The World God Only Knows, Spice and Wolf, Katanagatari, Squid Girl, Bakuman or a Shakugan no Shana spinoff.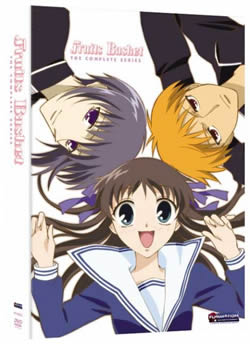 Previously, MVM also announced that it had reacquired two other anime series: Fruits Basket

(pictured right) and Kiddy Grade (pictured left). As of writing, the store Anime-on-Line, which is linked from MVM's website, lists a February 6 release date for Fruits Basket (PG) and a March 5 release date for Kiddy Grade (12), both as 'Complete Collections' with running times of around 600 minutes each.
Before them, the company is scheduled to introduce Welcome to the N.H.K. to the U.K. for the first time, also in a single box-set, on January 9.
Via UK Anime Network.
Update More information added, thanks to Shiroi Hane.
---