News

Siren Visual Announces Mawaru Penguindrum Release Date

posted on

2013-03-18

15:30 EDT by Jon Hayward
Opens pre-orders for Blu-ray and DVD to be released in April;
---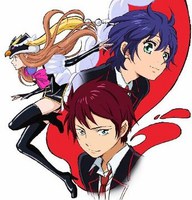 Mawaru Penguindrum's Part 1 release date of the 18th of April 2013 was announced on not only Siren Visual's facebook page but also their website for pre-order. The title was previously announced through facebook in August last year.
Mawaru Penguindrum's story centers around three siblings, twins Kanba and Shouma, and their ill sister, Himari Takakura. Himari passes away after going out on a trip with her brothers but is soon miraculously brought back to life by a spirit thriving in a penguin-shaped hat. In return for her extended life, the twins must search for an item known as the Penguindrum with the aid of three penguins which are visible only to the siblings.
Mawaru Penguindrum is Kunihiko Ikuhara's first major work since directing Revolutionary Girl Utena: The Movie in 1999, he is known for his run on the Sailor Moon anime and later responsible for Revolutionary Girl Utena. In the last decade he has worked on only a few anime projects. Notably, he storyboarded episode 2 of Gunbuster 2, storyboarded and directed the opening sequence for Nodame Cantabile, storyboarded the 29th episode of Soul Eater and storyboarded the opening sequence for Sweet Blue Flowers (Aoi Hana).
The series was released in 2011, runs for 24 episodes and was produced by Brains Base. Lily Hoshino provided the original character design and Yukari Hashimoto (Sankarea, Toradora!) handled the music.
---