News

Kingdom Hearts' Yoko Shimomura Composes Music for Hirune Hime Anime Film

posted on by Karen Ressler
More staff unveiled for 2017 film from Ghost in the Shell S.A.C. director
---

The official website for Hirune Hime: Shiranai Watashi no Monogatari (Napping Princess - The Story of the Unknown Me), the new anime film by director Kenji Kamiyama, updated last week with additional staff members. Yoko Shimomura (Kingdom Hearts, Final Fantasy XV) is composing the music for the film.
Atsuko Sasaki (Ryoko's Case File) will serve as key animation director with animation directors Motonobu Hori, Toshiyuki Kono, and Kazuchika Kise. Yumi Katayama (Ghost in the Shell: Stand Alone Complex) is handling the color design. Kiyoshi Samejima (The Wind Rises, When Marnie Was There background art) and Kaori Hino (Ganbare! Lulu Lolo - Tiny Twin Bears) are the art directors, Noriki Tsukamoto (Joker Game,Tokyo ESP) is the 3D director, Hiroshi Tanaka (Joker Game, Ghost in the Shell: Stand Alone Complex) is the director of photography, and Shōji Hata (One-Punch Man, Hal) is the sound director.
I.G Port's new anime studio subsidiary Signal.MD (Tantei Team KZ Jiken Note, Anime Tamago's "Colorful Ninja Iromaki" short) will animate the film as its first anime film project. Kamiyama (Ghost in the Shell: Stand Alone Complex, Moribito - Guardian of the Spirit, Eden of the East) is directing the film, as well as penning the script. Satoko Morikawa (The Cat Returns, Eden of the East, Xi AVANT) will design the characters, and Shigeto Koyama (Michiko & Hatchin, Moribito - Guardian of the Spirit, Heroman) is in charge of mechanical design. Animator Christophe Ferreira confirmed that he is working on the film's concept art, storyboards, and animation, and the website lists his role as "creature design." Warner Bros. will distribute the film.
The site previously revealed two character designs (seen below): one for Kokone Morikawa – who is voiced by Mitsuki Takahata (live-action Sexy Voice and Robo, Ao Haru Ride) – and the other a sidecar that transforms into a robot named Hearts. The website also posted a background painting.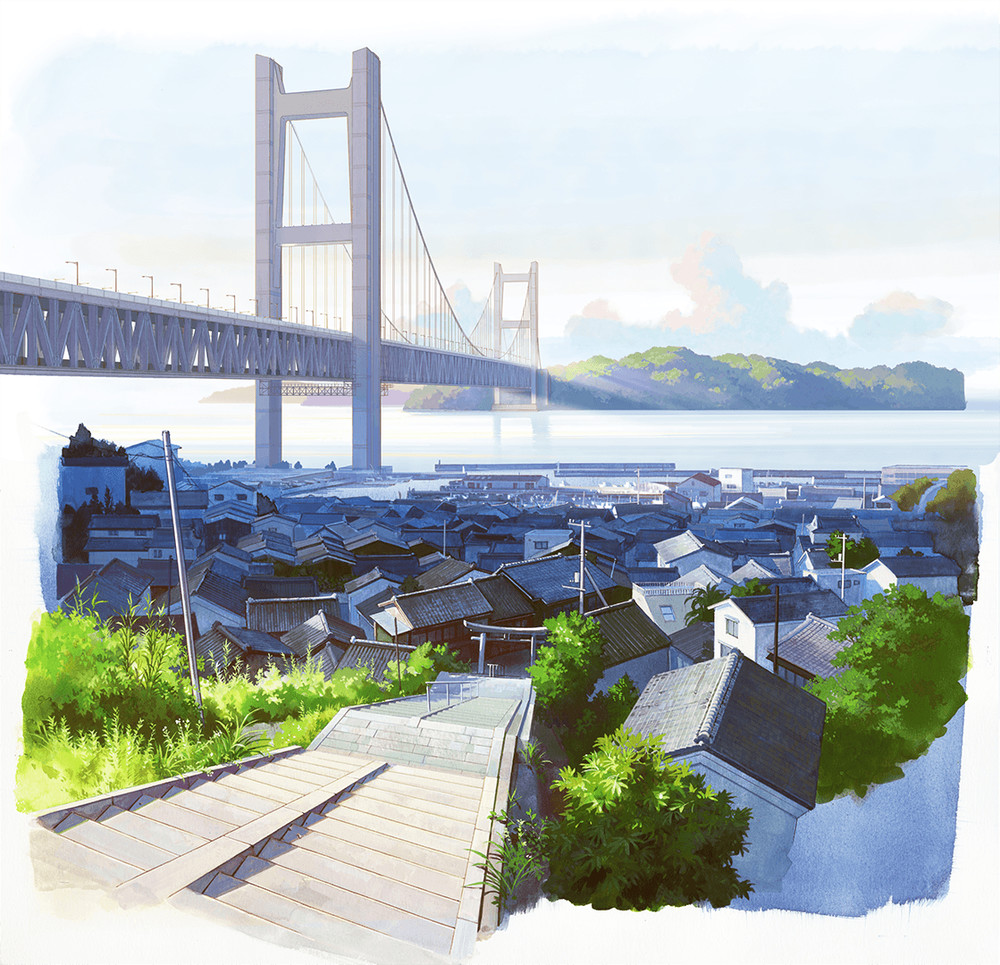 The film will be set in Okayama Prefecture in 2020, just before the Tokyo Olympics. Kamiyama describes the story as one of a father and daughter that is close to his personal feelings. The poster contains the text "Why can't we sleep like this all day long?" and "That dream is connected to my family's secret."
The site also previously streamed a teaser for the film in May.
Kokone: Aw, it happened again! Why do I keep falling asleep in the middle of the day?
Kokone: I'm Kokone Morikawa. I live together with my dad who's crazy about car modding.
Text: Kokone Morikawa: Mitsuki Takahata
Text: Director, Script: Kenji Kamiyama
Kokone: The same dream's been on my mind lately.
Kokone: That uncomfortable but warm dream is connected to my family's secret!
Kokone and Logo: Hirune Hime
Text: 2017. A secret door will open.

Thanks to Ruben for the news tip.
---