News

ReLIFE Live-Action Film's Trailer Previews Sonoko Inoue's Ending Song

posted on by Jennifer Sherman
---
The official website for the live-action film of Yayoiso's ReLIFE manga began streaming a music trailer on Friday. The video features the film's ending theme song "Sakura" by Sonoko Inoue. Taishi Nakagawa, who plays Arata in the film, performs rap in the song.
The song is a cover of pop group Ketsumeishi's popular 14th single, which debuted in 2005. The group's original version reached #2 on Oricon's yearly CD single ranking chart in 2005. The song also featured in the rhythm game Taiko no Tatsujin.
The manga's story revolves around Arata Kaizaki, an unemployed, single 27-year-old who has just been cut off from his parents' financial support. Unable to find a job due to his leaving his previous employer within three months, he is stuck. One night after drinking with a high school friend, Arata meets Ryō Yoake, a man who offers Arata pills to turn him back into a 17-year-old so he can redo his life. After agreeing to the experiment, Arata joins a high school class, and meets Chizuru Hishiro, a socially awkward silent beauty who yearns to have friends. Through connecting with her and other classmates, Arata must find what he lacks to live a happy life in the real world within a one-year time limit.
The cast includes:
Taishi Nakagawa (live-action Kyō no Kira-kun, Prison School)
as
the protagonist Arata Kaizaki and Yūna Taira (live-action Aozora Yell, Ankoku Joshi) as Chizuru Hishiro

Mahiro Takasugi (live-action P to JK) as Kazuomi Ōga


Elaiza Ikeda (live-action Wolf Girl & Black Prince) as Rena Kariu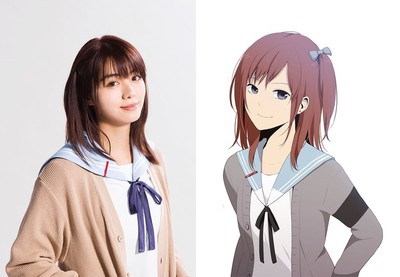 Sae Okazaki (live-action Siren, Nou Shou Sakuretsu Girl) as An Onoya


Yudai Chiba (The File of Young Kindaichi Returns: The File of Inspector Akechi) as Ryō Yoake.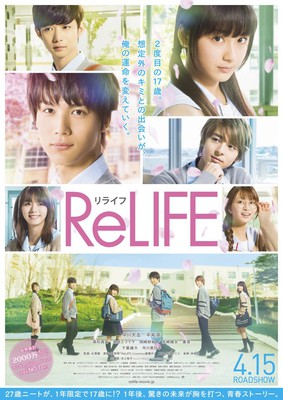 Takeshi Furusawa (live-action Another, Clover) is directing the film. The film is slated to debut in Japanese theaters on April 15, and it will have an original ending. Sonoko Inoue is performing the film's insert song "Message."
Yayoiso began her manga on the Comico free manga app in 2013, and it was green-lit for physical publication in 2014. Taibundo released the manga's seventh compiled volume on Saturday, and Crunchyroll is releasing the manga in English digitally.
The manga inspired an anime adaptation last year. All the episodes debuted at once on the Comico app before airing on television, and Crunchyroll streamed all 13 episodes at once last July. Kensho Ono starred in the anime as Arata Kaizaki and reprised his role in a stage play adaptation in September.
---