News

Mobile Suit Gundam Twilight AXIS Novel Gets Net Anime in June

posted on by Jennifer Sherman
---
Sunrise announced on Friday that it is producing an anime adaptation of Ark Performance and Koujirou Nakamura's Mobile Suit Gundam Twilight AXIS novel. The anime will debut streaming for members of the Gundam Fan Club in June. The anime's official website is streaming a promotional video for the anime (Note: The video is region-locked to Japan).

The novel's story takes place in Universal Century 0096, a few months after the events of Mobile Suit Gundam UC. Arlette Armaju (below left), a former weapons developer for the Principality of Zeon, and Danton Haireg (below right), a former test pilot for the Principality of Zeon, join a research team sent to investigate the shattered Axis outside the Earth's orbit.

Key to the story will be two mobile suits, the Gundam AN-01 Tristan (left), and the Zaku III Kai (right). Bandai will offer the HGUC 1/144 Gundam AN-01 Tristan and the HGUC 1/144 Zaku III Kai (Twilight AXIS Ver.) kits in June.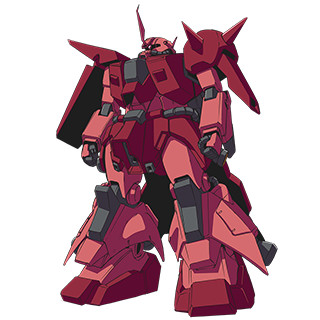 Se Jun Kim (Mobile Suit Gundam UC assistant director, Gundam Build Fighters animation director) is making his directorial debut in the anime. Shingo Abe (Star Driver, Mobile Suit Gundam: Iron-Blooded Orphans is the chief mechanical animation director. Hideki Nakamura (Gundam Thunderbolt, Code Geass: Akito the Exiled) is the art director. Takashi Ohmama (Castle Town Dandelion, Phantasy Star Online 2: The Animation) is composing the music. Ark Performance is credited for story and concept design.

Ark Performance (Arpeggio of Blue Steel) and Nakamura (Mobile Suit Gundam Climax U.C. - Tsumugareshi Kizuna manga, Arpeggio of Blue Steel - Ars Nova anime scripts) launched the novel in Yatate Bunko — Sunrise's new light novel imprint — in November. The Yatate Bunko site published the second part of the fourth chapter on February 27.
Ark Performance launched the ongoing Arpeggio of Blue Steel manga in Shonengahosha's Young King Ours magazine in 2009. Seven Seas Entertainment is publishing the manga in print in North America, and Crunchyroll is publishing the manga online. The manga inspired a television anime, which Crunchyroll streamed as it aired in Japan in 2013, and two anime films.
In addition to Arpeggio of Blue Steel, Ark Performance is writing the Mobile Suit Gundam MSV-R Johnny Ridden no Kikan (Johnny Ridden's Return) manga for Gundam Ace magazine. Ark Performance also previously worked on the Mobile Suit Gundam Kōbō no A Baoa Qu (A Baoa Qu of the Beam of Light), and Mobile Suit Gundam Gihren Ansatsu Keikaku) (Gihren Assassination Plan) manga.
Sunrise launched its Yatate Bunko imprint at the end of September.
Thanks to Dennis R for the embedded video.
[Via Otakomu]
---