News

Time Bokan 24 Sequel Anime's Title, October Premiere Revealed

posted on by Karen Ressler
Akudama trio tries to take over as main characters
---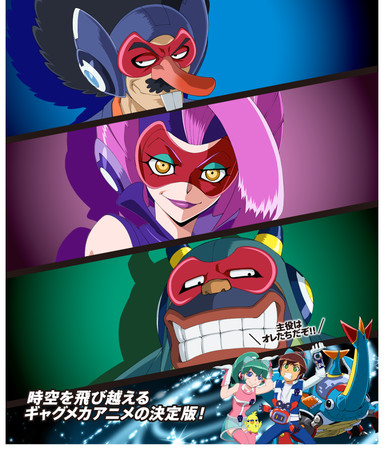 The staff of the sequel to the Time Bokan 24 anime revealed on Saturday that the new season is titled Time Bokan: Gyakushū no San-Okunin (Three Bad Guys' Counterattack) and it will premiere in October on Yomiuri TV and NTV. The sequel will follow the three villains of Akudama as they try to take over as main characters. They will try to collect mysterious treasure held by famous historical figures.
The following cast members are returning:
Akihisa Wakayama as Tokio
Akari Kitō as Karen
Eri Kitamura as Bimajo
Hiroaki Hirata as Tsubuyakky
Kenta Miyake as Suzukky
Hori as Oyadarma
Shigeru Chiba, the first season's voice of Bokan'nare, is also returning.
The first season premiered on October 1 and ended with the 24th episode on March 18. Crunchyroll streamed the series as it aired.
Crunchyroll describes the story:
The history in our textbooks are all wrong?! In the 24th century, humankind accomplished the invention of a time machine, "Time Bokan". As they discover the truth about history, they realize that the history written in their textbooks are all wrong! To correct their knowledge of history, the government developed an organization called JKK (Space-time Administrative Bureau). Our hero Tokio is recruited by Karen, a girl from the future to join the JKK. Together they travel through time to discover the true history, along with fighting the "Akudarma" a villainous group whose goal is to prevent the discovery of the truth!
Takayuki Inagaki (World Break: Aria of Curse for a Holy Swordsman, Rosario + Vampire) directed the series, and Yoichi Kato (Yo-kai Watch, Aikatsu!) was in charge of series composition. Akihiro HIno (Yo-kai Watch, Inazuma Eleven story) was the creative producer. Level-5 contributed the original character and mechanical designs and planned the project with Tatsunoko Productions. Kunio Okawara (Mobile Suit Gundam, Yatterman, Armored Trooper Votoms) worked on the anime's mechanical design.
The original Time Bokan television anime series premiered on Fuji TV in 1975, and its original broadcast ended in 1976. The anime inspired six spinoff television anime series, including Yatterman, that aired until 1983.
This October 19 will mark Tatsunoko Production's 55th anniversary.
Source: Mantan Web
---