News

Crunchyroll to Add Gonzo, ADV, Media Blasters Titles (Update 2)

posted on by Egan Loo
---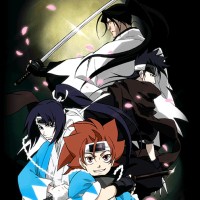 The Crunchyroll video-sharing website has announced at its Otakon panel on Saturday that it will add new titles from the Gonzo anime studio's GDH corporate parent — including Kaleido Star and Peacemaker Kurogane (pictured at right) — 12 titles from ADV Films, and several titles from Media Blasters this month. The 12 ADV Films titles are as follows:
Angelic Layer 26-episode animated series (pictured at bottom left)
BASToF Syndrome 26-episode animated series
Best Student Council 26-episode animated series
Chance Pop Session 13-episode animated series
Lady Death animated feature
Magical Play 22-episode animated series
Martian Successor Nadesico: The Motion Picture - Prince of Darkness animated feature
Nurse Witch Komugi 6-episode animated series
Parasite Dolls animated feature
Saiyuki 50-episode animated series
Sin The Movie animated feature
Yesterday live-action film
The Media Blasters titles include the following:
Girl's High 12-episode animated series
Ramen Fighter Miki 12-episode animated series
Kite Liberator animated video
Flesh for the Beast live-action feature
Shadow: Dead Riot live-action feature
Machine Girl live-action feature

The GDH titles will be available through Crunchyroll's streaming and download-to-own options. The ADV Films titles, Girl's High, and Miki will be available through Crunchyroll's streaming, download-to-own, and subscription options. The other Media Blasters titles be available through the subscription and download-to-own options only. The ADV Films titles will be presented over the next 12 months, starting later this month.
Crunchyroll has also dated its international online premiere of T.O. Entertainment's computer-animated Egg Man film for October. The video-sharing website has already run The Tower of DRUAGA -the Aegis of URUK-, BLASSREITER, and Strike Witches from GDH. Crunchyroll had also streamed Welcome to the N.H.K. from May to June when ADV Films had licensed the rights.
Images © Nane Chrono•MAG Garden/Shinsengumi-Tonsyo
© Clamp/Angelic Production Committee, TV Tokyo
Update: Media Blasters titles added.
Update 2: The downloads will have no digital rights management, but will be fingerprinted.
---