News

Musical Duo Claris to Perform Nisekoi Anime's Opening Theme

posted on by Reina Bolanos
Adaptation of Naoshi Komi's romantic comedy manga to premiere on January 11
---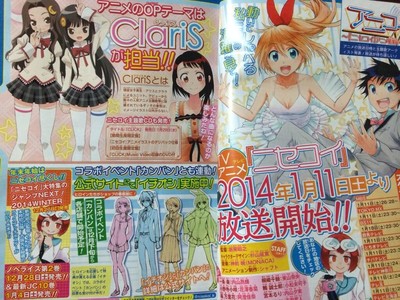 The 2014 second issue of Shueisha's Weekly Shonen Jump magazine is announcing on Monday that the duo Claris will perform the opening theme song "CLICK" for the television anime adaptation of Naoshi Komi's Nisekoi romantic comedy manga. The magazine is also revealing that the series will premiere on January 11 on MBS, Tokyo MX, and several other stations.
Claris's single featuring "CLICK" will ship on January 29. The first printing limited edition will include a DVD featuring the music video for the song. Claris previously performed theme songs for the Puella Magi Madoka Magica television series and all three films, both seasons of Oreimo, Nisemonogatari, and Moyashimon Returns.
The anime revolves around Raku Ichijō (Kouki Uchiyama), a normal high school student who happens to be the heir to a yakuza group. The attractive but violent transfer student Chitoge Kirisaki (Nao Toyama), the heir to a rival yakuza group, transfers to his class, and the two must pretend to date to keep a war from breaking out between their families.
The series will also star Kana Hanazawa (Kobato, Steins;Gate) as Kosaki Onodera, Mikako Komatsu (Pretty Rhythm Rainbow Live, K) as Seishirō Tsugumi, Yumi Uchiyama (Binbogami ga!, The Devil is a Part-Timer!) as Ruri Miyamoto, Yuuki Kaji (Guilty Crown, Attack on Titan) as Shū Maiko, Takehito Koyasu (Alice in the Country of Hearts: Wonderful Wonder World, Bakuman.) as Claude, and Kana Asumi (Nyarko-san: Another Crawling Chaos, Pretty Rhythm Aurora Dream) as Marika Tachibana. Akiyuki Shinbo (Madoka Magica, Bakemonogatari) will direct the anime at animation studio SHAFT.
Viz Media is releasing the original manga digitally and in print.
[Via Kazu]
---