News

Noriaki Sugiyama, Tomokazu Sugita, Ami Koshimizu, More Join D.Gray-man Hallow Anime's Cast

posted on by Crystalyn Hodgkins
---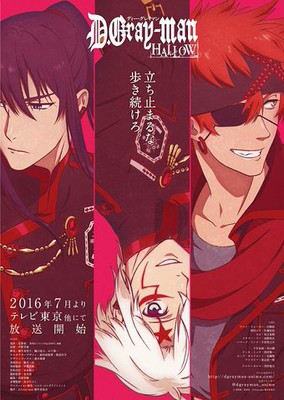 The official website for D.Gray-man Hallow, the new television anime of Katsura Hoshino's D.Gray-man manga, revealed additional cast members on Saturday.
The new cast includes:
Noriaki Sugiyama as Arystar Krory
Ami Koshimizu as Miranda Lotto
Houchu Ohtsuka as Bookman
Go Inoue as Komui Lee
Tomokazu Sugita as Reever Wenhamm
Mitsuhiro Ichiki as Johnny Gill
Toru Ohkawa as Malcolm C. Lvellie
Takuya Eguchi as Madarao
Sōma Saitō as Tokusa
Rie Suegara as Tewaku
The previously announced cast includes:
Ayumu Murase as Allen Walker
Takuya Sato as Yū Kanda
Natsuki Hanae as Lavi
Ai Kakuma as Lenalee Lee
Shinnosuke Tachibana as Howard Link
Yutaka Aoyama as The Earl of Millenium
Masakazu Nishida as Tyki Mikk
Yui Kondou as Road Kamelot
Souichiro Hoshi as Wisely
Ryōta Asari as Alma Karma
Yoshiharu Ashino (Tweeny Witches, Cross Ange, First Squad) is directing the anime at TMS Entertainment, with scripts by Michiko Yokote (Shirobako, Prison School, Dagashi Kashi), Tatsuto Higuchi (My-Otome, Bakumatsu Gijinden Roman, Schwarzes Marken), and Kenichi Yamashita (Koutetsu Sangokushi, Ishida and Asakura, Actually, I Am…). Yousuke Kabashima (The Girl Who Leapt Through Space, Lord Marksman and Vanadis) is adapting the character designs for animation, and is also serving as chief animation director. Yasuhiro Moriki (Ninja Robots, Crest of the Stars, Bakuon!!) is credited for design. Kaoru Wada is returning from the previous D.Gray-Man anime to compose the music.
Rock band Lenny code fiction will perform the anime's opening theme, and Mashiro Ayano (Gunslinger Stratos: The Animation, Fate/stay night: Unlimited Blade Works) will perform the ending theme.
The series will air on TV Tokyo starting in July.
[Via Yaraon]
---