News

Annecy Festival Screens French/Japanese Animated Film Mutafukaz

posted on by Jennifer Sherman
---
The staff of Mutafukaz, the upcoming animated film based on Guillaume "Run" Renard's comic series of the same name, announced on Friday that the film is finished and it will screen at the Annecy International Animation Film Festival on June 13. Annecy's official website lists the film as 90 minutes long.

French video game and comics publisher Ankama and Japan's Studio 4°C (Tekkon Kinkreet, Berserk: The Golden Age Arc) are co-producing the project. Renard himself is directing the film with Tekkon Kinkreet animation director Shoujirou Nishimi. Shinji Kimura(Tekkon Kinkreet, Steamboy) is serving as art director.
The project was first announced in 2011, and the staff announced in 2015 that the film was slated for release in 2017. Ankama streamed a teaser trailer for the film in 2015.
Renard's original comic series is set in "Dark Meat City" — a "pre-apocalyptic American urban jungle" — and revolves around Angelino, a young man whose scooter accident results in the acquisition of supernatural powers. Ankama's official website for the comic stated that it is inspired by science fiction of the 1950s, hip hop music, and wrestling.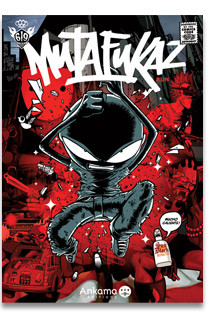 Titan Comics released the first volume of the original French graphic novel in English-speaking countries in 2015.
Naoko Yamada and Kyoto Animation's A Silent Voice (Koe no Katachi), Sunao Katabuchi and MAPPA's In This Corner of the World (Kono Sekai no Katasumi ni), and Masaaki Yuasa and Science SARU's Lu over the wall (Yoake Tsugeru Lu no Uta) will screen in competition at this year's Annecy.
Ancien and the Magic Tablet (Hirune Hime: Shiranai Watashi no Monogatari) from Kenji Kamiyama and Signal.MD, as well as Rudolf the Black Cat (Rudolf to Ippaiattena) from Kunihiko Yuyama, Motonori Sakakibara, and OLM, will screen out of competition. The festival will also host screenings of Hiroyuki Seshita and Polygon Pictures' Blame! and the first footage of the new Mazinger Z film. Sawako Kabuki's Natsu no gero wa huyu no sakana short film is in the graduation films competition.
In addition, animation studio CGCG Studio HD will offer its nine-minute anime short "Sprin' Pan Mae e Susumou!" ("Sprin' Pan Let's go forward!") in this year's MIFA (Marche international du film d'animation) animation market. The market is run by and concurrently with the Annecy International Animation Film Festival.
Established in 1960, Annecy is the world's oldest and largest animation film festival. This year, it runs from June 12-17 at the French community of the same name.
Thanks to Evan Bourgault for the news tip.
---