Anime Spotlight - Girls aim for the Wilderness ~ Girls Beyond the Youth KOYA ~
by Anthony Foronda,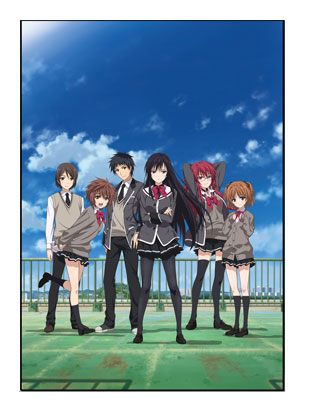 Broadcast Begins January 2016 (JST)

Key Staff
Director: Takuya Sato

(Selector Infected Wixoss, NieA 7)

Original Creator: Takahiro

(Akame ga KILL!)

Series Composition: Yuniko Ayana

(Ground Control to Psychoelectric Girl, Hello!! KINMOZA)







Story
Kanazawa-hyakkei in the prefecture of Kanagawa. Buntaro Hojo, a boy leading school life in such a scenic place, had no dreams of the future. One day when he started feeling anxiety over not being able to find what he wants to do, a mysterious classmate asks him if he wants to make a game together with her. Buntaro feels for the first time a premonition that he can accomplish something upon hearing the proposal. And he finally takes the first step. Now to step into the wilderness of this world, together with the comrades--
Characters
Buntaro Hojo
VA:Seiichiro Yamashita

Main character. Cheerful, groovy, and kind-hearted. While living a student life, experiences all sorts of part-time work from helping friends among other things. Also writes screenplay for the drama club. Does a lot of things but cannot find "my dream" yet, and somehow feels uneasy towards the future. As he is honest, he accepts good things as good and flexibly absorbs the knowledge to bolster his skills.

Sayuki Kuroda
VA:Haruka Chisuga

Main character's classmate who has an unapproachable, sagacious beauty. Likes black clothes, such that her personal clothes are also black. A mysterious figure, but because of her family, has played games often from a young age. Still loves games, manga, and anime. A planner of the calculating kind, she proposes a game based on logic of selling well.

Yuka Kobayakawa
VA:Kana Hanazawa

Childhood friend of Buntaro and Atomu. Always had a dream of wanting to be an actress from a young age, but being told all her life that it was useless to aim for it and live normally, she wants to become famous and triumph over her parents and friends who all denied she had talent. Currently is the hopeful newcomer in the drama club that finally is starting to gain outside praise. Friendly to Buntaro who has always been on her side. Live, and moves around a lot.

Teruha Ando
VA:Satomi Akesaka

A second-year at the academy. Hardcore otaku. Simple personality that says things very directly. Has touched computers from long ago so is adept at idling with machines. Believes in supporting good titles by continued patronage, so tends to be out of money. Secretly works part-time at a maid café in Tokyo. Parents work as fishermen in Kanazawa-hyakkei. Personality-wise, finds Sayuki Kuroda hard to deal with, and likewise Sayuki finds Teruha hard to deal with.

Uguisu Yuki
VA:Satomi Sato

A first-year at the academy. Loved to draw from a very young age, and submits art to illustration websites, but does not deal well with her art being critiqued. Usually listens to what others have to say, but since she looks timid she is sometimes asked, "Do you have your own will?" However, if it concerns art, she is pretty obstinate.

Atomu Kai
VA:Toshiyuki Toyonaga

Buntaro's best friend. Tends to be shy, but speaks a lot to people he has gotten to know. Was uneasy about the future like Buntaro, but since what Buntaro is doing looked fun, he also wanted to find something he can be passionate about and lends a helping hand. Was able to find a girlfriend once, but this pitiful fellow was told, "You're just kind, and so you're a bit lacking." Even now, that is somewhat of a trauma for him.
Cast
Buntaro Hojo

Seiichiro Yamashita

Sayuki Kuroda

Haruka Chisuga

Yuka Kobayakawa

Kana Hanazawa

Teruha Ando

Satomi Akesaka

Uguisu Yuki

Satomi Sato

Atomu Kai

Toshiyuki Toyonaga




©M/SP
---
discuss this in the forum (8 posts)
|
back to Anime Spotlight Winter 2016 - The List
Anime Spotlight homepage / archives