Anime Spotlight - The Dragon Dentist
by ANN Staff,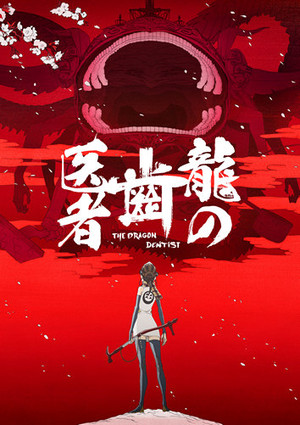 On air starting February 18, 2017
Available at:
NHK World (Television)


Key Staff
Director: Kazuya Tsurumaki

(FLCL, Evangelion: 1.0 You Are (Not) Alone)

Sound Director, Executive Producer: Hideaki Anno

(Neon Genesis Evangelion, His and Her Circumstances)
Introduction
An epic adventure fantasy by the creators of the EVANGELION series and Shin Godzilla and the International Emmy Award winning producer of Ronia, the Robber's Daughter.
Story
The story takes place in Dragon Country. Nonoko is a newly appointed dentist and her mission is to protect the dragon, the guardian of the country, from tooth-cavity bacteria.
One day, amid increasingly fierce battles with the neighboring country, Nonoko finds on the dragon's tooth an unconscious boy soldier from the enemy country. His name is Bell, and he has been resurrected from inside the tooth by the dragon—a supernatural phenomenon that legend says occurs before a major disaster. As Nonoko and Bell go through a series of fierce battles, they eventually learn to accept their fate. This fantasy adventure, created on an unprecedentedly epic scale, will keep viewers thrilled and enraptured.
Characters
Nonoko Kishii
Voice: Fumika Shimizu

The 15-year old female protagonist of the story. Hearing she could eat as much delicious food as she wanted if she passed, she underwent an exam and was chosen by the dragon to become the Dragon Dentist. Although she's still a novice, she has a clear understanding of her work and mission, and even takes Bell under her wing as her junior.

Bellnard Octavius
Voice: Nobuhiko Okamoto

A 17-year old boy who was raised in the enemy nation of Serpenada and entered military service after completing an education at a preparatory school. He meets Nonoko after appearing from within the dragon's teeth due to a strange phenomenon called "Return From the Underworld." His nickname is "Bell."

Yotoshio Godo
Voice: Koichi Yamadera

Nonoko's senior who has served as a Dragon Dentist for many years. He and Shibana are the most experienced of the dentists, with Godo currently holding the position of leader. His calm personality that makes him seem like he knows everything sets him apart from the rest.

Shibana Natsume
Voice: Megumi Hayashibara

Like Godo, Shibana is a veteran Dragon Dentist. The people around her call her "Sister" out of respect. She lost Takemoto--her senior Dragon Dentist whom she was in love with--in the "Tengu Bug Incident" that occurred 12 years ago.

Salvatore Blanco
Voice: Suzuki Matsuo

The squad captain of the mercenary unit hired by the Serpenada military. A daredevil, he navigates the bullet-filled battlefield so brazenly that you'd think he was mad. He always seems like he's in a bad mood.
Cast
Nonoko Kishii

Fumika Shimizu

Bell Octavius

Nobuhiko Okamoto

Yotoshio Godo

Koichi Yamadera

Shibana Natsume

Megumi Hayashibara

Salvatore Blanco

Suzuki Matsuo
Staff
Director

Kazuya Tsurumaki

Story/Screenplay

Otaro Maijo

Screenplay

Yoji Enokido

Character Design

Shuichi Iseki

Sound Director

Hideaki Anno

Music

TOMISIRO, Hiroshi Nakamura (I-dep)

Theme Song

"Bokura ga Tabi ni Deru Riyū" (The Reason We Depart on a Journey) by RINKU (Mistera Feo)

Executive Producer

Hideaki Anno, Nobuo Kawakami

Animation Production

Khara

Production

NHK, NHK Enterprises, Dwango, Khara




© Otaro Maijo, nihon animator mihonichi LLP. / NHK, NEP, Dwango, khara
---
discuss this in the forum (16 posts)
|
this article has been modified since it was originally posted; see change history