Anime News Network's Holiday 2017 Gift Guide

Fashion

by Lynzee Loveridge,


Next to anime itself, clothing might be one of the most personal items to get a person, especially if they aren't a t-shirt and jeans type. Anime-flavored fashion has come a long way since silk button down shirts and screen-printed tees. Brands are getting more creative with their referential nods and original clothing with anime inspired art has really lit up streetwear. Use the items here to find the perfect piece for subtle cosplay, declaring your favorite anime or games proudly, or introducing a cheeky accessory into your wardrobe.
Women's
Omocat Fall 2017 Collection

Omocat's fashion line continues to blend creepy and cute for a uniquely cool aesthetic. If you like your fashion with a touch of darkness and a bit of the grotesque, Omocat's fall collection has that in spades. Pictured is the Devil t-shirt with art by DENQ. It depicts a green-skinned boy looking over a fainted boy with some killer high-tops. Also check out the designer's Honne Onna sweatshirt, FLUFie sweater, and Weekend at Chocula's shirt.
Retail Price: US$40.00
Shopping Link: Omocat
King of Games Super Famicom Unisex Long-Sleeve T-Shirt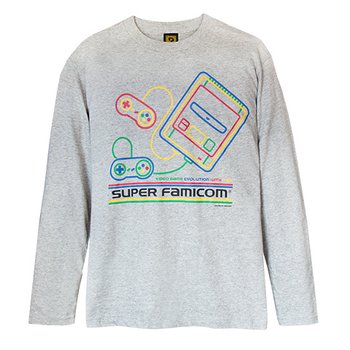 Super Famicom (aka the Super Nintendo) is back in a big way thanks to the Classic Mini Super Family Computer released in Japan and the U.S. this year. Units were scarce, sending retro gaming fans into a frenzy. Declare your love for the classics with this stylish long-sleeved t-shirt.
Retail Price: US$49.99
Shopping Link: Tokyo Otaku Mode
Urahara Collaboration T-Shirt

If you liked Omocat's collection above, the shop is also directly collaborating with the Urahara, aka the Park Harajuku Crisis Team as the original comic is known. The t-shirt features original artwork of all three girls and can be bought in either black, mint green, white, or grey.
Retail Price: US$52.99
Shopping Link: Tokyo Otaku Mode
Haikyu!! Karasuno Pullover

Show your Karasuno pride and tell all those other volleyball teams to Fly Off! This comfy hoodie has all the essentials (pockets!) and will keep you warm and toasty while you wait for Haikyu season four.
Retail Price: US$53.99
Shopping Link: Tokyo Otaku Mode
Princess Mononoke Wolf Girls Muscle Top

Boys, keep your paws off because this princess is a WOLF and she's got industrialized powers to face and forest gods to protect. This shirt is designed by Her Universe, the brand that puts modern spins on Ghibli characters and themes.
Retail Price: US$22.90 - $26.90
Shopping Link: Hot Topic
The Ancient Magus Bride Mineral Wash T-Shirt

This season's best guy with a skull face is shown here on a mineral wash t-shirt with Chise, voted most likely to become a magical force of reckoning. Here's hoping this is just the beginning to a bunch of amazing The Ancient Magus Bride merchandise.
Retail Price: US$24.90 - $26.90
Shopping Link: Hot Topic
Yuri!! On Ice Born to Make History T-Shirt

Don't stop now! It's the moment of truth! This shirt was...born to make history! You can make it happen, just click on the link, you were...born to make history!
Retail Price: US$22.90
Shopping Link: Hot Topic
Princess Mononoke Vest

It's sweater weather, so why not trade out that down-insulated vest for something more primal? This vest is a subtle enough cosplay piece you could wear it with anything and no one would know its origins so long as you leave off the red face paint.
Retail Price: US$84.90
Shopping Link: Hot Topic
Men's/Unisex
I am AHO T-Shirt

Hey, so maybe you're no above laughing at yourself. You'd have to be to want to wear a shirt that says "I'm an idiot" in Japanese but could just easily be mistaken as lasciviousness in English. Or maybe you're just a big Yuri Yuri fan. Yui sure didn't mind wearing it around.
Retail Price: US$19.99
Shopping Link: JList
Sentai Original Lewd Lita T-Shirt

Support your favorite anime licensee Sentai Filmworks with their original character Lewd Lita. Lewd Lita likes to announce when she sees anything even a little lewd, like tentacles. The black and white image takes cues from classic monster movie posters. It's both cheeky and retro.
Retail Price: US$22.00
Shopping Link: Tokyo Otaku Mode
No Game No Life Sora I Heart Humanity

Retail Price: US$17.99
Shopping Link: Tokyo Otaku Mode
Being a video game master and social butterfly aren't mutually exclusive! This shirt from No Game, No Life declares "I <3 Humanity," a slogan from the anime series. Something tells me Sora was being a bit ironic with the shirt though...
Naruto Varsity Jacket

If Naruto went to high school, he'd have easily earned one of these for this abilities. This varsity jacket is another stylish and subtle option. The breast has a large embroidered N with Naruto's silhouette and his name written in hiragana and katakana down the side.
Retail Price: US$129.90 - $133.90
Shopping Link: Hot Topic
Fullmetal Alchemist Symbols Hoodie

Retail Price: US$39.90 - $41.90
Shopping Link: Hot Topic
This bright red hoodie is an eye-catcher. On the left chest is a transmutation circle symbol design. A large faded Flamel symbol design is featured on the back. Not guaranteed to protect from any attacking homunculus.
Eureka Seven x Ungreeper Renton & Eureka T-Shirt

Artwork blending traditional Japanese ukyio-e techniques with pop-culture characters has taken off in recent years. This includes prints of Eureka and Renton lifting through old Edo. This print is now available on a swaggy t-shirt. This shirt says you're down with the latest anime but you also appreciate Japanese culture.
Retail Price: US$59.99
Shopping Link: Tokyo Otaku Mode
Accessories
Ash Pokemon Snapback Hat

Every aspiring Pokemon Master needs a trusty snapback hat to protect their eyes from harsh rays and protect their head from falling Geodudes. Feel more like Ash Ketchum while you're out playing Pokemon Go with this classic hat.
Retail Price: US$19.99
Shopping Link: RightStuf
My Neighbor Totoro Insulated Lunch Bag

Keep your lunch together while waiting for the next Catbus. This adorable, pastel tote is fully insulated to keep your liquids cool and contained. One side features all three types of Totoro plus soot sprites while the reverse side has the multi-legged Catbus heading to his next stop.
Retail Price: US$15.50
Shopping Link: Tokyo Otaku Mode
Pokémon Snoring Snorlax Slippers

Is there a better way to say "do not disturb" than feet that literally snore? These Snorlax Slippers are just waiting for you to cozy up in some inconvenient place, like in front of the fridge or the door to the office. Take a nice long snooze and refuse to move even a little until someone plays just the right song to wake you up.
Retail Price: US$29.99
Shopping Link: Think Geek
Evangelion Plugsuit Necklaces

Do you have someone you love to the moon and back? Would you pay that much to show them? These imported necklaces show the Eva Pilot's plug suits: there's Shinji, Rei, Asuka, Mari, and Kaworu. They range in price depending on the choice of metal, from silver ($205) to platinum ($1,065) and yellow, white, and rose gold in between.
Retail Price: US$205 - $1,065
Shopping Link: Tokyo Otaku Mode
Legend of Zelda Navi Necklace

Hey, listen! This fairy necklace is perfect for gamers or just fantasy creature fans. She won't help you target incoming foes but she also won't nag you while you're trying to get all the gold skulltula, so it's a give and take here.
Retail Price: US$11.99
Shopping Link: Tokyo Otaku Mode
Kiki's Delivery Service Spring Garden Lace Bracelet

This lacy and delicate woven bracelet is made up of spring flowers flanking Kiki's companion Jiji resting in the middle. If you friend hasn't seen Kiki's Delivery Service but loves cats, consider this a cute, new addition to their collection.
Retail Price: US$16.99
Shopping Link: Tokyo Otaku Mode
Evangelion 18K Yellow Gold Black Moon Ring

Are you tying the knot next year and haven't picked out your wedding bands yet? Consider THE MOON itself as a theme. This ring is based on the Black Moon from Evangelion, the transport vessel that brought Lilith to Earth resulting in the First Impact. A 0.014ct yellow treated diamond is nestled on the inside of the band for a bit of hidden glimmer.
Retail Price: US$797.99
Shopping Link: Tokyo Otaku Mode
Tokidoki Mermicorno Intarsia Knit Pom Beanie

Keep your dome warm with a kawaii unicorn, I mean mermaid, I mean...both? The listing calls this creature a "Mermicorno" but I would have opted for "Unimerm" or "Corny Maid." Maybe not the last one.
Retail Price: US$19.90
Shopping Link: Tokyo Otaku Mode
I'm a Tasty Pork Cutlet Bowl Yuri! On Ice! Beanie

Vaguely erotic and humorous at once, here's a way to let your special someone know that they inspire the same kind of love in you as pork cutlet bowls do for Yūri.
Retail Price: US$14.90
Shopping Link: Tokyo Otaku Mode
---
discuss this in the forum (44 posts)
|
back to Anime News Network's Holiday 2017 Gift Guide
Feature homepage / archives