Catching Up With Sword Art Online
by Theron Martin,

Whether you love the series or not, the Sword Art Online franchise nonetheless ranks among the most successful of the 2010s. As of September 2018, its anime branch consists of two core anime series totaling 49 episodes, a spin-off series with 13 episodes, and a pair of movies whose original content retrofits smoothly enough into the core storyline that they cause no continuity problems; indeed, the second movie even ends with a lead-in to the upcoming Sword Art Online: Alicization TV series, which has recently been announced for four cours and will thus double the episode count of the core storyline. Add in 37 light novels which have sold over 20 million copies worldwide, various manga adaptations and spin-offs, a handful of video games, card game contributions, and a plethora of merchandise ranging from wall scrolls to satchels to quality figma and you have a media megalith which rivals the likes of Attack on Titan. As a lead-into the major new upcoming story arc, let's take a look at what is available so far and what one actually needs to know about in order to be fully prepared for Alicization.
The Core Story

The main SAO storyline is covered by the 25-episode Sword Art Online series and 24-episode Sword Art Online 2, which together adapt the first seven volumes and most of the eighth of the main novel series. They are broken down into four major and one minor story arcs. The first, commonly referred to as the Aincrad Arc in reference to the setting of the namesake game, constitutes the first 13 episodes of the first anime series and adapts the first two novels and parts of the eighth, albeit not in published order; the short stories of the second and eighth novels are instead adapted chronologically, hence filling in a big time gap in the first novel and fleshing out some characters who have recurring roles later on.
The story starts in 2022 and establishes the "trapped in a death game" premise that the whole franchise is built around, with 10,000 players finding themselves unable to log out of the newly-debuting VRMMO Sword Art Online. Death in the game equates to death in real life due to hidden funny business with the NerveGear helmets used for VR access. The only safe way to exit? Beat the game's 100 levels. Over the course of roughly two years the story focuses primarily on the exploits of Kirito, a former beta tester who becomes the game's top player as he struggles to survive and help clear the game. Though a loner and solo player, he temporarily falls in with a number of female players before finally bonding strongest with his earliest partner, the beautiful rapier specialist Asuna, who has grown from being a fatalist to a talented, game-clearing force in part due to Kirito's encouragement. Love blossoms as they work together to find a life for themselves in the game and bring an end to Aincrad, in the process gaining a virtual "daughter" in the form of a free-willed AI named Yui.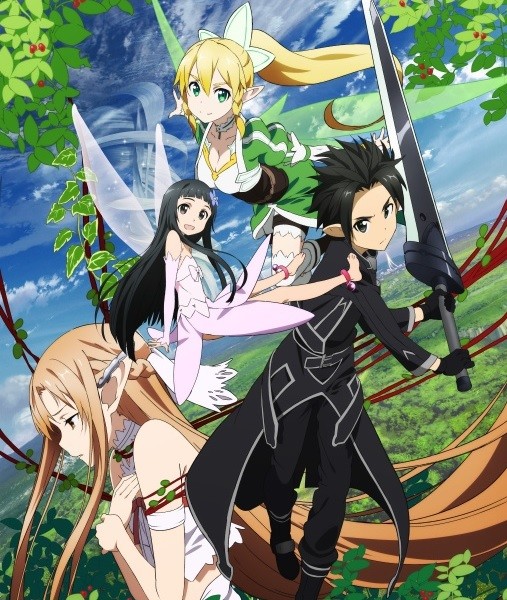 The second arc, Fairy Dance, covers the third and fourth main series novels and was adapted into episodes 14-25 of the first series. It splits its time between the real world of early 2025 and a new setting, the successor VRMMO ALfheim Online, where all of the characters are fairies. Asuna is one of 300 players who didn't wake up with the end of Aincrad, but Kazuto (aka Kirito) gets a big clue when someone who looks like Asuna is spotted in the most inaccessible place in Alfheim. A new villain arises in the form of a game executive with twisted ambitions, while a new romantic complication materializes in the form of a female cousin who's long been like a sister to Kazuto. The conclusion of the story finally brings the franchise's power couple together in the real world and opens the door to a myriad of new possibilities for VR games, which sets the stage for future story arcs.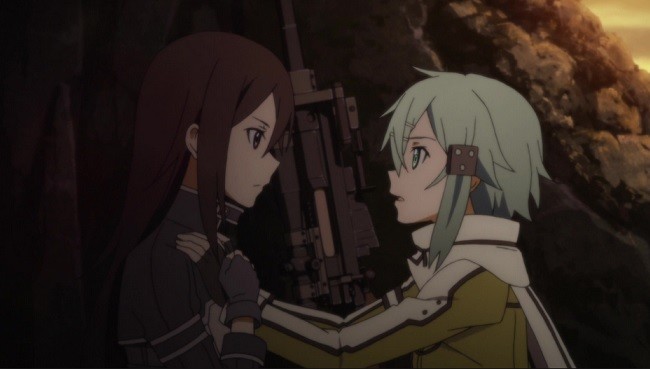 The third arc, Phantom Bullet, adapts the fifth and sixth novels and covers episodes 1-14 of SAO 2. Set in late 2025, it details Kazuto's efforts to track down the villain Death Gun, a survivor of SAO's top murder guild, who is somehow using the VRMMO shooter Gun Gale Online to kill people in real life. While Asuna and others from Aincrad mostly watch, Kazuto falls in with the troubled female sniper Sinon, who also becomes inextricably entangled in the Death Gun scheme when the villain eventually targets her, too. The fourth and shortest arc, Calibur, takes place at the end of 2025 and covers episodes 15-17 in adapting a short story from the eighth novel. It is the first time in the TV series that all of the major SAO cast members, plus a couple of newcomers, participate in a grand quest together.

The fifth and final arc, Mother's Rosario, adapts the seventh novel and covers episodes 18-24. Set primarily in early 2026, it stands out from the other arcs by shifting its focus and viewpoint exclusively to Asuna. It details her encounters with Yuuki, a supremely-talented young swordswoman in ALfheim Online who seeks Asuna's help for an important quest but carries a dire secret herself. Dealing with that secret also helps Asuna to deal with some lingering problems involving her strained relationship with her mother. The latter part of that arc is, in my opinion, the franchise's storytelling high point to date.
The Spinoff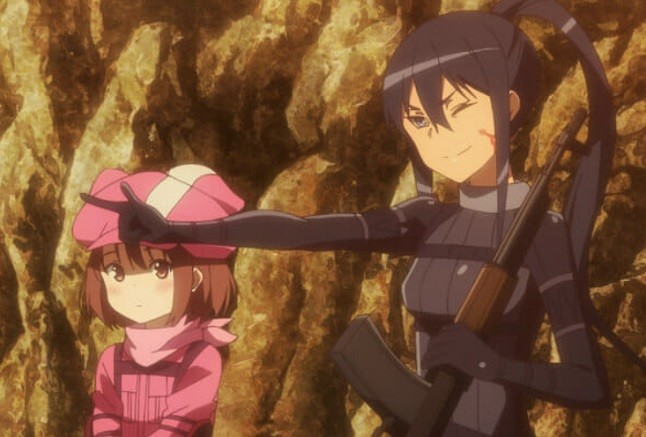 Sword Art Online Alternative: Gun Gale Online is a 12 episode series based on a spinoff novel series by Keiichi Sigsawa, who is perhaps more famous for penning Kino's Journey. It adapts the first three of eight novels to date and features a wholly different cast, although references are made to people and events from the main series. Set in early 2026 and overlapping on the timeline with Mother's Rosario, it details the exploits of tall college student Karen, who finds a role for herself in GGO as the shrimp and expert PKer LLENN, aka Pink Devil. Her encounters with the wild female player Pito push her to participate in a pair of Battle Royale-style team events called Squad Jam. The part of this story that was animated doesn't seem to offer any direct or crucial lead-in to Alicization, so it is not absolutely required viewing for those who only wish to concentrate on the main storyline. However, it is a solid series overall; I recommend it.

Also worth mentioning here are the Sword Art Offline omake which have accompanied all of the series' physical releases to date. These crudely-animated bits are often quite funny and perfectly willing to allow the franchise to make fun of itself, so I highly recommend them even for casual fans.
The Movies

The first movie, Sword Art Online: Extra Edition, is primarily a recap of the first series set against the backdrop of a gathering of the series' female cast members after the events of the Fairy Dance arc, though it does also feature a new quest set in Aincrad, which includes the first time we see all the major cast members from the first series working together. Though the new quest is entertaining and explores an aspect of VRMMOs not dealt with anywhere else in the core storyline (an underwater adventure!), the movie as a whole ultimately adds nothing to the overall story and is thus skippable for those who are not completionists.
The second movie, Sword Art Online: Ordinal Scale, is set in late April and early May 2026, less than a month after the completion of Mother's Rosario. It features a new game system which overlays VR onto reality instead of being fully immersive, and the problems that arise when someone once again seeks to dangerously abuse the technology for his own ends. Despite the seemingly-repetitive nature of the premise, the story is a decent one which details some lingering consequences of the Aincrad affair, with a bravura climax that deals with some unfinished business from that game in spectacular fashion. Its epilogue also directly foreshadows the Alicization arc; it's not absolutely crucial viewing before watching the next TV series, but it does come recommended.
The Novels and Manga

The main series numbers 21 novels as of this writing, with #9-18 composing the source material for the upcoming series. In addition, creator Reiki Kawahara has written six Sword Art Online: Progressive novels so far, which go back and explore, in great detail, what happened on the first few floors of Aincrad, in the process engaging in some revisionist history. (The biggest is that Kirito and Asuna are initially teamed up for much longer in the early days of Aincrad.) In addition to the aforementioned Gun Gale Online spinoff, a second spinoff called Clover's Regret is reportedly being written by Sōichirō Watase under Kawahara's supervision and consists of three volumes as of this writing. It details the original cast adventuring in the game Asuka Empire, but none of it is currently officially available in English. A number of doujinshi created by Kawahara under a pen name, collectively titled Material Edition, also exist, as do a number of side stories published through various means, primarily online and as bonus material. Near as I can tell, none of this content is at all crucial but does flesh out the settings and characters a bit more.
A total of a dozen SAO manga series have also been made so far. Most are adaptations of either the main series arcs, the Progressive content, or the video games, but the one series which sticks out a bit is the five-volume Sword Art Online: Girls Ops manga, a spinoff which focuses on secondary female characters Lizbeth, Silica, and Leafa and their encounter with a girl they eventually discover is a fellow SAO survivor but with a shadier backstory than most. It's not part of the main storyline, and thus doesn't seem to be directly relevant to Alicization, but it does deal with some additional lingering consequences of the murder guilds which existed in Aincrad.
Other Content

A number of Sword Art Online video and mobile app games for various platforms also exist, including some that are formally available in the West, which you can read about in great detail right here. Sword Art Online is also one of the participating titles in the Weiß Schwarz collectible card game by Bushiroad, which was cross-promoted with the SAO 2 physical releases. A live-action series, whose rights are currently owned by Netflix, is also supposedly in the works, and there has been talk of an SAO VR experience being made. Details on the latter two projects are very limited at this time, however.
Onto Alicization

NOTE: This part only speaks about the upcoming arc in general terms and thus does not contain any significant spoilers.
So where is the story going next? Well, roughly half of the Alicization novels have been published in English, so we do have some idea. We're definitely heading back to the series' trademark "trapped in a virtual setting" situation, though in a different way than we've seen in earlier arcs. The Alicization arc will primarily involve Kazuto's experiences in a virtual setting called Underworld, one which will be familiar to him in some senses, but very different in others and is based on an entirely different technology than what has been used previously. Lingering consequences from the Aincrad, GGO, and Mother's Rosario arcs collide. Based on the source novels which have been released in English so far, the usual crowd of supporting cast members are a bit scarce after the first episode, with only sporadic appearances by Asuna, who spends most of her scenes (so far) in the physical world while Kazuto navigates the Underworld. Instead the supporting cast will primarily involve new characters that Kazuto meets in Underworld, most especially a boy named Eugeo and the arc's namesake girl.
The story that Alicization tells is a long, involved, and slowly-developing story (even compared to previous arcs!) with some twisty technical underpinnings. It's got pretty much everything that made Sword Art Online so popular to begin with - the curious day-to-day of living in a virtual world, investigating - and breaking - the setting's mechanics to your own advantage, going on a prolonged quest to rescue someone, and so forth – although the harem is mostly gone this time. It feels like an arc primarily for established fans rather than an attempt to bring in newcomers, but the limited appearance of established characters and outsized new setting could provide a reasonable jumping-on point for curious folks who might not want to start at the top.

The first hour-long episode of the arc had its worldwide debut on September 15th (you can read our report right here!), but most of us will have to wait until its official start date of October 6th in order to get a view of it. I'm definitely eagerly anticipating how new-to-the-franchise director Manabu Ono and studio A-1 Pictures, backed by the familiar sounds of Yuki Kajiura, handle the production; are you?
---
discuss this in the forum (6 posts)
|