News

Yu-Gi-Oh! Arc-V Tag Force Special Announced For PSP

posted on by Sarah Nelkin
Game uniting 5
Yu-Gi-Oh!
protagonists also available on PS Vita this winter
---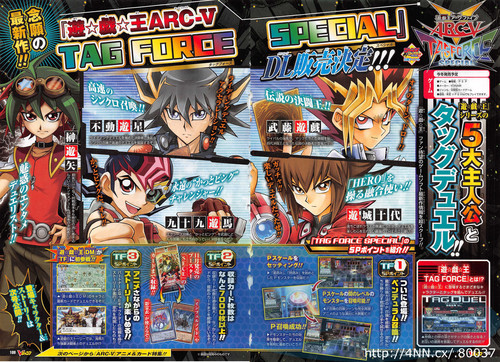 The December issue of
Shueisha
's
V Jump
magazine is announcing on Tuesday that a new Yu-Gi-Oh! game titled
Yu-Gi-Oh! Arc-V
Tag Force Special will be released this winter in Japan for the PSP. The announcement adds that the game will also be playable on the PS Vita system, and a donwloadable version has been green-lit for sale.
The game will star the past five Yu-Gi-Oh! protagonists: Yūgi Mutō, Jūdai Yūki (Jaden Yuki), Yūsei Fudō, Yūma Tsukumo, and Yūya Sakaki. It will also feature the Pendulum Summoning system, as well as a collection of over seven thousand cards. This will be the first Tag Force game to feature Yūma and Yūya.
The last game in the series, Yu-Gi-Oh! 5D's Tag Force 6, was released in Japan for the Sony PSP system in 2011.
Yu-Gi-Oh! Arc-V was preceded by Yu-Gi-Oh! Duel Monsters, Yu-Gi-Oh! Duel Monster GX, Yu-Gi-Oh! 5D's, and Yu-Gi-Oh! Zexal. (The very first Yu-Gi-Oh! television anime from Toei Animation and TV Asahi in 1998 is often not grouped with the others, and the Yu-Gi-Oh! Zexal II sequel is combined with the first Zexal series.) The anime is scheduled to premiere outside of Japan next spring or summer.
4K Media announced on in June that a new Yu-Gi-Oh! movie is also in development in Japan. Konami has been airing Yu-Gi-Oh! Zexal II on The CW's Vortexx programming block in the United States since last August.
---