×
remind me tomorrow
remind me next week
never remind me
Subscribe to the ANN Newsletter • Wake up every Sunday to a curated list of ANN's most interesting posts of the week.
read more
News

Ellation's VRV Streaming Platform to Stream What do you do at the end of the world?, Akashic Records Anime

posted on by Karen Ressler
1st episodes of
simulcast
titles available for free users on premiere day
---

Crunchyroll parent company Ellation's VRV streaming platform announced on Thursday that it will simulcast the What do you do at the end of the world? Are you busy? Will you save us? and Akashic Records of the Bastard Magical Instructor anime. The first episode of these and all other simulcast titles will be available on VRV for free with some ads, within an hour of their premiere on Crunchyroll for Crunchyroll's premium subscribers.
VRV also confirmed the following spring simulcast titles, which will also stream on Crunchyroll or Funimation, or on both platforms:

VRV launched a beta for desktop web browsers on Tuesday, and Ellation is planning a Roku app. The platform is already available on PlayStation 4, Xbox One, Chromecast, iOS, and Android devices. Ellation announced the service last June and opened a beta for some platforms in November.
VRV hosts anime from Crunchyroll and Funimation, as well as other video content from Cartoon Hangover, Rooster Teeth, Seeso, Nerdist Alpha, Geek & Sundry Alpha, Tested, RiffTrax, Machinima, GINX eSports TV, Shudder, and MONDO. The platform offers free ad-supported content, and users have the option of subscribing to the individual channels for additional content.
VRV offers a subscription bundle with multiple channels for US$9.99 per month. The bundle includes Crunchyroll, Funimation, Cartoon Hangover, Geek & Sundry Alpha, Mondo, Nerdist, Rooster Teeth, and Tested.

What do you do at the end of the world? Are you busy? Will you save us? will premiere on Tokyo MX and KBS Kyoto at 1:05 a.m. at night on Wednesday, April 12 (effectively Thursday morning). The anime adapts writer Akira Kareno and illustrator ue's Shūmatsu Nani Shitemasu ka? Isogashii Desu ka? Sukutte Moratte Ii Desu ka? light novel series.
Kareno is personally handling series composition, and is also penning the scripts alongside Mariko Mochizuki (Aquarion Logos), Shingo Nagai (New Game!), and Toshizo Nemoto (Macross Delta). Jun'ichi Wada (The Disappearance of Nagato Yuki-chan, Ragnastrike Angels) is directing the series at C2C and Satelight. Tōru Imanishi (Ragnastrike Angels) is designing the characters for animation based on ue's original character designs and is also serving as chief animation director.
The series is set in a world where humans have been driven to extinction by "Beasts." The duty of fighting the Beasts fall to "Fairies," who are destined to use their powers to wield "Holy Swords" called "Kariyon" and eventually meet their destiny of death. A sole human being named Willem wakes up after several hundred years, and continues his fight against the Beasts. The series follows the everyday and transient lives of the leader Willem and the female fairy warriors.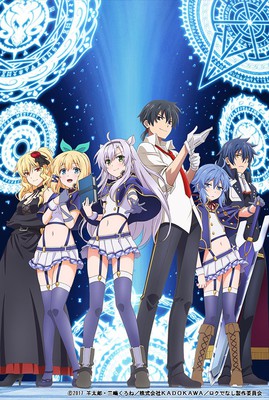 Akashic Records of the Bastard Magical Instructor will premiere on AT-X on April 4 at 8:30 p.m., before airing later that evening on Tokyo MX, MBS, and TV Aichi. The series will then air on April 5 on BS11. The series adapts writer Tarō Hitsuji and illustrator Kurone Mishima's Roku de Nashi Majutsu Kōshi to Akashic Records light novel series.
Minato Kazuto is directing the anime at LIDEN FILMS. Touko Machida (Lucky Star, The IDOLM@STER, The Disappearance of Nagato Yuki-chan) is both writing and overseeing the scripts, Satoshi Kimura (Terraformars) is serving as both character designer and chief animation director, and Hiroaki Tsutsumi (Kuromukuro, Monster Musume, Orange) is composing the music.
In the "action fantasy" story, Glenn is a part-time teacher at a magic school who is inclined to write "self-study" on the blackboard and then take a nap. One of his students, Sistine, gets angry and challenges him to a duel and he is easily defeated. However, when a terrible incident threatens the school, Glenn shows intense dedication to protecting his students.
---