News

Basilisk Sequel Anime's Cast, Staff, January Premiere Revealed

posted on by Rafael Antonio Pineda
---
The official website for Basilisk ~Ōka Ninpōchō~ – the television anime adaptation of Masaki Yamada's Ōka Ninpōchō Basilisk Shinshō (Ōka Ninja Scrolls Basilisk New Chapter) novels – revealed the anime's cast, staff, new visual, and January premiere date on Friday.

The cast includes:
Tasuku Hatanaka as Hachirō Kōga
Inori Minase as Hibiki Iga
Takuya Kirimoto as Kazuma Kusanagi
Ryū Yamaguchi as Kasō Himonji
Chō as Geiin Shichito
Shōhei Tō as Tenshin Yusa
Kosuke Sakaki as Kareha Shogyō
Chafurin as Hōetsu Tsuta
Yuji Murai as Itsuma Irootoroe
Tooru Sakurai as Shūgetsu Suiren
Junji Nishimura (Vivid Strike!, Bakuon!!, Glasslip) is directing the anime at Seven Arcs Pictures. Shinsuke Onishi (New Getter Robo, Innocent Venus, 009-1) is in charge of series composition. Takao Maki (Laughing Under the Clouds) is adapting Masaki Segawa's original character designs for animation, and is also credited as chief animation director. Kazuhisa Kosuge is credited for sub-character design, while Goichi Iwahata is credited for prop design. Tadashi Kitaoka (Basilisk, White Album, Vivid Strike!) is credited as director of photography. Go Sakabe (Date A Live, Wolf Girl & Black Prince, Digimon Adventure tri.) is composing the music.
The other staff members include:
Art Design: Kazusuke Yoshihara
Art Director: Ritsuko Umizu
Color Design: Fusako Nakao
3D: Tetra
Special Effects: Naomasa Fukuda
Editing: Kazuhiko Seki
Sound Director: Chikako Yokota
Sound Production: Glovision
Music Production: King Records
Onmyouza and Nana Mizuki, who performed the opening and ending theme songs for the first Basilisk anime, are returning to once again perform the opening and ending theme songs, respectively.
The Basilisk ~Ōka Ninpōchō~ novel is a sequel to Futaroh Yamada's original Kōga Ninpōchō (The Kouga Ninja Scrolls) novel. The story is set 10 years after Kōga Ninpōchō in 1626. Tatsuya Shihira (Q, Robotics;Notes Revival Legacy) also launched a manga adaptation in Kodansha's Young Magazine on July 24.
Futaroh Yamada debuted Kōga Ninpōchō in 1959, and Kodansha published Masaki Yamada's Ōka Ninpōchō Basilisk Shinshō sequel in 2015. Masaki Yamada's Shinkun Genpōchō novel debuted in 2009. Haruo Koyama also released a manga adaptation of Futaroh Yamada's original novel in 1963, and Torao Asada launched the Kōga Ninpōchō: Aratame manga in 2003.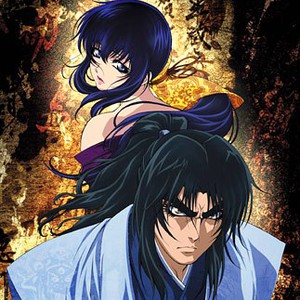 Futaroh Yamada's Kōga Ninpōchō novel inspired Masaki Segawa's manga adaptation in 2003. Del Rey and Kodansha Comics released the five-volume series in North America. Kodansha Comics describes the story:
The Iga clan and the Kouga clan have been sworn enemies for more than four hundred years. Only the Hanzo Hattori truce has kept the two families from all-out war. Now, under the order of Shogun Ieyasu Tokugawa, the truce has finally been dissolved. Ten ninja from each clan must fight to the death in order to determine who will be the next Tokugawa Shogun. The surviving clan will rule for the next thousand years. But not all the clan members are in agreement. Oboro of the Iga clan and Gennosuke of the Kouga clan have fallen deeply in love. Now these star-crossed lovers have been pitted against each other. Can their romance conquer a centuries-old rivalry? Or is their love destined to end in death?
Segawa's manga inspired the Basilisk television anime (seen above right) in 2005. Funimation released the series on home video in North America. The live-action SHINOBI - Heart Under Blade film premiered in 2005, and Funimation also released it on home video.
Source: MoCa News
---