×
remind me tomorrow
remind me next week
never remind me
Subscribe to the ANN Newsletter • Wake up every Sunday to a curated list of ANN's most interesting posts of the week.
read more
Anime Spotlight - Little Witch Academia
by ANN Staff,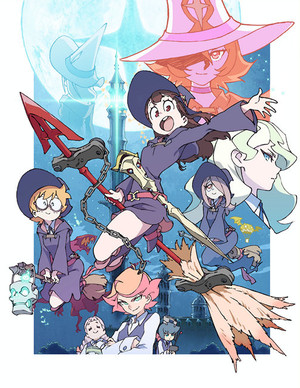 On air starting January 9, 2017
Streaming available at: Netflix


Key Staff
Director: Yoh Yoshinari

Series Composition: Michiru Shimada

Character Design: Shūhei Handa








Introduction
Created by Japanese animation Studio Trigger (Kill la Kill, Kiznaiver) and animator Yoh Yoshinari, Little Witch Academia began as a short film in 2013 made for Anime Mirai (currently known as Anime Tamago), a project used to train young animators. A new episode was funded via crowdfunding website Kickstarter, where it procured its goal of $150 thousand within five hours. The project ended with $625,518 collected.
A full-fledged television anime series with a story separate from the films was announced in 2016. Little Witch Academia has also inspired two manga series.
Story
Ever since seeing Shining Chariot's magic show when she was young, Akko has dreamed of becoming a witch. In order to make her wish come true, she enrolls at "Luna Nova Magical Academy," a traditional all-girls school where Chariot used to attend.
A new town, a new school, and new friends.
Akko and her friends Lotte and Suzy cause craziness during their classes for subjects like broom-riding and magic at the school for witches. Akko's taken her first step toward becoming a witch, and she's bringing all of Luna Nova along for the bumpy ride!
Characters
A girl who came from Japan to become a witch. Determined to become a witch after being spellbound by Shiny Chariot's magic show, she decided to attend the Luna Nova Magical Academy. She's not very good at magic, but she's doing her best to make her dream of becoming a witch like Chariot come true with a positive attitude. Her treasure is her Chariot trading card.

A Finnish girl who is Akko's roommate. A kind and sincere girl, she is able to make calm jabs at Akko when she starts getting out of control. Lotte is a good singer, and can even summon Nordic spirits by singing witch folk songs. She is a rabid fan of Nightfall, a novel that revolves around a vampire's bittersweet romance.

Akko's classmate who is said to have come from Southeast Asia, but as she's quite the enigma, no one really knows. She's crazy about poisons, and researches both toxins from animals like spiders and snakes as well as plant poisons from things like mushrooms, sometimes using Akko as her personal guinea pig. She's a sharp-tongued cynic who does things at her own pace.

Akko's British classmate who is from a family of famous witches. She has a brilliant mind and is highly-skilled in magic, leading her to be called the greatest student since Luna Nova's founding. She often butts heads with Akko because of her serious and righteous personality.

A delinquent girl from the United States. A girl with sticky fingers, her hobby is stealing treasure, and even goes so far as to sneak into the school's storehouse and play pranks on the security force. She loves dancing and parties.

Constanze Amalie von Braunschbank AlbrechtsbergerVoice: Rie Murakawa

A machine-loving German girl who brings in high-tech devices into school despite them being against the rules and sells them after altering them with magic. She seems to be researching something a bit fishy with Sucy, whom she gets along with...

A girl from Russia who loves to eat, and loves nothing more than sweets and peace. She often gets scolded by the teacher for eating snacks during class. Her nickname is Jasna.

The instructor of magic astronomy at Luna Nova Magical Academy. She dotes on and watches over Akko from the shadows as she recklessly runs forward to achieve her dream. There are rumors that she was once Shining Chariot...

Shining Chariot
Voice: Noriko Hidaka

A once globally popular witch who caused a magic boom around the world thanks to her magic shows. However, after the boom peaked and eventually died down, she suddenly retired. Her whereabouts are unknown.
Cast
Atsuko (Akko) Kagari

Megumi Han

Lotte Jansson

Mamiko Noto

Sucy Manbavaran

Michiyo Murase

Diana Cavendish

Yōko Hikasa

Amanda O'Neill

Arisa Shida

Constanze Amalie von Braunschbank Albrechtsberger

Rie Murakawa

Jasminka Antonenko

Reina Ueda

Ursula Charistes

Noriko Hidaka

Shining Chariot

Noriko Hidaka
Staff
Original Creator

TRIGGER, Yoh Yoshinari

Director/Original Character Design

Yoh Yoshinari

Series Composition

Michiru Shimada

Main Character Design

Shūhei Handa

Color Design

Director of Photography

Main Animator

Design Works

Editing

Kentaro Tsubone

Music

Sound Director

Sound Effects

Opening Theme Song

"Shiny Ray" by YURiKA

Ending Theme Song

"Hoshi wo Tadoreba" (If You Follow a Star) by Yuiko Ōhara

Production

TRIGGER
---
discuss this in the forum (16 posts)
|
this article has been modified since it was originally posted; see change history