×
remind me tomorrow
remind me next week
never remind me
Subscribe to the ANN Newsletter • Wake up every Sunday to a curated list of ANN's most interesting posts of the week.
read more
Anime Spotlight - Lost Song
by ANN Staff,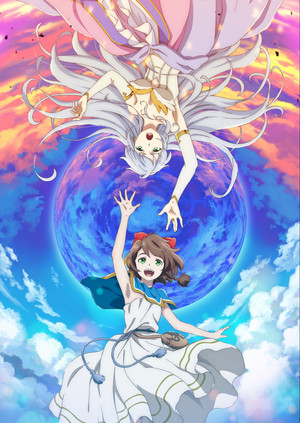 Online Streaming: March 31, 2018 on Netflix (Japan)
Worldwide Online Streaming: Summer 2018
TV Broadcast: April 7, 2018

Key Staff
Director and script: Junpei & Morita

("OCCULTIC;NINE" as series composition)

Original Character Design: Tomonori Fukuda

("ROBOTICS;NOTES (TV)")

Character Design: Shizue Kaneko

("Doraemon: Nobita no Ningyo Daikaisen (movie)", "Monster Strike The Movie")

Lyrics: Aki Hata

(The Melancholy of Haruhi Suzumiya, Lucky Star, Love Live!)

Music: Yusuke Shirato

(AKB48, SKE48, Keyakizaka 46, THE [email protected])

Background art: Dehogallery

(Mary and the Witch's Flower)







Introduction
The song changes even the destiny of the stars.
An all-new, classic fantasy starring Yukari Tamura and Konomi Suzuki as the two heroines.
Story
Rin, an energetic girl who loves to eat, lives in a verdant frontier village.
Deep within the royal palace in the bustling capital city, the songstress Finis spends her days in solitude.
Both share a special power no other person has. A miraculous power that can heal wounds, create water and stir the wind -- the power of song.
Guided by destiny, the two young women each face an arduous journey with the power of song.
The shadow of war looms over the kingdom, tainting even the miraculous songs with the blood of innocents.
Loved ones meet their deaths as silent screams echo through a stone prison.
As two destinies intersect, will the final song be one of despair, hope or...?
Character Names & Descriptions & Seiyuu
Rin

Voice: Konomi Suzuki

"Her song heals all wounds."

A food-loving, positive, energetic girl who was adopted by the mayor of Dandela Village when she was still a baby. She loves singing, and has the mysterious ability to heal wounds with her song. Her dream is to have the chance to sing in the kingdom's capital.

Finis

Voice: Yukari Tamura

"Her song brings about miracles."

A 17-year old singer with the ability to bring about miracles who lives in the kingdom's capital. As such, she is treated like a goddess by those around her. She is a candidate to be the bride of Prince Rudo, who seeks to use her power for his own gain. She continues to sing only because she wants to see the happy faces of her people. Fun fact: she has no sense of direction.

Henry Leobolt

Voice: Seiichirō Yamashita

"His song protects the person he loves."

A knight of the distinguished Leobolt family. He's skilled enough to be victorious at fencing tournaments, but in truth, he's a very kind person who dislikes conflict. He disagrees with the royal army's plan to use Finis—a singer with the power to bring about miracles—as their tool in war, and fights against them alone.

Allu Lux

Voice: Asami Seto

"Her song has a rhythm of hope."

This girl's dream is to join the imperial orchestra, but due to certain circumstances, she currently serves as a Rhythm Master in the royal army. She's quick to pick a fight, but also quick to want to stop the conflicts of others. She's passionate, and cares deeply about her family. She has a habit of hitting things and people around her to make music.

Monica Lux

Voice: Yū Serizawa

"Her song is a harmony of teardrops."

Though her sister Allu is outspoken, Monica is quiet and shy. She falls asleep immediately when she gets worried about something. She's a musical genius who has the ability to imitate any sound she has heard once. She's especially skilled at harmonizing during a song.

Corte

Voice: Ai Kayano

"Her song nestles close to the listener with her pure heart."

Finis' doting and loving handmaid. Although she has a tendency to find faults in others, she has formed a bond of trust with Finis, and the two treat each other like best friends.

Mel

Voice: Ai Kayano

"Her song is pure, gentle, and strong."

A girl who grew up in Dandela Village alongside Rin and Allu. With her enveloping kindness and motherly tendencies, she serves as the elder sister figure amongst the three. She loves Rin's singing voice, and wants her dream of singing in the capital to come true.

Rudo Bernstein IV

Voice: Yuto Suzuki

"His song drives noblemen mad."

The prince of The Kingdom of Golt who is next-in-line for the throne. He is deeply hated by his people for his cold and devious personality. He plans to dominate neighboring countries by using Finis' song as a tool. He has trapped her inside of the palace as a candidate to be his bride in order to do so.

Talgia Hawkray

Voice: Hiroshi Ito

"His song will become a towering boulder."

Rin's grandfather who is normally gentle, but strict when angry. He is the mayor of Dandela Village who is loved by his people. For some reason, he forbids Rin from singing.
Cast
Rin

Konomi Suzuki

Finis

Yukari Tamura

Al

Misaki Kuno

Pony Goodlight

Chiaki Takahashi

Henry Leobolt

Seiichirō Yamashita

Allu Lux

Asami Seto

Monica Lux

Yū Serizawa

Corte & Mel

Ai Kayano

Bazra Bearmors

Tsuyoshi Koyama

Rūdo Bernstein IV

Yuto Suzuki

Dr. Weissen

Mitsuru Ogata

Talgia Hawkray

Hiroshi Ito
Staff
Original Creator / Director / Script

Junpei & Morita (MAGES.)

Original Character Design

Tomonori Fukuda (MAGES.)

Chief Animation Director

Chikara Sakurai

Anime Character Design

Shizue Kaneko

Sub-Character Design

Shuichi Hara, Toshiyuki Fujisawa

Design Works

BARNSTORM DESIGN LABO

Art Director

Kinichi Okubo

Background Art

Dehogallery, Inc.

Color Design

Mineyo Oonishi

Director of Photography

Mitsuyoshi Yamamoto

Song Lyrics

Aki Hata

Music

Yūsuke Shirato (Dream Monster)

Music Production

MAGES.

Co-Production

LIDEN FILMS, Dwango (Co-production)

Theme Song Performance

" If I Sing, You Will Be There" (OP)
Lyrics by: Konomi Suzuki, Aki Hata
Composed and arranged by: Yūsuke Shirato (Dream Monster)
Sung by: Konomi Suzuki
"TEARS ECHO" (ED)
Lyrics by: Aki Hata
Composed and arranged by: Yūsuke Shirato
Sung by: Finis (Yukari Tamura)




© MAGES./LOST SONG Production Committee
---