Interest

Bakuon!'s Raimu-Senpai Stars in Live-Action Ad, Gravure Photo Feature

posted on by Karen Ressler
Raimu will visit stores for photo ops during Golden Week
---
Raimu Kawasaki, the silent senpai of the Okanoue Girls' High Bike Club, has been hard at work advertising the Bakuon!! anime adaptation. She starred in live-action commercial for the first Blu-ray and DVD, and has most recently appeared in her own gravure photo feature in Akita Shoten's Young Champion Retsu magazine. The five-page spread ran in the magazine's April 19 issue, which included a clear file as a bonus gift.


But Raimu's publicity tour wont end there: she will appear at Gamers! Namba on May 1 and Akihabara Gamers! on May 4 and 5 for photo opportunities. Visitors will receive a commemorative illustration and a chance to win a 1.7-meter (5.6-foot) stand featuring Raimu. Each location will only have two winners.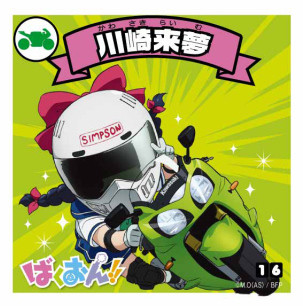 (Of course an actress is portraying Raimu, but it is hard to tell who she is behind that NORIX SIMPSON motorcycle helmet.)
The anime adaptation premiered earlier this month and is streaming on Crunchyroll and The Anime Network. The story follows high school girls in a motorcycle club, and the anime has made extra sure the bikes are accurate.
Source: Moca News
---